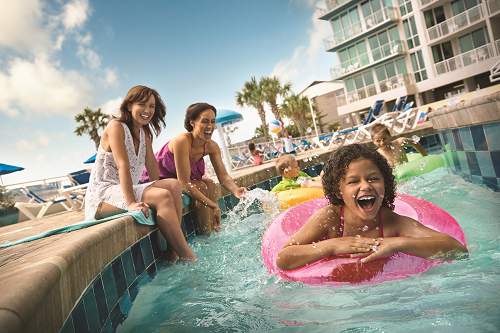 Searching for a last minute vacation for your family? Spend a long weekend in North Myrtle Beach. With nine miles of beautiful, quiet coastline, a getaway to South Carolina's Grand Strand will blend the relaxation your crave with the convenience of family-friendly activities your kids (and teens) are looking for!
Have a few more days to spare? Read our blog full of ideas for five days of entertainment that will keep everyone asking, "What's next?!"
Thursday - Day 1:
Fuel Up for the Day
When you and your family first arrive in North Myrtle Beach, you'll notice that there's no shortage of places to eat. So why not start with breakfast? You'll have your work cut out for you as you choose between one of the many pancake houses and breakfast spots. If you can't decide, try Hoskins Restaurant, a local family favorite that has been serving breakfast, lunch and dinner on Ocean Drive since 1948. Hoskins was one of the first restaurants on the Grand Strand, and still gives off an authentic mom and pop feel. Some days, there's even a line around the corner. But don't worry: it moves quickly, and your family will have plates of steaming pancakes or delicious southern food in front of you in no time.
Explore from a Different Perspective
One of the most exciting things about North Myrtle Beach is the number of surprising experiences you can't find at most other beaches. For an excursion the whole family will talk about for years, book a horseback tour. At Inlet Point Plantation on Waites Island, your family is invited to saddle up and enjoy a private island beach ride, waterway trail ride or pony rides.
If you're looking for more of a bird's eye view experience, head over to Aloha Watersports and go parasailing. Aloha offers 2- and 3-person rides, so you can take turns and share your memories with the whole gang. If heights aren't your thing, take advantage of Aloha's other offerings, like jet ski, banana boat and pontoon boat rentals.
Both Inlet Point Plantation and Aloha Watersports offer portrait packages so you can turn your experience into a souvenir you'll smile at for a lifetime.
Music on Main
On Thursday evenings between 7 and 9pm, families are invited to gather downtown for live music on Main Street. All ages are welcome to enjoy a variety of bands from May to September at no charge. There's a broad range of genres every year, including beach, blues, rock, dance and even Top 40. The only thing you need to bring is your beach chair!
Friday - Day 2:
Find Your Thrill
No Grand Strand vacation is complete without a trip to the North Myrtle Beach Park and Sports Complex. Here, the entire family can channel their inner Tarzan at Go Ape, where you can zipline across the 25-acre lake and have a thrilling adventure on a ropes course in the treetops. (Just remember: kids must be 3 foot 3 inches to participate.) If you still have energy afterwards, venture over to Shark Wake Park, the boatless wakeboarding adventure. You don't have to have any wakeboarding experience to ride: with the park's top-notch cable system that pulls boarders through the water, it's easy for anyone to try their hand at wakeboarding. For younger kids, Shark Wake also offers a massive aqua park built for family fun. Think of it as a huge, inflatable floating playground. Sounds like fun, right?
If you brought Fido along for your vacation, you'll want to stop by the dog park here. There's separate fenced in spaces for both small and large dogs, too, so you don't have to worry about your smaller pooch getting trampled.
There's so much to do here—but whatever activity you choose, this is your opportunity to really get wild on day 2 of your trip to North Myrtle Beach!
Explore Barefoot Landing
There's nothing quite like a night in Barefoot Landing in the summertime. Between weekly fireworks shows, live music, endless dining options and souvenir shopping, there's no shortage of things to do for kids of all ages. Their calendar of events is full in the summer months, so be sure to stay updated on the latest events and activities.
For an unforgettable seafood dinner, stop by Flying Fish Public Market. Or for a meal and some extra entertainment, go to Lucy Buffett's LuLu's, where you can eat, play in the arcade, listen to live music or even let the kids work up an appetite on the ropes course.
Afterward, stop by The Crafty Cow for ice cream or take a few laps around the classic carousel, which is decorated with horses made from original Barnum and Bailey molds. No matter what, though, stick around for the sunset and marvel at the sky as the sun dips below the Intracoastal Waterway.
Saturday - Day 3:
Visit the Reptile Capital of the World
Head back to Barefoot Landing and check out Alligator Adventure. The whole family will be in awe as they watch 15-foot alligators leap out of the water during the live feedings here. On a nice sunny day (so, pretty much every day in North Myrtle Beach!), you'll find a whole collection of alligators sunning themselves on the shores of the natural lake in the park. Try and spot Utan, a 20-foot gator, and look for a chance to meet the Alligator Adventure staff veterinarian—also known as the "Croc Doc."
Catch a Wave
Hang loose, baby! North Myrtle Beach is the perfect place to learn how to surf. Kokopelli Surf Camp offers group surf lessons for all ages on boards designed for beginners. All ages are welcome, and everyone is guaranteed to be riding waves after a lesson taught by professional surfers. The session will start off on the beach before moving into the ocean, just to make sure everyone is comfortable. The best things about this experience? Lessons here won't break the bank, and your family will walk away with a new skill!
Dinner with a View
After a long day exploring, grab your family for a relaxing evening at Boardwalk Billy's, located on the Doc Holidays Marina, where you'll enjoy a beautiful waterfront view. This casual, family-friendly restaurant is the perfect place to sit outside on the deck and enjoy a tasty supper and welcoming service. Boardwalk Billy's serves both seafood and ribs, making it the perfect option for meat eaters and the people who just go to the beach to eat seafood all day every day!   
Sunday - Day 4:
Make a Catch
Make sure you take time to visit Cherry Grove Fishing Pier. Originally built in the early 1950s, this pier has been around since North Myrtle Beach was first becoming a family-favorite beach destination. What you see today isn't original; in 1999, Hurricane Floyd hit the Atlantic Coast and destroyed the original pier, forcing its reconstruction. Today, the extensive observation deck is 1,000 feet long and has become a very popular fishing destination. As you walk the length of it, you'll be surrounded by other multi-generational families teaching the young ones how to bait, cast and reel. It's sure to be a day you'll never forget!
Eat Like the Locals Do
At the beach, you need to take in every chance you get to eat seafood. Venture around the corner to Duffy Street Seafood Shack's Cherry Grove location for endless amounts of shrimp, crab legs, oysters, calamari and clams. There are also boundless non-seafood options for those pesky picky eaters as well. Best part about Duffy Street Seafood Shack? You can eat as many peanuts as you like while you wait for your platter—and even toss the shells on the ground.
Sit Back, Relax and Enjoy the Show
The Alabama Theatre has nightly presentations of ONE The Show—and during the summer, children can get tickets for free! This is the best time to take advantage of the offer: in the fall, ticket prices go back up to regular fare. The exciting production was named the #1 Live Show in Myrtle Beach and features a variety of music, dance and laughter. One patron even said, "Three generations of my family laughed until we cried."
Ready to start planning your North Myrtle Beach vacation? Start by browsing family-friendly rentals. Looking for more travel advice? Reach out to our Visitor Information Center!