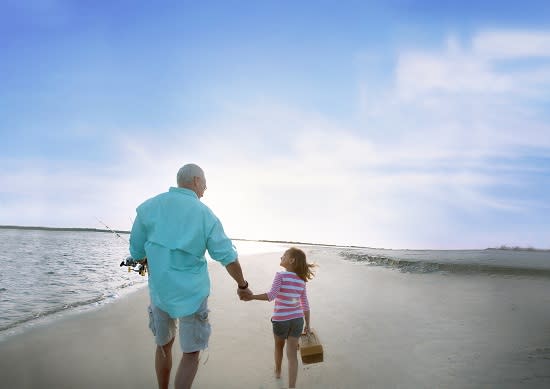 It's no secret that vacationers return to North Myrtle Beach year after year in search of family adventures, romantic getaways or the chance to reconnect with old friends. With an abundance of delicious dining, wide, beautiful beaches, and exciting activities, it can be hard to choose how to spend your precious time here! Whether you've visited us many times or you're a new visitor who just prefers to venture off the beaten path, we've rounded up a few of the area's best kept secrets for you to explore . . .  just remember, you didn't hear them from us!  
DISCOVER THE UNDEVELOPED
Featuring 1,380 acres of undeveloped land, Waites Island is one of North Myrtle Beach's best kept secrets. Just a short boat ride from the Cherry Grove neighborhood, the wooded and pristine barrier island holds unexpected adventures for everyone who visits and, not to mention, some of the area's most beautiful views. Inlet Point Plantation offers guided horseback rides that let you explore the serene beaches or the plantation itself. Or, if you prefer to be in the water, navigate the gorgeous waterways with a guided kayak tour with Great Escapes Kayak Expedition. Make sure you keep your eyes peeled for loggerhead sea turtles and bottlenose dolphins, just some of the natural wildlife that you could encounter!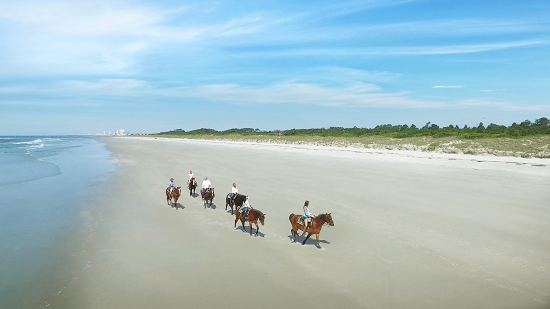 Heritage Shores Nature Preserve is another protected piece of nature that's begging to be explored. With 7 acres of walking trails, elevated boardwalks and observation docks, you can examine every inch of this beautiful preserve. Throughout the park, read helpful signage that describes the various plants, animals, fishes and birds. Low tide is a great time to check out the marsh if you're hoping to spot sea creatures.
If you're a history buff, a visit to the Vereen Memorial Historical Gardens should be at the top of your vacation to-do list. Traverse the scenic salt marshes and small islands that make up this charming park, and take in the rich history of your surroundings. Walk along one of the few remaining portions of the historic Kings Highway, and pay a visit to the Vereen family cemetery, where generations of Revolutionary War and Civil War veterans lie. Make a day of your visit and bring a bagged lunch to enjoy in one of the picnic shelters, where you can take in the beautiful views of the marsh.
EXPERIENCE UNIQUE DINING
Everyone knows that North Myrtle Beach is a foodie's paradise, no matter what you're craving. With more than 1,000 restaurants in the area, there are a number of one-of-a-kind joints. Like Joe's Bar and Grill, which offers stunning panoramic views of the surrounding marsh as well as mouth-watering seafood and steak. Enjoy a cold drink while looking out over the marsh from their deck bar, one of North Myrtle Beach's hidden gems. 
Tidewater Grill serves up authentic Southern comfort food that'll have you coming back again and again. The atmosphere may be casual, but trust us, they take their food very seriously. You can't go wrong with any of the delicious items on the menu, but their fresh lobster roll is one of the best on the Grand Strand. 
Captain Juel's Hurricane Restaurant in Little River sits on a picturesque waterway and is surrounded by gorgeous 300-year-old oaks. The real secret to this laid-back, family owned and operated restaurant is to ask to sit on the patio that looks out onto the water. The soft sounds of the ocean serve as the soundtrack to your dining experience, where you can choose from tons of delicious seafood and sushi dishes. While you're there, explore Little River, the quaint fishing village known for swaying Spanish moss, natural marshes and native palm trees. This sleepy community is filled to the brim with history and is waiting to be explored -- whether that be by foot or bike on land, or kayak and paddleboard at sea.
Or, discover insider tips and tricks to eating at some of the area's most beloved institutions. The House of Blues is known as an iconic venue with concerts with everything from blues to jazz to rock and roll. But, join them for their Murder Mystery Dinner Theater for a unique way to experience this landmark. During the delicious three course meal, you'll simultaneously participate in a thrilling murder investigation. Put your detective skills to the test as you try and unravel the mystery, and remember that everyone's a suspect, even you. This interactive dining experience is one you'll never forget!
TAKE ADVANTAGE OF SPECIALS AT THE AREA'S ATTRACTIONS
You've likely heard of Alligator Adventure in Barefoot Landing, where you can get up close and personal with hundreds of alligators and crocodiles. But did you know they are also home to other rare animals, like bobcats, flamingos, kangaroos and squirrel monkeys? With so many species to explore, you might want to make another trip during your stay -- if you return to the park within one week of your initial visit, admission is free!  
If you're hoping to get out on the water, Shark Wake Park is one of Myrtle Beach's most thrilling attractions. This popular cable wakeboarding experience is open to riders of all levels of experience. If wakeboarding isn't your thing but you still want to be in the water, there's also an aqua park. The inflatable floating obstacle course covers an acre of water and lets you put your coordination and balance to the test.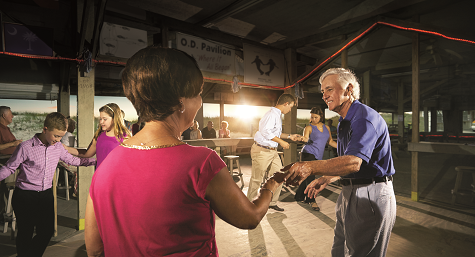 The aqua park is perfect for large groups and family reunions, because for groups of 10 or more, each person gets $5 off the price of their ticket. If you'd rather just spectate, you can watch for free from an observation deck that overlooks the water while enjoying appetizers and drinks for sale at the nearby Shark Shack.
Take in the beauty of the starlit sky with your little ones at Movies @ McLean Park. This free movie series always plays kid-friendly flicks and begins 15 minutes after sunset, so all you need is your family and beach chairs or a spacious blanket.
LEARN TO DANCE (FOR FREE!)
It's hard to walk into a bar or restaurant with live music in North Myrtle Beach without witnessing the South Carolina state dance, the Carolina Shag. The easiest way to learn the dance is to get out there and try it yourself, and Fat Harold's Beach Club is the perfect place! With free shagging lessons every Tuesday from 7-8 p.m., you'll get the chance to give this iconic dance a whirl. With a fun atmosphere and a friendly crowd, you'll be sure to master the Shag in no time.  
Now that you've got the inside scoop on some of the best things to do in North Myrtle Beach, begin planning your trip today! Book the perfect accomodations for your stay, whether it be a charming beach house, condo or resort.