North Myrtle Beach Responsible Travel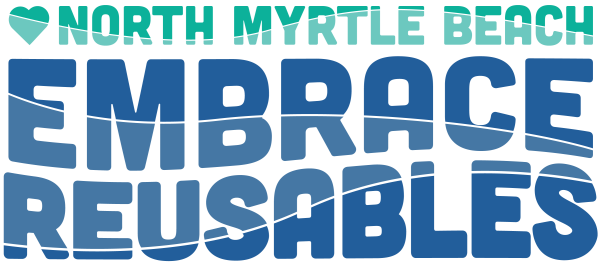 Visitors and locals have been enjoying North Myrtle Beach's coastline since the city was founded in 1968. Millions of memories have been made on our shores, and it is our hope, that with your help, our beach will continue to be enjoyed for generations to come.
Beginning October 1st, 2022, North Myrtle Beach invites you to Embrace Reusables. Single use plastic bags (under a determined mil) will no longer be bagging your goods or take-out orders at local retailers and restaurants. We encourage our residents and visitors alike to plan ahead and pack their reusable bags when heading to the stores. Did you know that by make the switch to a reusable bag, a person can save the use of 22,000 plastic bags in their lifetime? Together, our combined efforts can make waves in saving our marine mammals, seabirds, and coastline. Love North Myrtle Beach? Embrace Reusables!
For more information on the upcoming ban on plastic bags, click here. 
Being a responsible beach goer means more than just packing sunscreen in your bag. The following tips will help you get the most out of your beach day while also giving back to the environment.
Mind the Dunes - A natural first defense, sand dunes provide protection from coastal storms and beach erosion. Thick with vegetation, the dunes that line our coast help reduce the risk of inland flooding and are a barrier against strong onshore winds. Be sure to always use designated beach accesses and boardwalks when coming to and from the beach.
 
Watch the Tide – The tide can wash more than just your worries away. Tides change about every six hours bringing two high tides and two low tides every day. Keep an eye on sand buckets, flip flops, boogie boards and other items that are typically close to the shoreline. These beach essentials can easily and quickly be washed out to sea with the changing tides.
 
Use Reusables - Single use plastics are one of the leading contributors to ocean pollution, but also one of the most avoidable. Make the switch to paper or reusable straws and shopping bags. These small changes can make a big impact on the health of our beach and ocean.
 
Lights Out - Did you know sea turtle hatchlings use the glow of the moon on the horizon to guide them towards the ocean? Exterior lights at beachfront properties can confuse the young turtles, leading them in the wrong direction. Between the months of May to October, be sure to turn beachfront lights off at dusk, and close blinds and curtains. If you can see the lights, the turtles can, too!
 
Do Not Disturb - Opting out of housekeeping during your stay at the beach can not only help you be green, but it may help you save some green as well! Fewer sheets and towels to wash means less water used. Additionally, skipping daily service translates to fewer chemicals in the atmosphere and less energy used by appliances like vacuums. Check with your accommodations to see if they offer discounts for limited housekeeping- a win win for everyone!
 
Take Five - It's the law to make sure you've thrown away all your trash when leaving the beach. We ask that you take a few moments and challenge yourself to pick up an additional 5 pieces of litter that may have been missed by someone else. Small items like bottle caps or twist ties can be easily mistaken as food for birds and other sea life. What takes you just minutes has a huge impact on our beach ecosystem for years to come.
 
Hook, Line and Sinker - Fishing is one of the most popular activities in our area, but not every catch is a keeper. Respecting local size and catch limits helps to ensure the fish population thrives for generations to come. South Carolina requires both freshwater and saltwater fishing licenses, so be sure to stop by your closest bait and tackle shop before you start casting or visit the South Carolina Department of Natural Resources website at www.dnr.sc.gov for the latest information.
 
King of the Castle – Multiple stories, tall towers and a moat are all must haves for an extraordinary sandcastle, but what happens after the architecture ends? Once you've snapped a photo of your masterpiece, you'll have just as much fun knocking down your castle and filling in any large holes in the sand. Not only can these holes be an obstacle for unsuspecting beach walkers, they can trap sea turtles making their journeys to and from the ocean.
 
Shores that are Yours – North Myrtle Beach's beautiful coastline is an oasis, and to keep it that way, we ask just a few small requests of our visitors. Here in NMB, driving on the beach is prohibited year round. Also the use of grills or open fires is not allowed. Four legged friends are welcome, but always on a leash and please remember to clean up after your pets. Dog hours vary depending on the season, so be sure to check posted regulations for more information. For a full list of beach laws, please click here.
 
Turtle-y Awesome – North Myrtle Beach is lucky enough to be a natural nesting ground for loggerhead and several other species of sea turtles. Between the months of May and August, volunteers from the North Myrtle Beach Sea Turtle Patrol walk the over 9 miles of beach every day looking for fresh tracks and possible nests. If you encounter a turtle or fresh nest during your trip, it is vital that they be left alone. Feel free to watch from a distance, but please never touch a sea turtle or shine lights at them.  It's actually against the law to disturb them in any way Report all turtle activity to the Sea Turtle Patrol at 843-213-9074. With your help, we can save these majestic animals from extinction.