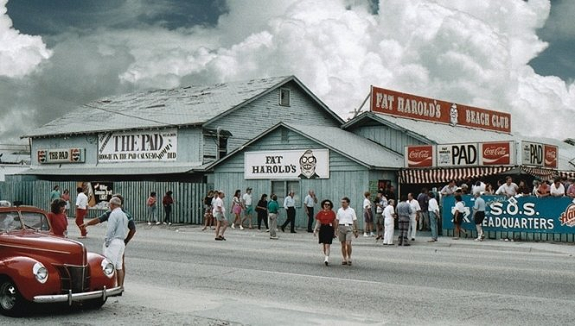 In May 2018, North Myrtle Beach celebrated its fiftieth anniversary as one community! To commemorate this milestone, we've opened the vaults and revisited the last five decades of our beloved beach town. This week, we've highlighted some of the happenings in North Myrtle Beach between 1978 and 1988!
1980: King's Famous Pizza opens
This family owned and operated establishment has been serving up hot pies in North Myrtle Beach for more than 37 years. King's gained its "Famous" middle name because of the pizza, but their authentic Italian and Greek dishes keeps visitors and locals coming back.
First-timers to this casual, family-friendly hotspot should indulge in a Classic White Pizza (complete with mozzarella and ricotta cheeses, olive oil, garlic and oregano) or the Zorba's Greek Favorite Pizza (topped with feta cheese, black olives, tomatoes and spinach). But if you're seeking portions fit for royalty, try other items on their extensive Mediterranean menu, like Chicken and Veal Parmesan or Moussaka.
1981: "Festival Town USA" is born
In 1981, three of the Grand Strand's most popular events, the Little River Blue Crab Festival, Dickens Christmas Show and Festival and the "Round The Fourth" Festival (now Conway Riverfest) were held for the first time. Visitors who loved to visit Cherry Grove, Ocean Drive Beach, Crescent Beach and Windy Hill gained convenient access to these festivals and events.
Over the next thirty years, North Myrtle Beach would grow to become the epicenter for family-friendly events at the north end of South Carolina's coast, adding many of signature events of their own throughout the year, such as:
1982: Vanna White becomes the full-time hostess of Wheel of Fortune
Vanna White is one of North Myrtle Beach's most well-known natives. After Wheel of Fortune hostess Susan Stafford left in October 1982, she was selected as one of three substitute hostesses (along with Vicki McCarty and Summer Bartholomew) to co-host the show. Within a few months, she became the regular hostess. She is currently signed as a hostess of the show until 2020.
1987: Main Street grows and changes
This decade brought many changes to the Main Street of North Myrtle Beach. In 1987, the former Beach Music Center in Myrtle Beach relocated and became Judy's House of Oldies, a funky little record store and gift shop. Judy's is still the go-to destination on Main Street to peruse and purchase oldies, Carolina beach music, and rhythm and blues.
Around the same time, The Pad, a long-running shag dance club, closed. The Pad was a decades-old hangout that featured a yard for dancing, empty bathtubs used as coolers, and a bar offering 25-cent beers. In it's prime, the early days of the Carolina Shag, this kind of dance was considered uncouth, so The Pad featured a wall to hide the dancing.
Today, Main Street, Ocean Drive is an iconic intersection for shopping for gifts and souvenirs, eating fresh seafood and classic Southern dishes, dancing the Carolina Shag in clubs like Fat Harolds or the OD Lounge, or enjoying a cold beverage. In fact, North Myrtle Beach's Main Street was recently named one of the "23 Best Small Town Main Streets in America" by County Living Magazine.
We hope this trip down memory lane has inspired you to come celebrate with us and make new memories. Visit our accommodations page to book the perfect beach home, condo, hotel or resort for your North Myrtle Beach vacation today! And if you want to learn more about the history of North Myrtle Beach, check out the history of North Myrtle Beach from 1968-1978, 1988-1998, 1998 - 2008 and 2008 - 2018.