North Myrtle Beach celebrated its 50th anniversary as one seaside community in May 2018. To honor the occasion, we've reopened the vaults on the last five decades. In this blog, we've highlighted some of the exciting happenings in North Myrtle Beach between 2008 and our landmark 50th anniversary!
2008: Big M Casino Sets Sail For the First Time
Located in Little River, the Big M Casino Cruise began testing the luck of visitors (and locals) with Blackjack, Craps, Roulette, Poker, and slot machines in 2008. Today, the Big M remains South Carolina's only casino cruise. Offering theme nights, all-you-can-eat buffets and live entertainment, this casino cruise is truly a one-of-a-kind experience.
2010: North Beach Plantation Opens
At the beautiful and vibrant south end of North Myrtle Beach, North Beach Plantation opened in 2010. This luxurious resort features two impressive towers, numerous five-star amenities, and water facilities including swimming pools, spas, a lazy river, a swim-up pool bar and private cabanas.
This magnificent oceanfront property includes 21 Main, a premier steakhouse and sushi bar that is one of the Grand Strand area's favorite high-end dining experiences.
2010: The Restaurant Scene Continues to Grow
As North Myrtle Beach continued to grow as a destination for food-loving visitors, more delicious (and conveniently located) dining hotspots opened in the area. Midtown Bistro added Italian-inspired cuisine to the Crescent Beach neighborhood. Today, it is well known for mouth-watering food at an affordable price.
Also in 2010, Barefoot Landing added more waterfront dining with Flying Fish Public Market and Grill. With huge cases of fresh fish, sushi and seafood, Flying Fish is a perfect place to enjoy lunch or dinner with a view.
2011: Pirate's Voyage Provides a Fun, Kid-Focused Dinner Theatre Experience
Dreamed up by the creators of Dollywood, Pirate's Voyage Dinner and Show added a family-friendly theater and dining experience to the area's growing live entertainment scene in 2011. This popular attraction features Captain Blackbeard, "the most famous pirate to ever sail the seven seas," on an adventure for lost treasure on land, on deck, and in water.
2013: North Myrtle Beach Historical Museum Opens
Although it officially opened in 2013, the North Myrtle Beach Historical Museum was dreamed up by local businessmen Dick Hester in 2005. Located in the former North Myrtle Beach Library building, the museum continues to grow their collection through donations from people who lived in, vacationed in, or collected a souvenir from the numerous neighborhood and communities in the area.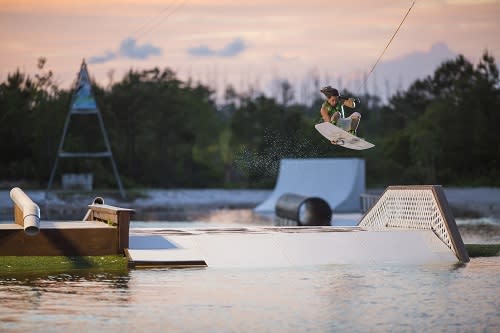 2014: NMB Park and Sports Complex Brings More than Just Tournaments
The sprawling 162-acre North Myrtle Beach Park and Sports Complex hosts softball, baseball, soccer, lacrosse and countless other tournaments throughout the year. But did you know that since its 2014 opening, the park has become home to numerous other attractions and events?
In 2014, Go Ape Zipline and Treetop Adventure opened. This exciting, high-flying adventure allows the family and groups to explore a ropes course in the treetops and zipline across a 25-acre lake. Shortly after, in 2016, Shark Wake Park opened. Shark Wake Park is unique in that wakeboarders are pulled by a high-tech pulley system instead of a boat. Featuring a state-of-the-art cable system, this is one of the easiest systems for beginners to learn on, but also allows more advanced riders to "go big" seconds later. If wakeboarding isn't your thing, you can watch riders from The Shark Shack, a large observation deck that sells snacks and refreshments. Go Ape and Shark Wake Park are two of the most unique (and unexpected) activities you can enjoy in North Myrtle Beach!
And at the Sandhills Bank Amphitheatre, the Sounds of Summer concert series is held within the Park and Sports Complex. This is one of many free family-friendly events in North Myrtle Beach that takes place on a regular basis each summer.
2015: Attractions Continue to Open Along Highway 17
Known for their "burgers, bocce, beer and bowling," 710 North Myrtle Beach has grown in popularity as dining and entertainment experience since opening in 2015.
Also in 2015, Duplin Winery, the makers of America's favorite Muscadine wine, opened their North Myrtle Beach location. Located right beside Barefoot Landing, the tasting room and wine store offers two affordable wine tastings, including basic and deluxe options. Make plans to hang out after your wine tasting and listen to live music on the patio, play bocce ball and browse their huge retail store.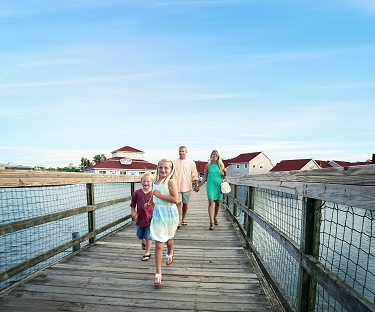 2018: Barefoot Landing Continues To Grow
Barefoot Landing plans to expand by adding a walkable restaurant district called Dockside Village. Kicking off this exciting initiative is Lulu's by Lucy Buffett, a 400-seat restaurant concept created by the sister of one of the most famous beach musicians ever, Jimmy Buffet. Scheduled to open in summer of 2018, Lulu's will also feature nightly live music, a ropes course, an arcade and a large sandy beach complete with "LuLu's Shag Beach Bar."
Want to learn more about the history of our oceanfront town? Be sure to check out our other blogs: 1968–1978, 1978–1988,  1988 – 1998 and 1998 – 2008. We hope this trip down memory lane has inspired you to come celebrate with us. Visit our accommodations page to book the perfect beach home, condo, hotel or resort for your North Myrtle Beach vacation today!