Travel doesn't have to be expensive. In North Myrtle Beach, budget-conscious travelers will find a large variety of affordable (or free!) activities, especially in the fall. But lower prices aren't the only great thing about this season: the mild weather also compliments less-crowded beaches, making fall one of the best times for couples and families to enjoy a beach getaway that won't break the bank.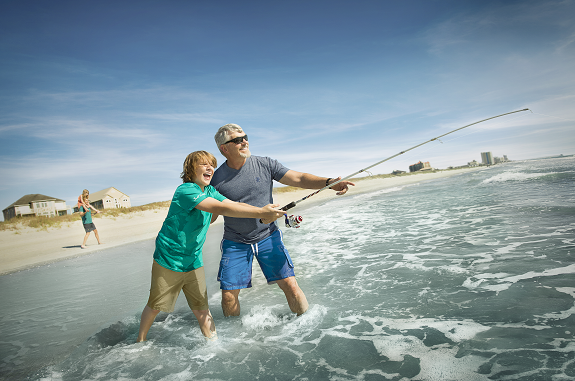 We've rounded up a few of the best beach activities that can all be enjoyed in North Myrtle Beach for less than $50 this fall.
LIVE ENTERTAINMENT:
When planning a family vacation, it's sometimes hard to find entertainment that everyone will enjoy. But not in North Myrtle Beach! The Grand Strand is home to several theaters and live music venues, many of which run specials during the fall season.
The entire family will be saying "Yo-Ho!" after an evening at Pirate's Voyage. During a four-course dinner, you'll watch pirates walk the plank and perform acrobatics on a high-seas adventure complete with a full-size pirate ship, lagoon and live animals. Hold on to your salad plates, mateys!
While there are countless big-name concerts and tribute bands that frequent House of Blues, families shouldn't overlook the House of Blues Gospel Brunch, where children 3 and under eat for FREE. (Yes…free!)
For over two decades, families have laughed, sang and danced in their seats together at the Alabama Theatre. Their signature production, ONE The Show, features everything from Broadway hits to Today's Top 20 to Classic Rock, all while mixing in plenty of hilarious comedy.  
Acclaimed by The New York Times, USA Today, CNBC, and CNN, The Carolina Opry was one of the first theatres in the Myrtle Beach area. Been to this theatre before? Might be time to bring the family back; each season you'll experience fresh talent (like 17-year old Rory John Zak), different songs and new, elaborate costumes.
MAIN STREET OCEAN DRIVE:
From family-friendly concerts to seasonal festivals, there's always something happening on Main Street! Don't believe us? Ask Southern Living, who listed Main Street as one of their 25 Best Small Town Main Streets You Need to Visit ASAP. Check out upcoming events on the North Myrtle Beach events calendar.
Fuel up for the day (or night) by visiting one of the nearby places to eat, like Hoskins Restaurant. On a busy day, the line to try some of Hoskins' famous made-from-scratch biscuits spills out onto Main Street's sidewalk. But don't let this scare you away—the line moves quick and it's worth the wait!
PIER FISHING:
Beachgoers with their own fishing rods can spend the day fishing from the Cherry Grove Fishing Pier for $10.50 ($7.50 per rod plus a $3 admission fee). If you need to rent a fishing rod, consider going after 3pm, when rental rates drop from $24 to $16. Those who aren't going to fish can buy a Walker's Pass for a $3 fee. It's less crowded in the fall, making it a great time for a stroll on the pier!
BAREFOOT LANDING:
No trip to North Myrtle Beach is complete without a walk through Barefoot Landing. There is no cost to explore the property, which encompasses a 27-acre lake filled with fish, turtles, migratory waterfowl and other wildlife. Throughout the year, free live acoustic music can be enjoyed along the boardwalk, so be sure to take a stroll before eating dinner at one of the many restaurants located here.
MUSEUMS AND ART GALLERIES:
The North Myrtle Beach area is home to several museums and aquariums that children and adults alike will enjoy. A few kid-friendly favorites are WonderWorks and Ripley's Aquarium. Specializing in "edu-tainment" (education + entertainment), Wonderworks is a 50,000 square feet attraction featuring six adventurous zones that are sure to spark the imagination of everyone in your family.
Observe unique aquatic life at Ripley's Aquarium. With two levels full of different exhibits, you could spend a whole day checking out the sea creatures here. And you should, because your tickets are actually an all-day pass. Just ask for a hand stamp in the gift store and you can return later that same day. Spend a morning making your way through the interactive galleries, enjoy an affordable picnic lunch at one of the many green spaces at Broadway at the Beach, and then head back inside to explore all the exhibits you haven't seen yet!
Take in some history at the North Myrtle Beach Historical Museum. Each seaside community in North Myrtle Beach has its own unique history, and this museum will dive into all of it. In fact, it showcases the region's rich history going back as far back as 10,000 years! Admission is $4 for seniors, $5 for adults and $3 for kids ages 5–12.
NATURE PRESERVE: 
For those looking to relax and become one with nature, there is no better place to visit than Heritage Shores Nature Preserve. The preserve offers a mile-long walking path through a saltwater marsh, complete with elevated boardwalks and observation decks. Admission is free and the park is open year-round (read more on our "free things to do" blog post).
SHAG DANCING:
If you're able to sneak away for a date night (the grandparents will love having some one-on-one time with the kiddos, we promise!), stop by one of North Myrtle Beach's famous beach bars and learn The Carolina Shag. It's at the intersection of Main Street and Ocean Drive where this dance got its start. Many of the bars and clubs offer shag lessons on certain nights of the week. Sounds like a good excuse for happy hour!
What's your favorite way to enjoy a beach vacation without breaking the bank? Show us by sharing your photos on social media using #JustCoast!