Are you ready to get the guys together again? If you're in need of a guys' weekend away (or hoping for a longer getaway with friends) and the time is right for your group, plan a trip to North Myrtle Beach.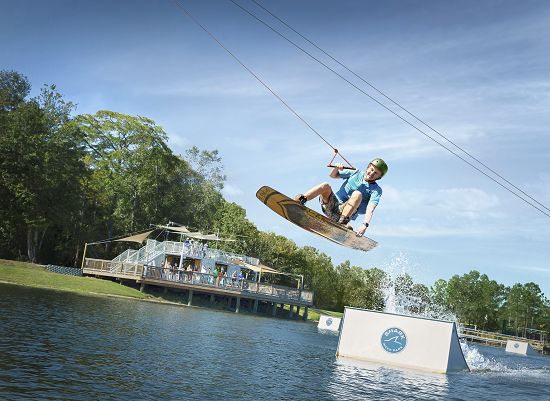 With a variety of things to do and more than 15,000 accommodation options (ranging from spacious condos and charming villas to oceanfront homes), you're sure to find something everyone will enjoy! We've rounded up five of the most popular things to do in North Myrtle Beach on a guys' weekend. So, what are you waiting for? Start packing your bags, and don't forget your secure face coverings!
FEEL THE ADRENALINE RUSH
Have a group full of thrill-seekers? North Myrtle Beach is home to several activities that are sure to get your heart racing. One of the area's most popular attractions is Shark Wake Park, where you can wakeboard without a boat. Yes . . . without a boat! Shark Wake Park uses a state-of-the-art cable system to pull wakeboarders. It's one of the easiest systems to learn on, but will challenge more advanced riders with ramps and rails. Once you've worked up an appetite, grab a snack (and a cold craft beer) at the Shark Shack, Shark Wake Park's viewing area, while you watch your friends perfect their ride.
Experience the excitement of the ride of a lifetime with a group surfing lesson from Kokopelli Surf Camp. The instructors are knowledgeable and experienced; they even guarantee you'll be surfing on the first lesson.
With so many exhilarating ways for your group to get out on the water in North Myrtle Beach—including paddleboarding, kayaking, parasailing, jet ski rentals and boat cruises—it might be hard to choose!
GAMBLE ABOARD THE BIG "M" CASINO
Like a floating version of a Las Vegas casino, The Big "M" Casino Cruise is a massive gambling vessel that departs out of nearby Little River. Once the boat is three miles out from shore, you and the guys can try your luck at table games like Blackjack, 3 Card Poker, Craps or Roulette. Or, you can play the odds at one of the many slot machines on board.
The Big "M" is currently offering morning casino cruises, and reservations are required. Don't forget your lucky mask - a secure face covering is required while onboard.  
PLAY GOLF, GOLF AND MORE GOLF
If golf was the reason your group decided to visit the Grand Strand, you made the right choice. This perfect socially distanced activity combines fresh air, sunshine and the great outdoors. With so many top-ranked golf courses nearby, your hardest decision will be deciding where to play.
Located in the heart of North Myrtle Beach is Beachwood Golf Course. This course, designed by Carolina native Gene Hamm, has hosted the Carolinas Open and the Carolinas PGA Seniors Championship. But don't be too intimidated; Beachwood prides itself on offering a fun yet challenging experience for players of all skill levels. Another nearby course that was also designed by Hamm is Eagle Nest. This scenic course is located on the north end of the Grand Strand in Little River, North Myrtle Beach's charming fishing village.
It might be hard to believe, but four of the area's most well-known golf courses are all located at Barefoot Resort. Affectionately referred to as the "Fantastic Four," these courses are named after the golf icons who designed them: the Norman, the Love, the Fazio and the Dye. 
If you are able, make the 30-minute drive south to the famous Legends Golf Resort. Because of its popularity, reservations are recommended at this popular Scottish-inspired course if you'd like to play a round . . . especially if you have a large group!
Looking for a more casual golf experience? Head to nearby Top Golf, a high-tech golf game that everyone can enjoy. The Myrtle Beach location is home to more than 70 hitting bays and a full-service restaurant and bar. 
EAT TO YOUR HEART'S CONTENT
Speaking of golf, dine like Greg Norman himself at Greg Norman Australian Grille. Owned by the golfer, this waterfront restaurant was modeled after dining establishments in Sydney Harbour. Your group will love the extensive and adventurous menu, including entrées like lobster ravioli, seared Ahi tuna or filet au poivre served with a creamy peppercorn demi. The restaurant also boasts an extensive wine list, including bottles from Norman's own label.
Another waterfront hotspot is Filet's on the Water. Offering some of the area's best steaks, seafood and sushi—along with complementary views of the waterway—dinner at Filet's is sure to have your group content (and full) after a long day on the golf course or out on the water.
Looking for something a little more laid back? Head to Taco Mundo for delicious Mexican cuisine, neighboring Lucy Buffet's Lulu's for a "World Famous" Bushwhacker, or grab a bite to eat with a side of live music on the back deck of the House of Blues. 
CAST A LINE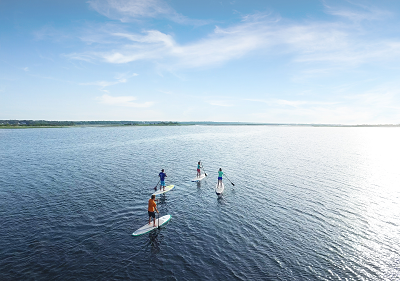 North Myrtle Beach is perfectly nestled between the ocean and a series of interconnected inlets and waterways. This unique position makes it a premier destination for a variety of fishing.  
One of the most popular ways to fish is pier fishing, especially from the iconic Cherry Grove Fishing Pier. This pier is still home to the all-tackle world record in South Carolina: a 1,780-pound tiger shark caught in 1964.
Charter fishing is another popular way to cast a line, ranging from inshore fishing to gulfstream fishing and backwater fishing to a deep-sea excursion. There are many fishing charters along the Grand Strand that can accommodate you as part of a larger group experience or can be booked as a private excursion.
With so many things to do, don't forget to enjoy the beach! North Myrtle Beach is home to nine miles of beautiful shoreline that your group can easily access by ample free beach parking. Finally, convinced it's time for a guys-only getaway? Book your accommodations now!