Adventuring together creates new bonds for three generations of family.
By Becky Johnson
Instead of making the five-hour trek to see the in-laws—which we do several times a year—my husband, Nick, and I invited them to meet us at the beach. That way, Nick's parents would get to spend quality time with their grandchildren and the kids would have more fun than if we stayed at a hotel. While our family made the scenic drive through the Blue Ridge Mountains, Nick's parents boarded a direct flight from Indianapolis. Three generations of Johnsons were about to discover how much fun they could have in North Myrtle Beach.
Ahoy, Mateys!
After a smooth check-in at our beach home, we arrived at our first adventure, Blackbeard's Pirate Cruise. The kids were ready, with faces painted by the crew and pirate kits in hand—complete with eye patches, swords, necklaces, and skull and crossbones bandanas—purchased by their grandparents. There was no stopping these new pirate crew members.
The Treasure Hunter is a beautiful boat, with a covered top deck where I escaped to take pictures. All the action was on the lower deck, however, where the crew directed the kids to man the water cannons for a battle on the high seas. It was a sight to see Grandma and Grandpa—pirate bandanas on their heads—helping nine-year-old Ava and 11-year-old Chase battle it out with a modern-day pirate on a Jet Ski!
The crew made sure all the kids were engaged and having fun. They did such a good job, in fact, I jokingly asked if I could pack them in my luggage and take them home with me after they got Chase to swab the deck! I don't know who had more fun, Ava and Chase, or Nick's parents. It was the perfect mix of action and relaxation, cruising along the Intracoastal Waterway—the same waters Blackbeard himself once sailed.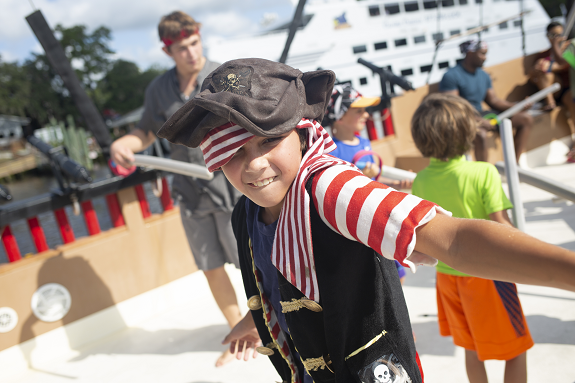 Sun and Seafood
"The real treasure is here," my mother-in-law said that afternoon as we set our beach chairs down in the pristine, soft sand at Cherry Grove Beach as the kids ran down to splash in the waves, still talking like pirates from their morning adventure. We spent the next few hours in total bliss, relaxing on the beach. Between swimming in the ocean and building sandcastles with their nonna and poppy, we had to practically drag the kids away to eat. But we didn't have to go far.
Duffy Street Seafood Shack was a two-minute walk, two short blocks from the beach. The kids were delighted to learn the restaurant had a "Pirate's Plate" but opted for fried seafood instead. Ava chose the fried shrimp off the Young Lads menu, while Chase wanted to mix it up with a crab cake and onion rings from the appetizer menu. Nick and I dove into our raw bar orders of peel-and-eat shrimp, clams, and oysters, and enjoyed our adult lemonade, made with freshly squeezed lemons . . . and vodka!
After an awesome dinner, we drove down to North Myrtle Beach's Main Street. Little did we know, there was a concert going on, part of the Music on Main concert series. We grabbed our beach chairs and blankets from the car and joined the crowd. Ava spotted an ice cream place and took off running, dragging her poppy's hand. I headed down the block and found them outside of Melt, a bright blue storefront with some interesting flavors—most homemade—on a chalkboard. One taste of brown-butter bourbon truffle and I wasn't surprised to learn Food & Wine named this little joint the best ice cream in the state.
Catching Waves and Air
"Where's the boat?" Chase asked the next morning. But at Shark Wake Park in the North Myrtle Beach Park and Sports Complex, we didn't need a boat—or even boards. Pulleys would help Chase and Ava catch some waves while we watched them from the covered deck,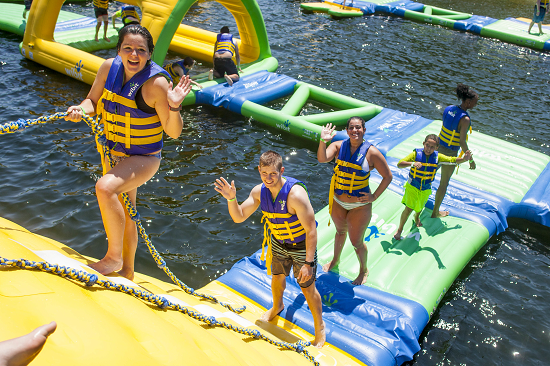 adult beverages from the Shark Shack in hand. They screamed with delight when they were able to stand up. Determined to try a trick or two, Chase ventured onto the ramps to catch some air. Ava decided she wanted to check out the Aqua Park, so the rest of us joined her. She loved the giant inflatables, especially the slide.
Ready for more kid-friendly action, we headed to The Nexus VR Arcade. Inside the blue room, headsets offered us gateways to other dimensions, with more than 100 experiences to choose from.
"I'm a Formula One race car driver," announced Chase.
"Look, I have a pet baby dragon!" said Ava, excited about the miniature flying fire-breather in Beast Pets.
We adults even got in on the fun. Nick traveled to all Seven Wonders of the World via Google Earth, while I rode a roller coaster that felt so real I tried to lift the safety bar at the end. Nick's dad had a blast wreaking havoc around the office in the job simulator as his mom giggled madly, dodging imaginary objects on the omnidirectional treadmill.
Ding, Ding, and Bling !
For lunch, we headed to Lucy Buffett's Lulu's, a colorful restaurant at Barefoot Landing with views of the water and its own arcade next door. After the kids finished their burgers, we stopped in to give the Pac-Man machine a go.
"What's this? A kids' casino?" Nick asked.
Lulu's Beach Arcade and Ropes Course serves free soft drinks to its patrons. With their Cokes and prepaid cards in hand, the kids set off to conquer the games. Nick taught Chase some Pac-Man moves while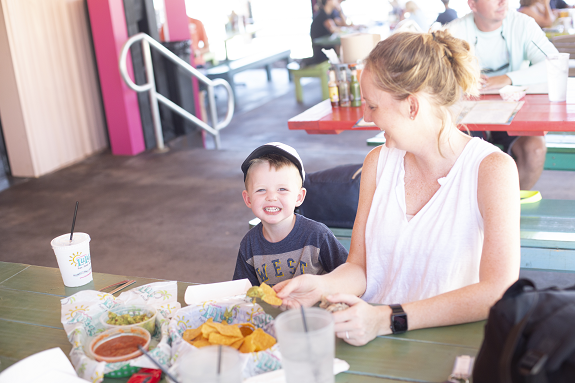 Ava played air hockey with her poppy, and my mother-in-law and I spun the Wheel of Fortune (which is also one of her favorite shows). We had so much fun, the only reason we left before dark is because the kids wanted to try the ropes course. At 48 feet tall, with a funky tropical theme, it was hard to miss.
"Ready?" the instructor asked as he harnessed the kids in before they set to climbing like monkeys.
Afterward, Nick and his dad took the kids to the new playground at Barefoot Landing,  which has forest-themed tube slides that look like giant logs, while my mother-in-law and I shopped for pearls. Well, technically, we picked oysters out of a tank. We walked out of the boutique with a set of treasured earrings and matching necklace that will eventually be passed on to Ava.
On our last evening, after dinner at Boardwalk Billy's, we headed back to the North Myrtle Beach Park and Sports Complex and set up our chairs for the free Sounds of Summer Concert, part of a series of concerts and a perfect way to relax and wind down after all of our adventures.
Adventure Together
The next morning, after breakfast at Blueberry's Grill, we began the drive home. The kids were exhausted and slept most of the way, leaving me with plenty of quiet time to reflect. I was glad we had chosen North Myrtle Beach. It was the perfect vacation destination for all of us. Not only did we have some amazing adventures, I think we all felt a little bit closer. Spending time together created new bonds between all of us . . .  not just the kids and their grandparents, but Nick and his parents, and me and my in-laws. I was already looking forward to next year.