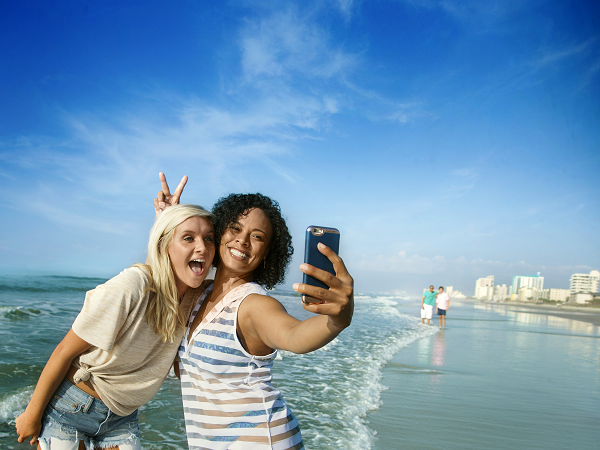 If you're looking for a fun fall getaway, but you're not sure where to start planning, we have plenty of ideas and tips on things to do right here in North Myrtle Beach. Follow this four-day itinerary and you definitely won't have an ordinary vacation!
Day 1:
DID SOMEONE SAY BRUNCH?
Nothing says "I'm on vacation" like a long brunch with friends. You're in the perfect spot to indulge: our pancake houses are famous for their great food, modest prices and friendly Southern atmospheres. In North Myrtle Beach, there's definitely no shortage of places to choose from—try Dino's House of Pancakes, Hot Stacks Pancake House or the Southern Sunrise Pancake House for heaping plates of a traditional all-American breakfast and endless cups of hot coffee.
The classics are a good place to start, but if you're looking for something a bit more out of the box, consider Johnny D's Waffles and Benedicts, where resident Chef Jamie Daskalis puts her own spin on Southern classics throughout her menu. Wondering what you'll find? Chicken Fajita Omelets, Funfetti Waffles, Brisket Benedict and Churro French Toast are just a few of the options on the menu. You won't want to leave without trying a Breakfast Margarita or a Spiked Freckled Lemonade (or two)!
GET ON THE WATER
Once you're done with breakfast, it's time to get out and see what all the North Myrtle Beach buzz is about. The slightly cooler autumn months are an ideal time to explore the ecosystems in our area—and one of the best ways to do it is on a kayak tour. To get started, head over to Great Escapes Kayak Expeditions. From here, you'll set out on an exciting journey to a few different places, including a route along the Waccamaw River, a stop at a private beach or a path through the waters around Cherry Grove. Bookings are flexible with time and place, so it's easy to find a tour that fits your schedule. While you're paddling, be on the lookout for bottlenose dolphins that travel here throughout the year!
CATCH A SHOW
The Grand Strand isn't just a place for outdoor adventure—it's home to all kinds of indoor shows and experiences, too. There's something going on almost nightly! Music lovers should check out House of Blues or Legends in Concert for an evening of high-energy live music.
If you'd rather spend the evening laughing, give Comedy Cabana a try. This long-standing comedy club brings in three new comedians every week, so performances are always fresh. Some of their visiting comics have been featured on Comedy Central, Jay Leno and Jimmy Fallon!
Day 2:
HIT THE LINKS
Did you know you're in what's considered "the golf capital of the world?" There's truly a set of greens here for every skill level and budget—from oodles of mini golf courses to TopGolf to award-winning courses designed by some of your favorite famous golfers.
If you're looking for 18 holes and need a place to get started, Tidewater Golf Club and Possum Trot Golf Club are known for their great value and excellent playing conditions. Feel free to go off the beaten path to discover your own favorites. But be warned: with the selection available here, it may take you more than one visit!
TAKE ON THE TOWN
When the sun goes down, spend the night bar-hopping with your friends. Start off at Lucy Buffett's Lulu's in Barefoot Landing and grab a Palmetto Purple Lemonade or a Bama Breeze from the bar. Then, swing by the beach arcade to challenge your pals in a head-to-head video game before Ubering to the next spot.
Tell the driver to take you over to Main Street Ocean Drive, where you can stroll from club to pub as you see fit. Check out Sky Bar, where you can enjoy cocktails on a rooftop bar overlooking Main Street. Then move along to Pirate's Cove Lounge and hit the dance floor—at this point, the drinks should be taking care of any nerves you may have. Music played here spans, rock, Reggae, county, hip hop, classic rock, and more!
Day 3:
CATCH OF A LIFETIME
Just a short way off our beaches, you can find some of the best fishing waters on the East Coast. And since fishing has been such a big part of our history, we have plenty of commercial fishing charters that put you right in the middle of the action. Whether you're a seasoned angler or completely new, the captains from Reel Action Fishing Charters can help you create an unforgettable experience…and maybe even land a big catch. They have a fleet of boats that can take you on a number of different adventures, like jetty fishing, deep sea fishing, or inshore fishing. Point your captain in any direction and let them take care of the rest.
REFUEL
When you finish your fishing trip and come off the water, you're going to want to grab a bite to eat! If you've had enough fish for the moment, head over to Kings Famous Pizza for gyros, subs and (of course) pizza. Known as a "local treasure," Kings Famous Pizza has been feeding the people of the Grand Strand for over 32 years.
SHOP 'TIL YOU DROP
As a long-standing community favorite, Barefoot Landing is filled to the brim with trendy shopping, dining and entertainment. Family-owned boutiques mingle with artisan shops and national brands to create a shopping experience that has something for everyone.
If you're looking to do some early Christmas shopping, spend some time in Christmas Mouse and browse the ornaments, stockings and decorations. If you're a dog mom or dad, visit Faux Paws Dog Shoppe to pick up a treat or accessory for your pooch. After all, everyone deserves a souvenir!
And that's just the tip of the Barefoot Landing iceberg. You're bound to find even more to interest you as you explore the 100+ acre property, including somewhere to stop in for dinner. Since it tends to be less crowded this time of year, your group can take your pick of the variety of places to eat in Barefoot Landing, ranging from Mexican to Italian to seafood. Got a sweet tooth? Candy and ice cream shops like Sweet Molly's Creamery and The Fudgery will satisfy your cravings before you call it a night.
Day 4:
DON'T LET THE CARBS CATCH UP WITH YOU
Yes, vacation may be for relaxing, but fitness junkies won't regret spending time at some of the fitness centers and gyms in the area. The North Myrtle Beach Aquatic & Fitness Center is a favorite among both locals and repeat visitors. Go for a swim, do some cardio, pump some iron or take a class. With a day pass or a weekly pass, all of these things and more are available to you here.
And CrossFitters rejoice: CrossFit North Myrtle Beach is just down the road and they're happy to help make sure you stay on schedule with your workouts while you unwind.
If going to the gym is not your cup of tea while on vacation, try taking Shag lessons at Fat Harold's Beach Club! You can find beginner lessons every Tuesday, but check their calendar for all kinds of dance lessons and events. You'll burn up a ton of energy without even realizing it!
No one said that vacation had to be unhealthy, so get your workouts in and stay in tip-top shape while you make memories in North Myrtle Beach.
GET THE TENSION OUT
Once you've finished working up a good sweat, pop over to any one of North Myrtle Beach's relaxing spas. Let an experienced staff member at Touch MedSpa work out all your knots with a full body massage or take the stress off of your joints in a hot tub at Cinzia Spa. No matter what you choose, you can expect to relax without a worry at any of the area's luxury spas.
WINE & BEER O'CLOCK
Take an afternoon trip to La Belle Amie Vineyard to pamper your spirit with good entertainment, great atmosphere and excellent wine. Just a few miles away from the shore, La Belle Amie is an easily-accessible venue in a beautiful setting. The winery's grounds reside amid a coastal forest, making it the perfect place to catch up with friends…and film a killer Instagram story.
If you're more of a craft beer connoisseur, visit New South Brewing on Campbell Street in Myrtle Beach, where the microbrewery's motto is "Hand Crafted. Hand Canned. Hands On." Full walking tours of the facility are set to resume this fall, so you're just in time to catch them! On Sundays, they even have yoga and beer at 11 a.m. Namaste!
Need additional ideas? Be sure to follow us on Instagram for more vacation inspiration, helpful tips, accommodation options and things to do.