It's officially summertime and we know your family is ready for a beach vacation! North Myrtle Beach is the perfect vacation at your own pace, with plenty of space to enjoy it all.   
Start planning your getaway by booking a place to stay. In North Myrtle Beach, you'll find a variety—ranging from beach houses and condos to hotels and resorts—and each accommodations provider is taking important steps to ensure you a safe visit. Your family can choose from accommodations of all shapes and sizes, including different amenities that might be important to you, like a private pool, a kitchen or kitchenette, dining space, or extensive patio.  
Once you have found a home away from home, start dreaming about how you want to spend your vacation. We've put together a helpful list of things to do on a trip to North Myrtle Beach this summer: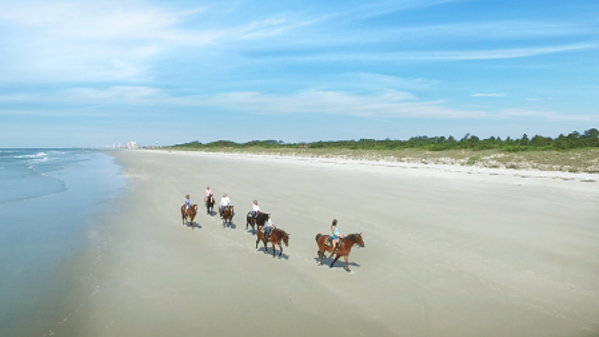 GIDDY UP 
The beach is the main attraction here and it's no secret why! North Myrtle Beach's miles of coastline boast some of the widest, white-sand beaches in South Carolina. But you may not know the Grand Strand is also home to one of the last remaining undeveloped parts of the Atlantic Coast. Located just north of the Cherry Grove neighborhood, Waites Island is more than 1,000 acres of pristine nature and beauty. This barrier island is home to loggerhead sea turtles, blue herons, and more unique wildlife. However, some of the island's most popular residents happen to be horses! 
At Inlet Point Plantation, a historic fort-turned-sanctuary on Waites Island, horseback tours are a can't-miss activity for the whole family. Experienced guides lead guests on a series of scenic tours aboard the majestic steeds, ranging from smaller quarter horses to larger thoroughbreds. Riders mount up at the stables and depart for the popular beach trail, the plantation tour, or the Intracoastal Waterway ride. There's no better way to get some fresh air and soak in the wide, expansive views. 
GET SET TO JET 
There are dozens of ways to explore the ocean and the area's rivers, inlets, and waterways. Create an exciting adventure for the day by renting a boat for your family. Plan your excursion and take a trip down the Intracoastal Waterway. Pack a lunch and spread out to enjoy the views with your own private cruise. For families with older kids and adrenaline-junkie parents, go for a Jet Ski rental. Action Water Sportz has been renting Jet Skis and boats in North Myrtle Beach for almost a decade. With three locations along the Grand Strand, you can take a spin in a location convenient for you.  
For families with nature lovers, consider booking a dolphin cruise. North Myrtle Beach's waterways are home to some of the most popular ocean inhabitants—the bottlenose dolphin. As local companies take additional precautions to ensure the safety of everyone, many are operating at limited capacity this summer. Be sure to book reservations in advance! 
WALKING ON WATER 
Paddleboarding and kayaking are two of the best ways to get out on the water and find your own paradise. On our quiet waterways, you'll be able to get up close and personal with Mother Nature while having fun (not to mention, they're both great ways to get some exercise!).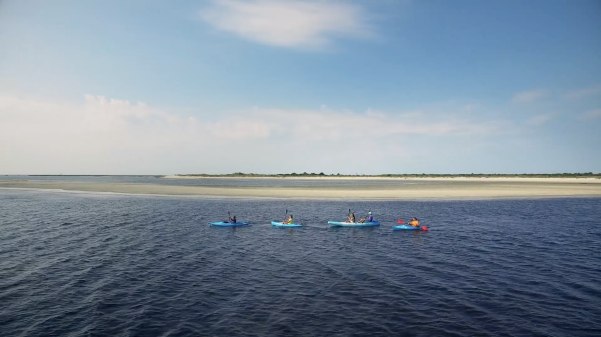 Don't have any equipment? No worries! Make your reservation for these activities by contacting a local rental company. The friendly, knowledgeable staff are ready to help you and your family with the proper equipment or take your group on a guided tour. 
THE SAND IS GRAND 
Some of the best things in life are free. The star of the show in North Myrtle Beach—the beach—also happens to be free for all! Our nine miles of beautiful, wide beaches are the perfect spot to spread out and spend quality time together. Throw a Frisbee with the kids or play games like spike ball, volleyball, bocce, and soccer. Enjoy the relaxing sound of the ocean as you take a sunset stroll along the sandy beaches and maybe even collect a few seashells or sand dollars along the way.  
When you're ready for lunch or dinner while at the beach, grab a bite to eat at one of the many restaurants on the shore.  
If your family is looking for relaxation, exploration, or both, the sands of North Myrtle Beach is plenty of room for everyone to enjoy! The restaurants, attractions, and accommodations in our community have taken important steps to ensure your visit is memorable. For the latest tips and resources, visit our webpage on healthy traveling. 
We look forward to seeing you this summer!