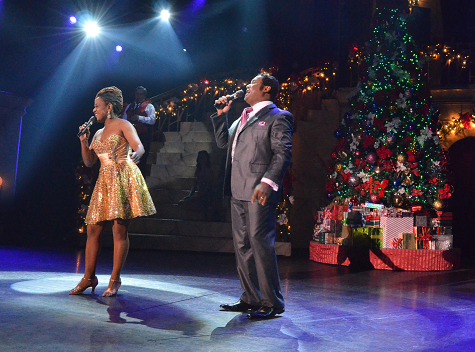 Looking to warm up this holiday season? Now is the perfect time to start planning a holiday vacation to the beach! Every year, you can find festive events to help get you and yours in the holiday spirit all over the Grand Strand and this year is no exception. In North Myrtle Beach there are lots of ways to enjoy the holiday season while traveling safely and exploring responsibly.  This year shows and attractions are offering limited seating or attendance in order to safely physically distance, so make your reservations early! Here are some of our favorite festive events happening between now and the new year. Bring on the Christmas spirit!
THE SOUTH'S GRANDEST CHRISTMAS SHOW AT ALABAMA THEATRE: NOVEMBER 2 – DECEMBER 31
The South's Grandest Christmas Show at Alabama Theatre is an annual celebration featuring a combination of traditional Christmas songs, contemporary holiday favorites and hilarious comedy that's sure to entertain you. New for 2020 is comedic juggler Slim Chance who will put a twist on the Christmas season! For information on tickets, specials and safety precautions, visit their website.
THE CAROLINA OPRY CHRISTMAS SPECIAL: NOVEMBER 2 – JANUARY 6
Every year, the Christmas Special at The Carolina Opry features brand-new music, dancing and entertainment and the 2020 show will be no different. Thirty-five of the nation's most talented vocalists, musicians and comedians perform in a show that will captivate you from beginning to end. If you weren't feeling festive before, just walking into the theater's beautifully-decorated lobby will put you in the holiday spirit. There are over 35 Christmas trees, 75 wreaths and 5 miles of tree lights! To book tickets and to learn more about their safety protocols, give them a call at 800-843-6779 or visit their website.
CHRISTMAS AT PIRATES VOYAGE DINNER & SHOW: NOVEMBER 6 – DECEMBER 31
Experience a high-seas tale, Christmas style! Pirates Voyage Dinner & Show is an exciting family tradition that "puts some 'Yo Ho' in your 'Ho Ho Ho!'" During this holiday special, you'll enjoy a four-course dinner while the Crimson and Emerald pirates go on a quest to seize the coveted Christmas treasure from Captain Scrooge. This swashbuckling show runs through the end of the year, and all pirate parties will be seated 6 feet apart. Book your tickets on the Pirate's Voyage webpage!
DASHING THROUGH THE GLOW: NOVEMBER 20
Lace-up your running shoes and join us on November 20 at 7 p.m. for an exciting two-mile walk/run throughout the attraction. As a participant, you'll be among the first to see The Great Christmas Light Show at the North Myrtle Beach Park and Sports Complex, where there's something new and festive to admire with every step. One thing to note: participants are encouraged to wear holiday-themed attire, so be sure to bring along your Santa hats and Rudolph noses! In true 2020 style, all runners will receive a commemorative facemask and medal. 
THE GREAT CHRISTMAS LIGHT SHOW: NOVEMBER 23 – DECEMBER 30
For the perfect socially distanced festive activity, visit The Great Christmas Light Show between November and the end of December at the North Myrtle Beach Park & Sports Complex. More than 2 million lights are festively displayed along a 1.5-mile drive throughout the complex. Enchanting animated figures and holiday scenes dance across 500 stunning light displays located throughout the park. Each remarkable scene has been custom made specifically for The Great Christmas Light Show, so we guarantee it's unlike anything you've ever seen before. At the end of the journey, stop by Santa's Village for delicious hot cocoa and s'mores. 
NIGHTS OF A THOUSAND CANDLES: NOVEMBER 27 - DECEMBER 31
Named "Best Christmas Lights in South Carolina" by Travel+Leisure Magazine, Brookgreen Garden's Nights of a Thousand Candles is a must see while visiting the Grand Strand. Explore and stroll the garden pathways with a hot cup of cocoa or a glass of wine and see the over 2,500 hand-lit candles and tens of thousands of sparkling lights. This year's schedule includes extra viewings to allow for crowd control and safe social distancing. As always, tickets must be purchased in advance, so reserve your spot today! Visit their website to learn more about this incredible event!
Ready to get away this holiday? Start looking for a place to stay now so you can enjoy all of the spectacular holiday events happening this year!