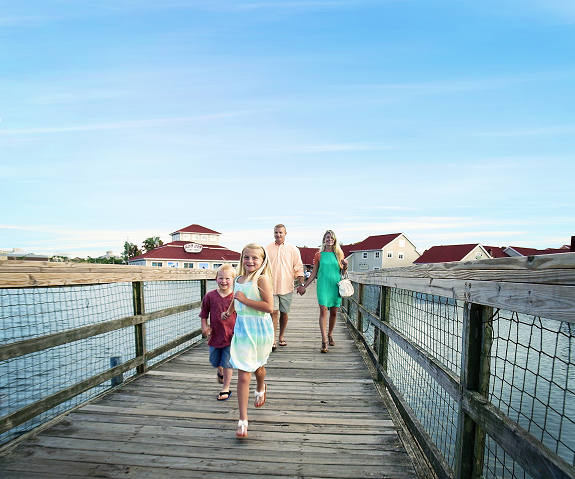 Holiday gatherings with the extended family usually end up in one of two scenarios: adults and children all crammed into shared bedrooms at a relative's house, or a last-minute rush to a common meeting place. This year, go for a better option: get your family together and spend the holidays in North Myrtle Beach!
In North Myrtle Beach, you'll find a variety of accommodations to meet your group's needs—from condos to hotels to beach homes—and you can leave the hassle of hosting to us. With a variety of ways to have fun, relax and be entertained, everyone (including your nagging in-laws or crazy aunt) will be filled with holiday joy!
Here are seven reasons why you should spend some time in North Myrtle Beach this holiday season:
1. THERE'S A LOT DO ON THE BEACH… EVEN IN DECEMBER.
Wintertime in North Myrtle Beach means mild temperatures and fewer crowds. You'll find plenty of unexpected activities to make your holidays truly memorable, too—like horseback riding on the beach. Take the family to Inlet Point Plantation, located on a 1,380-acre undeveloped island, and set out on a one- or two hour-long horseback riding tour.
The holidays are a wonderful time to take advantage of North Myrtle Beach's other outdoor activities, too, like Segway tours, pickleball, paddle boarding, or fishing at Cherry Grove Fishing Pier.
2. OLDER KIDS CAN HAVE PLENTY OF FUN, TOO.
North Myrtle Beach offers plenty of fun year-round for teens and college-aged relatives. Aspiring golfers, rejoice: North Myrtle Beach is home to award-winning golf courses designed by pros like Arnold Palmer, Robert Trent Jones and Greg Norman. Make sure you bring your clubs so you can enjoy a day on the greens.
If putting is as good as your golf game gets, don't worry. North Myrtle Beach is the mini-golf capital of the world! Dozens of courses in the area make it fun (and easy) to stir up some family-friendly competition after dinner.
Video games are a fun way to bring out the kid in all of us, too. Visit Lulu's Beach Arcade and challenge each other on hundreds of video and old-school arcade games. If you're feeling a little adventurous, you're never too old to take a climb on the adjacent The Mountain of Youth ropes course.
3. ONE WORD: ENTERTAINMENT.
During the holidays, North Myrtle Beach is home to exciting events, festivals and live shows that are made to get you in the spirit. Visit The Alabama Theatre to marvel at the annual "The South's Grandest Christmas" show—an award-winning tradition voted the best live entertainment destination. Or book tickets for The Carolina Opry's Christmas Special, where 35 of the nation's most talented vocalists, musicians and comedians put on a show that's sure to captivate you from beginning to end.
Find shows to entertain the whole family at The House of Blues and Pirates Voyage, too. House of Blues has a rotating schedule of entertainment that changes weekly, including tribute bands and local artists. Pirates Voyage has special holiday programming starting in November. Check their website to find a show that suits your schedule.
For a wonderful show that takes place outside of a theater, you'll have to check out The Great Christmas Lights Show. There's something magical about Christmas light displays, and you can find plenty of those all through the North Myrtle Beach Park and Sports Complex from Thanksgiving through the end of December. With more than 2 million lights festively displayed across the 1.5 mile Christmas Joy Ride, it is truly a sight to behold! Afterwards, the fun continues at Santa's Village, where you can meet the big guy in red, take a train ride on Santa's Express or befriend the animals at the on-site petting zoo.
4. YOU CAN FIND THE BEST SHOPPING IN NORTH MYRTLE BEACH.
Forget the mall back at home and do your Christmas shopping in North Myrtle Beach. Find the perfect gift at one of the locally-owned shops that line Main Street, or spend an entire day shopping at Barefoot Landing. This one-of-a-kind boardwalk is brimming with boutiques and souvenir stores, all with a beautiful view of lakes and the Intracoastal waterway.
You can also visit the nearby Tanger Outlets, located just off Highway 17, to score savings from your favorite brands.
5. NORTH MYRTLE BEACH IS ACCESSIBLE, AND YOU CAN GET AROUND WITH EASE.
Located just south of the South Carolina/North Carolina border, North Myrtle Beach is easily accessible by car and by air, making it a convenient meet-up destination for your holiday vacation. Once you're here, getting around to restaurants, theaters, shopping and entertainment is a breeze. You'll quickly see why our visitors feel like locals in our charming neighborhoods.
6. GET THE SPACE YOU NEED AT A PRICE YOU CAN AFFORD.
Not only is it easy to get around in North Myrtle Beach, it's easy to book the home base you're looking for. Around town and along the shore, you'll find popular hotels and motels, as well as one-of-a-kind resorts, offering amenities like spa services and indoor pools. If you're looking for a place to stay with enough space for everyone to be together while having plenty of privacy—like comfy living rooms, large dining tables and private bedrooms—consider a condo rental. There are affordable beach houses that are ideal for large groups or multiple family units.
7. YOU DON'T HAVE TO WORRY ABOUT PLANNING A WEEK OF HOME-COOKED MEALS.
Many accommodations come with a kitchen, so you can still cook your favorite holiday meal if you'd like. For those who would rather go out to eat during the holidays, you're in luck, North Myrtle Beach is the perfect place to do just that! Try any of our delicious restaurants and indulge in local favorites like fresh seafood, Southern-style comfort food, giant flapjacks or gourmet tacos.
If you're looking for something extra special, North Myrtle Beach is also home to several fine dining establishments where you can enjoy white-tablecloth service during your stay. For spectacular interior decor and waterway views that cannot be beat, make a reservation at Greg Norman Australian Grille in Barefoot Landing.
Another fabulous option is 21 Main at North Beach, where the upscale menu boasts fine 28-day dry-aged meats, fresh seafood and some of the Grand Strand's best sushi.
Helpful hint: if you're hoping to dine out during the holiday season, always be sure to check with restaurants for their holiday hours.
There's no better place to gather family and friends over the holidays than North Myrtle Beach. Accommodations fill up quickly, so don't wait long to book the beach home, hotel, resort, or condo you're looking for. Whether you're carving a turkey, gathering around the Christmas tree or ringing in the New Year, our seaside community is the perfect place to start a new holiday tradition.