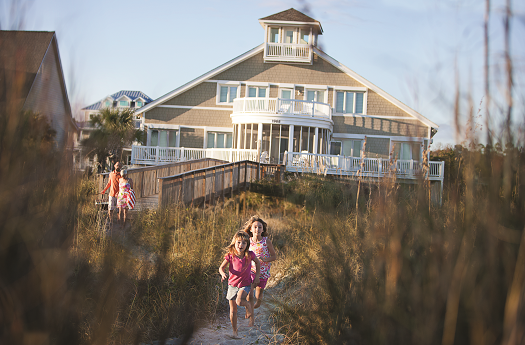 Family reunions are for catching up with loved ones, relishing old memories and creating new ones. Whether your group consists of relatives from near and far or close friends who you consider family, a family reunion in North Myrtle Beach is the perfect backdrop for a memorable vacation. If you're stressed about where to stay, what to eat and what to do, we've put together this list of tips that makes planning a family reunion on the Grand Strand a breeze:
Book Accommodations That Suit Your Group's Needs
Choosing the right accommodations is just as important as picking the right date. North Myrtle Beach features a variety of accommodations, such as condos, resorts, beach homes, hotels and motels. Here, you're sure to find options that can fit any budget.
North Myrtle Beach is home to several family reunion-friendly resorts. Many of these beautiful resorts are oceanfront, which means you won't need to worry about coordinating transportation for the whole group to enjoy the beach. Plus, in a multiroom condo, each family can enjoy their vacation together while still having their own space.
Families or large groups of friends can opt to share a beach home together. These homes offer enough space for everyone to be together under one roof and enjoy common rooms like kitchens and living rooms, but still offer plenty of privacy.
Keep Everyone Full (and Happy!)
Feeding the extended family three meals a day is a huge undertaking, but good planning and delegation can make it easier. Most condos and beach homes come with a kitchen, so you can opt to cook certain meals, like breakfast and lunch, in your private kitchen. The greater Myrtle Beach area has many of your favorite grocery stores from home—including Publix, BI-LO and The Fresh Market—so you can pick up supplies for meals, snacks and drinks.
For a unique grocery store experience, visit Boulineau's, a North Myrtle Beach institution. Located in the Cherry Grove neighborhood, this shopping megaplex has everything (and we mean everything!), including fresh seafood, baked goods, craft beer, local wine AND the perfect souvenir to remember your family reunion.
Don't forget to make reservations at one of our fabulous restaurants that will best suit your crew's taste buds. Many of our restaurants, including seafood buffets and fine dining establishments, feature private rooms that are ideal for family gatherings.
Experience One-of-a-Kind Entertainment and Attractions
With a large group, you need to add activities that do double duty. Planning to feed and entertain your family doesn't get easier—or more exciting—than a dinner show. If your extended family has lots of kids, consider a night at Pirates Voyage.
Or, spend an evening at one of North Myrtle Beach's many world-renowned theaters. The Carolina Opry, voted one of the top attractions in Myrtle Beach, features an award-winning show with a dynamic blend of high-energy (and family-friendly) comedy, music and dancing. Or take the family to Alabama Theatre to see ONE The Show, which features hilarious family comedy with nearly every music genre ever known. 
If you do plan visiting Alabama Theatre, head to Barefoot Landing before the show and give everyone some time to explore on their own. Set up a meeting point like the Barnum & Bailey-inspired carousel, and regroup after everyone's checked their favorite shops and stores off their list.
For other family reunion activity ideas, read our blog on the Best Group Activities in North Myrtle Beach.
Need more inspiration? Download the North Myrtle Beach Group Planner Guide. And if you're looking for some additional guidance, simply fill out this form. Our group travel specialists will reach out to help you plan the perfect beach getaway for your family!