Live music has always been a part of our culture. In fact, the state dance, the Carolina Shag, got its start right here on the Grand Strand.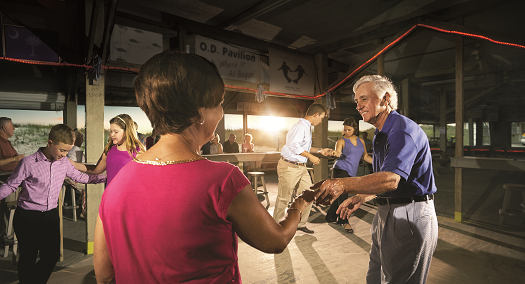 Even today, it's not hard to miss locals (and visitors) rock-stepping and spinning across the dance floor. From nationally-acclaimed theatres to local beach bars, you're bound to find enough live music to dance the night away.
Looking for a night out featuring a local band or DJ? Check the lineup at the area's most famous beach bars and dance clubs. There's a lot of nighttime hotspots at the intersection of Main Street and Ocean Drive, like Fat Harold's, Pirates Cove, the OD Lounge, Deckerz and Ducks Beach Club, so you can easily spend your night looking for your new favorite hangout.
From mid-May to October, there are plenty of free public events where you can enjoy live music, like the Sounds of Summer Concert Series and the Music on Main Concert Series. All you have to do is bring your own beach chair and get ready to join the excitement. Each year, the official kickoff to summer is the famous Mayfest on Main festival, a free rain-or-shine event featuring live music, food and drink vendors, and local artisans.
Make plans to see a live show or concert at one of the nearby theaters. The House of Blues Myrtle Beach is actually right here in North Myrtle Beach at Barefoot Landing. Keep an eye on their schedule to find an act you'll love—here, their shows are known for their variety, ranging from up-and-coming jam bands to some of the most popular names on today's top charts. 
The Alabama Theatre in Barefoot Landing, opened by legendary country band Alabama in 1993, is another can't-miss venue for music lovers. Book tickets for the always-entertaining ONE The Show, which features "everything from Country, Gospel, Broadway, Pop and Rock to plenty of hilarious family comedy." The Alabama Theatre also hosted stars like The Temptations, Josh Turner and Jay Leno in North Myrtle Beach, so check their calendar of guest artist concerts when planning your trip.
Praised by the New York Times and the Wall Street Journal, the Carolina Opry is one of Myrtle Beach's most famous attractions. Originally a one-show venue, the Carolina Opry has expanded to bring a variety of shows each month to North Myrtle Beach, including Carolina Opry exclusives complete with guest stars, dance performances, tribute bands, special holiday-themed acts and more.
Want the latest information on upcoming concerts and events? Sign up for our newsletter and get the inside scoop sent straight to your inbox!