N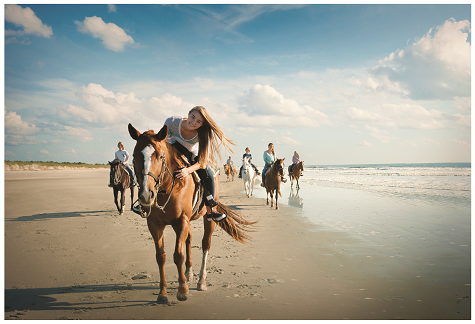 orth Myrtle Beach's unique position on the Carolina coast means that no matter when you visit, you're sure to encounter mild temperatures paired with the area's natural beauty. Whether you are someone who embraces the outdoors regularly or not, it's not hard to be inspired by Mother Nature on a trip here. So, we've compiled several outdoor activities for your next vacation to North Myrtle Beach.
Explore the Beach
There are plenty of ways that you can enjoy the Grand Strand's wide, beautiful beaches all year long. After all, what's a family vacation to North Myrtle Beach without spending at least one or two days on the beach? Start and end your days right by enjoying a relaxing walk on the sand and watching the sun rise (or set) along our nine miles of shoreline. With 240 public access beach points, you can take advantage of the area's temperate weather and play family-friendly beach games like bocce ball, spike ball, KanJam and beach volleyball. Don't forget to pack a lunch and have a picnic on the beach as you listen to the peaceful sound of the ocean. The possibilities really are endless!
Go Horseback Riding
North Myrtle Beach is one of the few places visitors can horseback ride on the beach year-round. Book a ride at Inlet Point Plantation and explore a portion of the 1,380 acres of pristine Waites Island. This breathtaking, undeveloped island is the perfect location for enjoying the tranquility of nature as you trot along the sand
Paddle on the Water
When you choose to vacation in North Myrtle Beach, it's a given that at least some of your time will be spent on the water. Kayaking or paddle boarding offers unparalleled opportunities for experiencing the Grand Strand in ways that you might not be able to otherwise. J & L Kayaking offers one of the area's most popular kayak tours and can accommodate everyone from beginners up to the more experienced kayaker. For the outdoor lover who wants to do it all, visit Great Escapes Kayak Expeditions. Kayak or paddle board through popular North Myrtle Beach areas such as Hog Island, the Waccamaw River and the Cherry Grove Marsh. These tours offer unique opportunities to enjoy the peace and serenity that comes from paddling through the open water.
Get Active at a Park
North Myrtle Beach offers a variety of parks, recreation facilities and youth athletic facilities where you can play a game of baseball or enjoy a picnic with friends and family. One of the area's largest parks is the North Myrtle Beach Park & Sports Complex. Home to two popular attractions, Shark Wake Park and Go Ape Zip Line & Treetop Adventure, you can easily spend an entire day outdoors. If you have little ones, they will love exploring the three playgrounds that are connected by walking trails. Want your four-legged furry friend to enjoy the great outdoors, too? Visit the NMB Park & Sports Complex's three-acre dog park. 
The J. Bryan Floyd Recreation Center (aka Central Park) offers old-fashioned competitive fun with 20 acres of fields for soccer, baseball and softball; four tennis courts; and four basketball courts. There is a variety of opportunities for the person who wants to get active outdoors by playing a sport!
Known as one of the most scenic parks in the community to locals and visitors alike, McLean Park is a 10-acre park that features a beautiful two-acre lake. With the park's multiple picnic tables and grills, you can easily cook up a great meal while you relax by the lake. McLean Park also features a walking trail and meditation garden, so you can truly become one with nature while you are there.
Play Golf
The Grand Strand is known as the "Golf Capital of the World," so it's safe to say that you can expect to find some of the nation's best golf courses within driving distance of North Myrtle Beach. For amateur golfers who dream of playing in the big leagues, make a tee time at Beachwood Golf Club. This scenic course features 18 holes and has been home to the Carolinas Open, the Carolina Senior PGA Championship and the Grand Strand Amateur. For spectacular tee-to-green views, you won't want to miss Tidewater Golf Club. As you try to get that perfect hole-in-one, take in the course's views of the Atlantic Ocean and Cherry Grove Beach Inlet, and see for yourself why people say this is one of the most visually stunning locations in North Myrtle Beach.
No matter what outdoor activities you decide to try on your next vacation to North Myrtle Beach, we hope that you leave feeling relaxed and rejuvenated after connecting with Mother Nature. Inspired to get outside? Start planning your trip today!