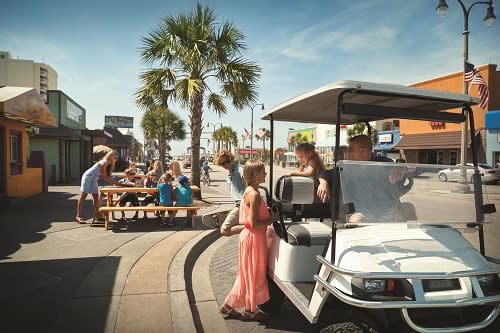 It's that time of year again – time to plan your North Myrtle Beach vacation! There are many attractions, entertainment and dining options in the area. In addition to these, there are many FREE activities in North Myrtle Beach. We're here to tell you the Top 7 Free Things To Do in North Myrtle Beach:
1. Main Street
Locals and visitors love to hang out on Main Street in North Myrtle Beach where there is always great entertainment and window shopping. There are a series of free concerts in North Myrtle Beach as well, including the Music on Main series, plus great festivals all year-round! Check out our events calendar for all the best events in North Myrtle Beach.
2. Free Concerts
If it seems like we are always having a free concert in North Myrtle Beach, it is probably because most of the time, there is live music in the air! Every Thursday night all summer long, you can check out the Music on Main concert series, which features some of the best local music around. This year the North Myrtle Beach Park and Sports Complex is once again hosting the Sounds of Summer Concert Series. Both concert series are free to the public and food and drinks will be available during the event. Bring a blanket or beach chair and find yourself the perfect seat, and check out events page for the latest details.
3. Barefoot Landing
Barefoot Landing is located in North Myrtle Beach and is a beautiful area to explore. There are many restaurants and shops along the way. However, it is completely free to walk around. The attraction is around a 27-acre lake that has exotic fish, migratory waterfowl and other wildlife. During the summer, there is typically free live music, fireworks displays, and festivals.
4. Shark Wake Park
Visit one of North Myrtle Beach's most thrilling attractions - Shark Wake Park, where wakeboarders fly across the lake at the North Myrtle Beach Park & Sports Complex thanks to special cables. While there are fees to participate, entrance into the park is free and there is plenty to watch! Once you're done watching the action, you can explore the rest of the 162-acre North Myrtle Beach Park & Sports Complex!
5. Broadway at the Beach
Broadway at the Beach is full outdoor entertainment and is just a short drive from peaceful North Myrtle Beach. The attraction is a 360-acre complex filled with a variety of things to do. During the summertime, there are fireworks at night and a free concert every Tuesday night.
6. Heritage Shores Nature Preserve
Located just off Ocean Boulevard off 53rd Avenue North, the Heritage Shores Nature Preserve includes seven acres of walking paths and a 40-station interpretive trail, and elevated boardwalks over the Cherry Grove Marsh. Watch kayakers paddle by from observation docks and learn about the animals, fishes and birds that call the area home.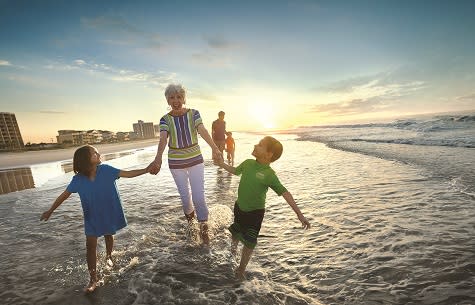 Heritage Shores Nature Preserve is truly one of the best kept secrets when it comes to the best North Myrtle Beach free activities.
7. The Beach
North Myrtle Beach offers some of the widest beaches along the Grand Strand, and our beaches are quieter, family-friendly, and perfect for families!  Walking along the beach is a great way to exercise and can be extremely peaceful. While you are out on the beach, take a look around for seashells, jellyfish and other creatures along the way, or you can check out our favorite games to play on the beach.
While we are on the subject of free stuff in North Myrtle Beach, be sure to order your free Visitor's Guide and start planning your trip to see us today!