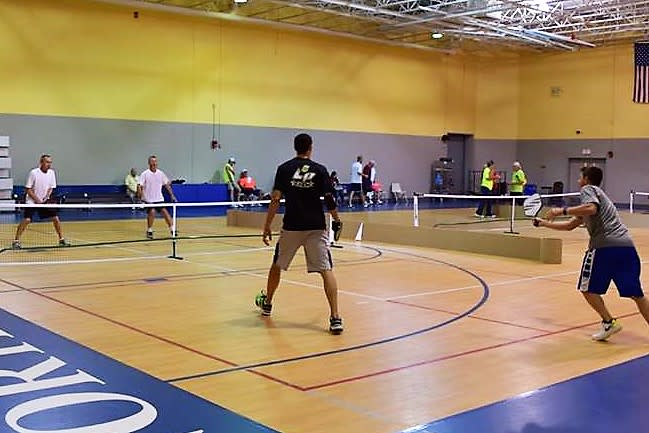 North Myrtle Beach is home to beautiful beaches, the Carolina Shag, delicious food . . . and pickleball! Pickleball is a racquet sport that involves hitting a ball over a net, much like tennis, badminton and Ping-Pong. Combining fun elements from these three games, pickleball has rapidly grown in popularity in recent years.
Before you run off and try the game for yourself, let's start with the basics. Pickleball was designed to be easy to learn and play, which makes it a great introductory sport for players of all ages and skill levels. The game is traditionally played on a badminton-sized court using a paddle that resembles an oversized Ping-Pong paddle and a lightweight plastic ball. The game can be played with singles or doubles and you must let the ball bounce once before volleys are allowed. Only the serving team can ean points and the first side scoring eleven points and leading by at least two points wins!
Ready to give pickleball a try? If you need a break from the surf and the sand, there are several places to play this fun game in the North Myrtle Beach area!
PLAY AT A PARK OR RECREATION CENTER
North Myrtle Beach offers a variety of parks and recreation facilities that are perfect for enjoying a game of pickleball. The J. Bryan Floyd Community Center (aka Central Park), is one of the most popular places to play pickleball in North Myrtle Beach. Featuring four outdoor and six indoor courts, you can easily get your pickleball fix, rain or shine. The indoor courts are available for a small fee, while the outdoor courts are free as long as you BYOE (bring your own equipment). Whether you just want to see what pickleball is about with a game or two, or you want to go all in and become a seasoned player, the center also offers weekly, monthly and annual passes.
After you have played a few games of pickleball, stick around and check out the other amenities the 20-acre park has to offer. With fields for soccer, baseball and basketball, as well as tennis courts and a paved trail, you could easily spend your whole day at the community center. There is even a concession stand and picnic tables to enjoy a post-pickleball snack.
JOIN A CLUB
For the social butterfly who is looking to fit in a fun workout and make some new friends, consider joining a local club. Since a pickleball court is smaller than a tennis court, gameplay allows players to be close enough to one another, so they can conveniently hold conversations. If you're looking to bond with your family or have an outing with friends both new and old, pickleball makes it easy to do just that.
Established in 2014, the Myrtle Beach Pickleball Club has quickly grown to more than 200 members. Not only is it a pickleball group, it's also a non-profit organization that supports local charities in the area. For a membership fee, you can join the club and gain access to round-robin tournaments, social events and a community of fellow pickleball lovers.
TEST YOUR SKILLS IN A TOURNAMENT
If you're craving some friendly competition, you won't want to miss one of the pickleball tournaments that are held annually in North Myrtle Beach. Feel the sand between your toes and the cool ocean breeze blowing in your hair at the Paddle at the Beach Pickleball Tournament. Teams are divided into divisions based on a range of skill levels and ages, so everyone is welcome to participate in the fun.
More serious players should check out the USAPA Inaugural Mid-Atlantic Regional Pickleball Tournament. This tournament is a USAPA sanctioned event, so a USAPA membership is required to play. Various skill levels and ages 10 and up are invited to register for the tournament. Grab your paddle, warm up your swinging arm and get ready to compete!
Whether you're a beginner who wants to learn a new sport for fun or a seasoned player who craves the thrill of more competitive play, pickleball at North Myrtle Beach offers something for everyone. Plan your trip today and see for yourself why people of all ages are going crazy over pickleball.