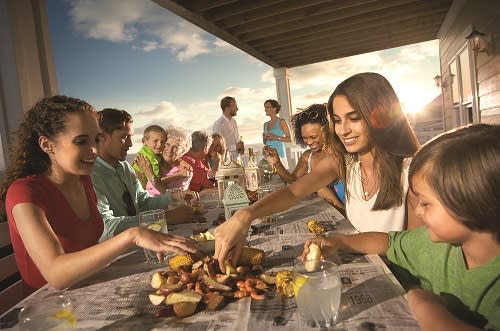 Many of us love to visit our local farmers markets every week. But did you ever think about scouting out a farmers market while you are on vacation? North Myrtle Beach is home to some of the best seafood on the East Coast, which you can purchase at our local farmers markets, in addition to a wide variety of produce and baked goods. 
Visiting a farmers market is a great way to meet locals, eat healthily and treat yourself to gourmet delights you won't necessarily find at the grocery store. Many have artisan crafts for sale as well, so you might even find that perfect souvenir you've been looking for. And with all the attractions and activities in North Myrtle Beach, you never know what you'll discover when you're en route to the market!
North Myrtle Beach Farmers Market
Start your day off right by indulging in a delicious breakfast at Golden Griddle Pancake House before heading over to the North Myrtle Beach Farmers Market. Open on Fridays from 10 a.m.­–2 p.m., it is the perfect place to shop and stock up for the week at your beach house or condo. It features a great variety of locally grown fruits and vegetables, as well as fresh seafood, jams, baked goods and artisan crafts. After you browse two market pavilions and a certified South Carolina Grown roadside market stand, you can enjoy the scheduled entertainment and special events. If you haven't nibbled your way through the farmers market, grab a bite to eat at one of the locals' favorite restaurants, BurgerFi, or stop off at the nearby Piggly Wiggly to complete your shopping. And you'll still have plenty of time to make it the beach!
Little River Farmers Market
Just a short drive from North Myrtle Beach, the charming fishing village of Little River is one of the area's best-kept secrets. Here, you'll find waterfront restaurants, where fresh seafood is often pulled right from the dock and taken to the kitchen, beautiful live oak trees, and a slow and easy way of life. Head to Little River Farmers Market, held on the historic waterfront near many restaurants, gift shops and South Carolina's only casino boat. Make the most of your trip by enjoying a dolphin cruise or dining on the scenic waterway after sampling fresh fruit and vegetables at the market.
Carolina Forest Farmers Market
Peruse through a variety of food and artisan vendor stands at nearby Carolina Forest Farmers Market, just down the road in Myrtle Beach. On your way back, do a little shopping at Tanger Outlets in Windy Hill. Home to well-known brands, Tanger Outlets has nearly 100 stores, so you can find something for everyone.
All of these markets are part of the Waccamaw Market Cooperative, a nonprofit organization that coordinates and manages community based farmers markets in Horry and Georgetown counties. And if you're looking for more fun activities for your next vacation, be sure to sign up for our eNewsletter to have exciting news, upcoming events and North Myrtle Beach's best deals delivered right to your inbox.