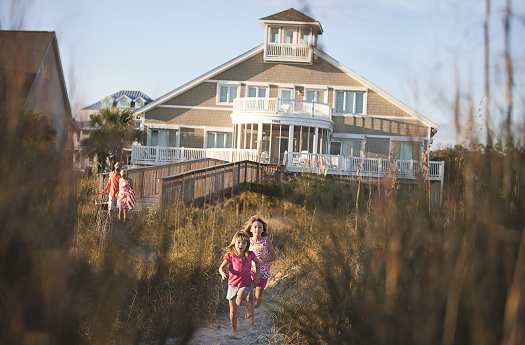 We love to hear when people have made a resolution to spend more time with family and friends. It can be tricky to plan group vacations, but here in North Myrtle Beach, we have all the accommodations to make planning easy. Whether you need a romantic resort for two, a beachfront condo for multiple family units, or even a massive house on the Intracoastal, we can help.
North Myrtle Beach is the perfect multi-generational destination for every type of traveler. More than that, it is an ideal destination for visitors interested in creating lasting memories with the ones they love. No matter the season and no matter your interests, North Myrtle Beach delivers just that. From going on adventures, relaxing or simply spending quality time with your favorite people, North Myrtle Beach offers all the activities you need for an unforgettable getaway.
Just take a look at the different types of accommodations that are waiting for you when you arrive. Each accommodation offers something unique and memorable to help ensure you get the most out of your time together with family and friends. Find the right one for you for a vacation that is anything but ordinary.
Condos
The condos in North Myrtle Beach are perfect for smaller groups and immediate families, but are also a perfect solution for larger groups who book multiple units within one property. With great amenities like full kitchens, ample parking, easy beach access and spacious pools, booking your vacation in a North Myrtle Beach condo is sure to give you the home away from home feel to make your vacation a memorable one.
Beach Homes and Cottages
A beach home or rental is one of the best ways to experience all that North Myrtle Beach has to offer. A true home away from home, this accommodation allows you to spread out, cook meals and focus on the most important part of your trip: spending quality time with your friends, family and loved ones. Ideal for groups of all sizes, the only downside is that you may never want to leave.
Resorts
North Myrtle Beach Resorts are ideal for individuals interested in an all-in-one stay. With our condos and resorts, the possibilities are endless, whether you want to watch the boats on the waterway, see golfers tee off at dawn, or listen to the waves roll in while you fall asleep. Use the filter tool on our Condos and Resorts page to search by amenities like fitness centers, lazy rivers, indoor or outdoor pools, and so much more!
Vacation Rental Companies
If you prefer an expert to help you pick the perfect home away from home for your vacation, then we recommend using one of our local rental companies to find the right condo, home, or beach rental to make your dream vacation a reality. Their helpful staff can help you pick the right location, size and amenities!
Hotels/Motels
For those who don't need a ton of space or are taking a shorter trip, hotels and motels might be the perfect choice. From comfortable oceanfront rooms with luxurious suites to smaller family-owned businesses where you are made to feel a part of the family, North Myrtle Beach offers plenty of choices in hotels and motels.
Ready to keep your resolution to spend more time with family and friends? Get ready to make some memories and book your perfect place today.