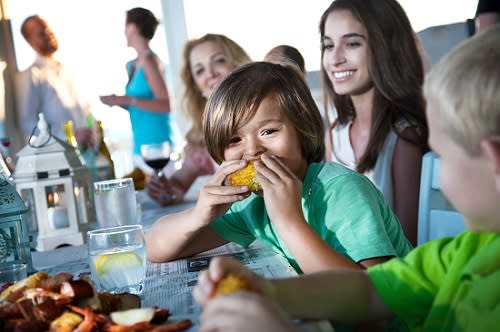 There is no shortage of family-friendly restaurants in North Myrtle Beach, but if you want to go somewhere your kids will really have fun, these 5 kid-friendly restaurants are sure to please. From classic breakfast platters to endless fresh seafood, these restaurants will keep the kids happy and full!
Hoskins Restaurant:
Your family's trip to North Myrtle Beach is not complete without a visit to Hoskins Restaurant. For the past 62 years, Hoskins has served exceptional food that won't break the bank. Visit Hoskins on Main Street Ocean Drive and you'll find the third-generation owners serving fresh-caught seafood, giant hotcakes and homemade biscuits.  
Benito's Brick Oven Pizza:
Featuring classic family recipes with a modern Italian twist, Benito's Brick Oven Pizza and Pasta is a must for locals and tourists alike. Offering authentic Italian cuisine for the whole family, locals say it's one of North Myrtle Beach's best-kept secrets. Their attentive servers keep families coming back every year. And their handmade pizza, baked in a wood-fired brick oven, will have you and your kids asking for seconds (or thirds)!
Preston's Seafood and Country Buffet:
What better way to enjoy a little bit of everything than a buffet? The best of North Myrtle Beach seafood and Southern classics can be found at Preston's Seafood and Country Buffet. You'll find plenty of options to suit every taste and age, from fresh-baked pastries to a decked-out buffet just for kids. Not only is the food delicious, but children under three eat for free! One of North Myrtle Beach's most popular kid-friendly restaurants for the past 25 years, Preston's is a must for any family looking to enjoy great service with a smile.
Duffy Street Seafood Shack:
If your little ones love fresh seafood, head over to Duffy Street Seafood Shack, where you'll find more varieties of broiled and fried seafood platters than you ever thought possible. Ask to sit outside on the deck and dine overlooking North Myrtle Beach's charming Main Street. Best of all, you can throw your peanut shells on the ground!
Dino's House of Pancakes:
Priding themselves as the best breakfast in North Myrtle Beach, Dino's House of Pancakes is an old-fashioned joint sure to take your kids' breath away! With lightning-speed service and enormous stacks of pancakes, your kids will be filled with delight. Mom and Dad, if you've had an early morning with the kids, Dino's offers endless hot coffee with your breakfast or lunch.
Flying Fish Public Market & Grill:
Featuring great food with a view of the marina, Flying Fish Public Market & Grill is fun for the whole family. With signature cocktails for adults and a Minnows menu for the kids, there is something for everyone to enjoy. The exciting atmosphere and view of boats gliding through the scenic inlet accompanies even better food.
Check out our free Visitor's Guide for more options on where to dine, stay and play in North Myrtle Beach and book your trip today!