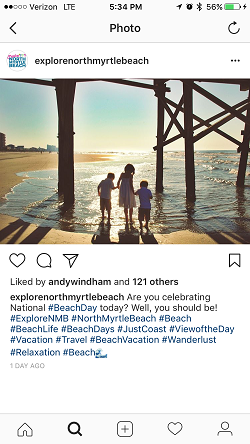 Do you want to step up your social media game with some Instagram-worthy photo spots? Look no further than the picturesque views in North Myrtle Beach for a plethora of likes, and have the time of your life while you're at it. Here is a list of ideal places in North Myrtle Beach to snap the perfect pic:
Cherry Grove Pier
Rise and shine for an Insta hit! Wake up at sunrise for a peaceful walk on the beach, and don't forget to stop at Cherry Grove Pier for a jaw-dropping view. This walkway extends 1,000 feet across the sand and water, making you feel like you're standing in the middle of the ocean.
Waites Island
Located north of Cherry Grove and south of Sunset Beach, this island is one of the few remaining undeveloped area on the Atlantic Coast. The pristine barrier island expands over 1,062 acres and is accessible only by boat. As you venture across the Carolina coast, snap some photos of you and your family, or of the wide array of wild animals you may see, including sea turtles, dolphins, osprey, blue herons and more.
Big "M" Casino Cruise
This boat ride is no place to forget your cell phone or camera. The Big "M" Casino Cruise is a 186-foot, state-of-the-art gambling vessel that looks like a floating version of a Las Vegas casino. But if gambling isn't your thing, don't fret. It also features a restaurant and open-air bar on the top deck (cue the camera phone). A sherbet colored sunset, delicious cocktails and perhaps dolphins playing in the background offer a superb background for any photo.
Joe's Bar and Grill
For a fun snapshot of your vacation, get all dressed up and go to Joe's Bar and Grill for happy hour or a delicious meal at sunset. Their picturesque patio has an unbeatable view of a pristine saltwater marsh, which glistens as the sun goes down, and a cozy fireplace to keep you warm if the night air turns cool.
La Belle Amie
North Myrtle Beach is home to several beautiful wineries with charming atmospheres, including La Belle Amie Vineyard. Located on a breath-taking historic plantation, this might just be your next good photo opp as you tip your glass and say cheers to vacation and friends! 
Don't forget to hashtag #ExploreNMB or #JustCoast on your Instagram pictures. We'd love to share them on our social media channels! Start planning your picture-perfect vacation to North Myrtle Beach by signing up for our e-mail and receive information on deals, events and news right to your inbox.