NORTH MYRTLE BEACH OFFERS ADVENTURES NOWHERE ELSE CAN 
Seeking a weekend getaway full of adventures for you and your spouse?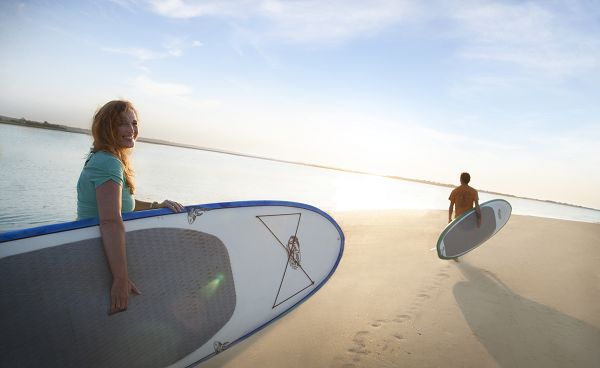 Whether you're on the water, in the air or on the dance floor, North Myrtle Beach has you covered. Discover the calming sensation of cruising the inlets and waterways, the scream-and-shout fun of zip lining through the treetops, and the delight of dancing late into the night at a beach bar.
It's all here on the north end of South Carolina's Grand Strand. Here's a few things to do to have a trip you'll always remember. 
A MORNING STROLL 
Grab some iced coffees and start the day with a sunrise stroll in Cherry Grove, the northernmost point of North Myrtle Beach. This area offers 360 degrees of picture-perfect scenery: in one direction, you'll see a salt marsh teeming with seabirds. Turn around and you'll face the majestic Atlantic Ocean. Look down the shore to see the Cherry Grove Fishing Pier, a long-time favorite landmark that stretches nearly 1,000 feet over the sand and water.  
You'll run into tons of friendly locals here, who offer warm morning greetings to fellow early birds. On your walk, stop to take in the scene: the two-story observation deck at the end of the pier offers panoramic views of the ocean and shoreline. Bring a camera and capture the sky changing from dove gray to amethyst to magenta to piercing blue—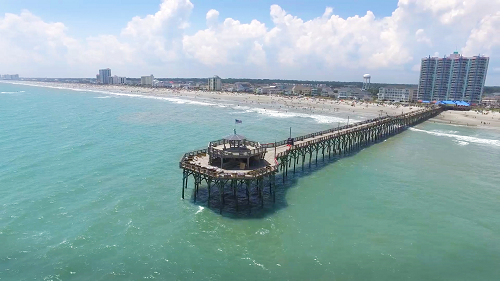 an Instagram time-lapse looks great here, no filter necessary!
BEACH TIME 
For a day on the beach, Ocean Drive is home to one of South Carolina's widest beaches, where there's plenty of spots to soak in the sun, toss a Frisbee or play a competitive game of Spikeball. Take a dip in the water, where the waves are perfect for bodysurfing or boogie-boarding. Or try gliding along the shoreline at low tide on a skimboard. You can even bring your pup along for some beach fun; the city of North Myrtle Beach allows leashed dogs on the beach before 9 a.m. and after 5 p.m. from May 15 through Sept. 15, and any time of day the other eight months of the year. 
ADD SOME ADVENTURE 
If your crew is feeling more adventurous, head to Atlantic Watersports or Great Escapes Kayaking, where you can learn to maneuver a stand-up paddle board through North Myrtle Beach's salt marshes to nearby Waites Island. If you've never been on a paddleboard, lessons are available, and the calm waters nearby make it easy for beginners. When you've mastered your balance, take a look around—the scenery and light in these coastal wetlands is magnificent. You might even see a bird soaring in the sky above you. 
So why not join them? Well—maybe you can get close, anyway. Go Ape is a treetop obstacle course with Tarzan swings, a zig-zag bridge and a series of zip lines that take you through the forest and over the water. Set aside two to three hours for this outdoor experience at the North Myrtle Beach Park and Sports Complex. Gliding through the treetops and swinging through the jungle is guaranteed to get your heart pumping. Plus, you'll have some great stories to swap when you and your friends reunite on solid ground. 
In the same complex, you'll find Shark Wake Park, which offers adrenaline-pumping cable wakeboarding. Never heard of it? Riders are pulled by a high-tech pulley system around the lake—no boat needed. Lessons are available for beginners, while more experienced riders can try out new tricks gliding over the ramps and rails. There's also a viewing deck if anyone in your group isn't quite ready to take the plunge. 
If you're looking to soar even higher—and see for miles and miles—Aloha Watersports offers parasail rides for two. You'll cast off from Cherry Grove beach, and soon you'll be flying high above the Atlantic Ocean.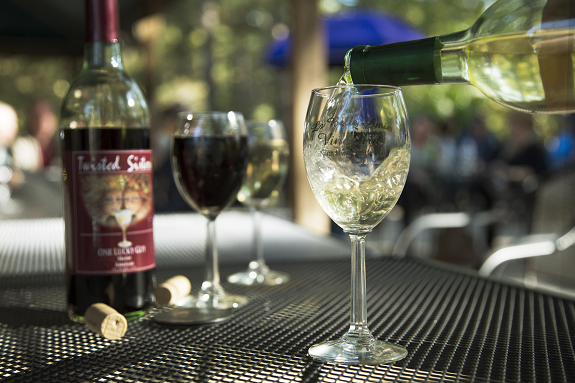 Don't forget to look down and take in the beautiful blue and green shades of the ocean found along the coastal Carolina beaches. You may even spot some dolphins offshore. It's an exhilarating yet relaxing ride. Once you're back on the sand, you can check out the professional photos of your ride (and the funny faces you made during it). 
For those who have dreamed of riding a horse along the beach at sunset, you can do it all-year-round in North Myrtle Beach. Meet your horse—and your guide—at the stables at Inlet Point Plantation, cross the Dunn Sound and ride along undeveloped Waites Island. They even offer special occasion private rides, which are perfect for couples or groups of couples.  
OUT-OF-THE-WATER ENTERTAINMENT 
Looking for a new spin on date night? Try Jack Axe Throwing! The friendly and helpful staff here will give you safety instructions—and maybe a few pointers—before you start aiming for the bullseye.  
Next stop: head a few miles south on U.S. 17 to Barefoot Landing for your shopping and dining fix. 
Stop in at Bully's Pub and Grill, where there are 32 beer selections on draft, including a wide variety of craft beers. Order a pint of Hell or High Watermelon or a New Belgium Citradelic and head outside with your group to the waterfront picnic tables, where you can talk about the day's highlights and plot your next adventure. For those interested in a little more sophisticated happy hour experience, check out our two local wineries & vineyards, Duplin Winery and La Belle Amie Vineyard.
Post-happy hour, settle in a booth at Benny's Trattoria for dinner. When you enter this quaint Italian restaurant, your eyes will likely go to the large chalkboard menu, which changes every night. The restaurant also boasts an impressive wine list, with bottles sourced from across the globe. A meal at Benny's is the ultimate comfort food after an action-packed day!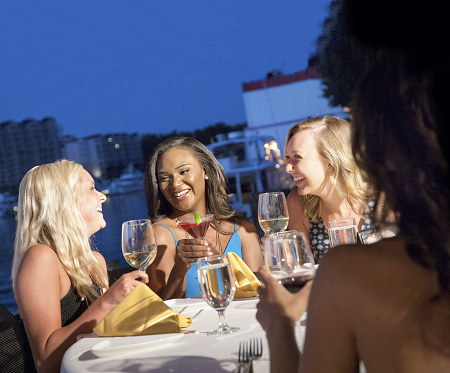 NIGHTLIFE 
Big M Casino offers daytime and evening gaming cruises on two luxury yachts leaving from Little River. Try your hand at blackjack, craps, roulette and other Las Vegas-style games, along with slot machines and video poker. The cruises offer optional brunch or dinner buffets, too. An evening cruise is recommended—that way you can use your winnings for a night on the town!  
Head to Local on the Water to chill on the patio with drinks and apps, and check out their website to see when they're hosting live music. Feel like shooting pool or catching a band? Head to Molly Darcy's for a cold Guinness and good company.  
Move right along to Ocean Drive, long known for its nightlife, and hit the beach bars. Bust out your best Carolina Shag (South Carolina's state dance—sort of a slowed-down jitterbug) at the places where this dance got its start, like Duck's or Fat Harold's Beach Club. 
Just around the corner, you'll find the Spanish Galleon, one of the area's best-known and most popular nightclubs. Inside, DJs play a variety of music—from hip-hop to Top 40 to beach—so you can really let loose on the enormous dance floor. Another great option is Pirate's Cove on Main Street in Ocean Drive, where there's an indoor stage with live music, a spacious wooden dance floor and a rooftop bar. 
As you walk from club to club, chances are the fun will last into the wee hours (is that might be the Guinness talking?). The best part? You can fall asleep to the sound of the waves and wake up ready to start the adventure again. It's all here waiting for you—all you need to book your stay!