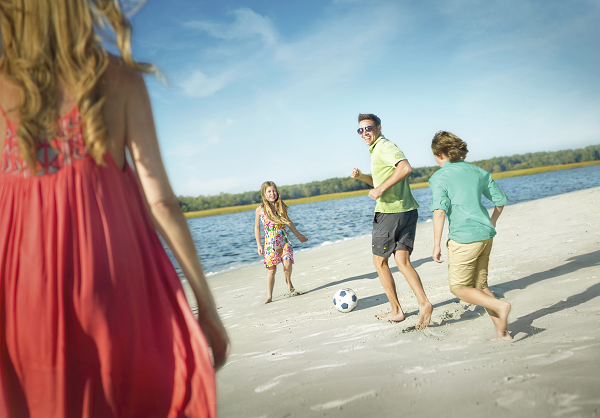 Packing for your North Myrtle Beach vacation can be tricky. The temptation is to play it safe and be over-prepared for every situation by stuffing everything you own into a couple of suitcases, but that's not practical. Here are a few packing tips and a check list of things to bring (or not bring) without taking all your belongings on vacation:
Beach toys
It doesn't take up much space to throw a Frisbee in the beach bag or bring the corn hole board along for the ride, especially given the hours of entertainment they can provide. Particularly if you are traveling with kids, the right toys and games can make or break a day at the beach, so bring that baseball glove or football for a game of catch on the beach. To save even more room, visit one of the many local beachwear stores and pick up a few fun items. 
Light jacket
Even though North Myrtle Beach averages highs in the 90s during the summer months, the nighttime on the beachfront can get a bit chilly thanks to the cool ocean breeze, especially if you manage to pick up a light sunburn earlier in the day. A light jacket or windbreaker can make it more comfortable when going for a late-night stroll on the beach or relaxing on your oceanfront balcony.
Pack smart
Before you place anything in your suitcase, ask yourself one simple question: Do I really need this? Too often you never see the bottom of your bag because you packed way too much stuff, so be realistic. Do you really need six pairs of shoes when flip-flops will do? Is it really necessary to bring a big boom box when a tiny iPod will do the trick? Also, T-shirts, shorts and other casual items can be rolled into a cone shape without significant wrinkling. That will save you some room for a few more luxury items.
Sunscreen
Everyone thinks about getting that savage tan during their summer beach vacation, but few consider the consequences of a savage sunburn. Many visitors either forget to bring sunscreen or wait to buy some until it's too late. In their haste to "get a base," they spend the rest of their time wrapped in a beach blanket or chilling out in the hotel room. Be smart and safe and slap on some SPFs before you throw yourself in the roasting pan.
Easy to forget items
Sunglasses, beach towels, chargers for all of your electrical devices, cameras, prescription medications, reservation confirmations, and a beach bag (or two) to pack all your beach goodies into before heading to your special place in the sand.
If you do arrive and find that you've missed packing something, don't worry, with all of the great retailers in North Myrtle Beach, we have a place where you can get it!
What are your travel tips? Share your travel tips in the comments below!