Nothing can beat spending time at the beach with a group of your favorite people, right? For as much fun as it is, it can also be stressful to plan. Whether you're gathering the whole family for a reunion, reconnecting with a church group, entertaining the little league team between games at the North Myrtle Beach Sports Park, or organizing any size group in-between, don't worry: you won't experience vacation paralysis with this list of fun group activities in the North Myrtle Beach area.
Stop by a Local Festival
Our event calendar is full of activities that deserve a coveted spot on your group's itinerary no matter what time of year you're visiting. For instance, you can marvel at the weekly fireworks at Barefoot Landing or dance on the street during the Summer Concert Series. Eat your way through one of The Grand Strand's famous food festivals or take the girls to a wreath-making workshop.
See an Exciting Dinner Show
Sometimes, you need to add activities that do double-duty. Planning to feed and entertain your group doesn't get easier—or more exciting—than a dinner show. If you're going with a group of kids, consider a night with Pirates Voyage. Join Captain Blackbeard as he searches for lost treasure while you enjoy a delicious four course feast. Make sure you show up early, though—you don't want to miss the chance to sing sea chanteys and enjoy pirate-themed snacks.
If you're looking for something that thrills a group of all ages, why not let the crew at Medieval Times or take center stage? Indulge in a banquet-style meal while watching an exciting jousting performance. Arrive early to explore the on-site museum and gift shop or enjoy preshow drinks.
Take the Crew Shopping
At first, shopping might not seem like the ideal group activity. But everything is better when it's on the waterfront, right? Add a trip to Barefoot Landing to your group's itinerary and give your crew some time explore on their own. Packed full of charming boutiques, unique dining, live music and entertainment, and other activities, it has something to please everyone. Set up a meeting point, like the Barnum & Bailey inspired carousel, and regroup after everyone's checked their favorite places off their list.
Enjoy Live Musical Entertainment
If you really want to amaze your group, book tickets for a night full of music and dance at one of North Myrtle Beach's renowned theaters. Spend at night at the Carolina Opry, voted one of the top attractions in Myrtle Beach. This award-winning show features a dynamic blend of high-energy comedy, music and dancing. Before your show, make dinner reservations for the group at one of North Myrtle Beach's fabulous restaurants, like Joe's Bar and Grill (a short, ten-minute drive from the Carolina Opry), where you can watch the sun set over the beautiful marsh.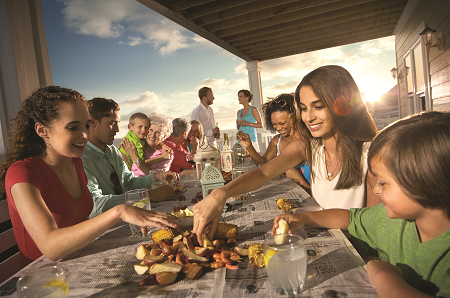 For a night you won't forget, book tickets for the ONE Show at the Alabama Theatre. This extraordinary performance includes astounding talent, iconic productions numbers, and extravagant costumes. Make time for dinner at the Flying Fish Public Market & Grill in nearby Barefoot Landing for fresh fish and classic Southern favorites.
Remember to Relax
It's easy to get caught up in all the fun activities here at the beach, so don't forget to schedule time for everyone to unwind and simply enjoy spending time together! Take your crew to the beach to enjoy a long afternoon relaxing on the warm sand or swimming through the waves. After all—this is why you come to the beach, isn't it?
Need help planning your next group trip? Download our group planner guide to get the inside scoop on all of the places to stay, best deals, upcoming events and more!