Memorable Dining Experiences in North Myrtle Beach
On a lazy day—the kind where you've been relaxing on the beach or strolling among shops—you just want to throw on shorts and flip flops and have a casual meal. Other times you want to celebrate with family and friends over an exquisite dinner and fine wine curated by a master chef. Luckily, no matter what setting, style or taste you're in the mood for, North Myrtle Beach has what you're craving.
Barefoot Landing
Mood: Fine dining & good wine
Food: Greg Norman™ Australian Grille
Greg Norman Australian Grille is designed to transport you to a new (and very relaxing) world. While the décor is deliciously Australian, the view is all South Carolina charm thanks to indoor and outdoor seating that overlooks the picturesque waterway.

The menu offers classics like wood-grilled ribeye and shrimp, or can expand your palate with tuna tartare or escargot. You won't want to miss out on the wine, either! Greg Norman Australian Grille has won an Award of Excellence from Wine Spectator magazine every year for over a decade.
Mood: Casual beach party
Food: LuLu's
Toes in the sand, cocktail in hand, live music and a belly full of comfort food… it doesn't get much better than that. LuLu's is the genius creation of Lucy Anne Buffett – Jimmy Buffett's little sister. Celebrating easy, breezy Southern living, LuLu's serves up classic favorites (cheeseburger in paradise anyone?) as well as mouth-watering regional specialties like fried green tomatoes, po' boys, black-eyed peas, and seafood gumbo.

As if the food wasn't reason enough to go, LuLu's has other temptations. Incredible cocktails, tables overlooking the water, and a stretch of sand where you can kick back in a chair and enjoy a drink while the kids play… it's a vacation all by itself!
Mood: Fiesta time!
Food: Taco Mundo
This is not your average Mexican restaurant. Taco Mundo is bright and cheerful, with high ceilings, lots of funky lights, tons of folk art on the walls, and colorful seating. Outside you can refresh and refuel at the indoor/outdoor bar or a table overlooking the water— the perfect place to laugh with friends over a cerveza or margarita.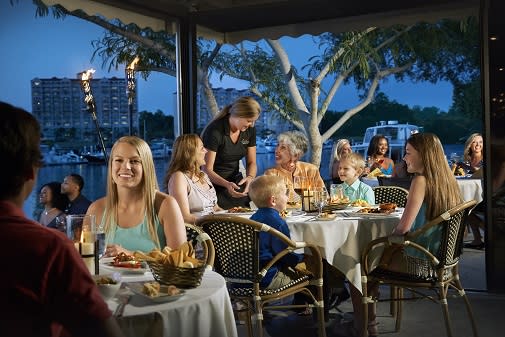 Taco Mundo serves Mexican favorites like quesadillas, fajitas, nachos, Horchata, and Jarritos as well as boasting over a dozen different kinds of tacos. There are a surprising number of vegetarian options as well, including tempura avocado tacos and roasted veggie rice bowls.
Around Town
Mood: Discover a Hidden Gem
Food: Joe's Bar and Grill
Joe's Bar and Grill is full of pleasant surprises. Blue twinkle lights on the trees, breathtaking views across the saltwater marsh, a giant fireplace for cooler nights, and endless fun watching the raccoons at the feeding stations in the distance — it all makes for a special, one-of-a-kind experience.

Enjoy trout stuffed with crabmeat and sautéed in "Southern comfort mushroom cream sauce," Lowcountry Shrimp in pepper butter sauce, stuffed Cajun mushrooms, and other Southern specialties you never knew you were missing.
Mood: Romance
Food:  SeaBlue Restaurant & Wine Bar
If romance is in the air, SeaBlue is where you want to be. The location and exterior are low key, but don't let that fool you; SeaBlue is as contemporary and high-end as it gets. Blue lighting, sleek metal tables, a water wall, tropical fish tank— you'll feel like you're in an exclusive Manhattan lounge. Small tables and low lighting encourage quality time together.

In 2014, Open Table crowned SeaBlue as the #1 Restaurant in the Country. Featuring American cuisine with a French touch, the restaurant favors a tapas-style menu to encourage tasting and sharing. Sample locally sourced North Carolina Black Grouper, 7-Hour Braised Short Ribs, Lobster Thermidor, Escargot and other delectable fine-dining specialties.
Mood:  Fine food with Southern charm
Food:  21 Main Prime Steakhouse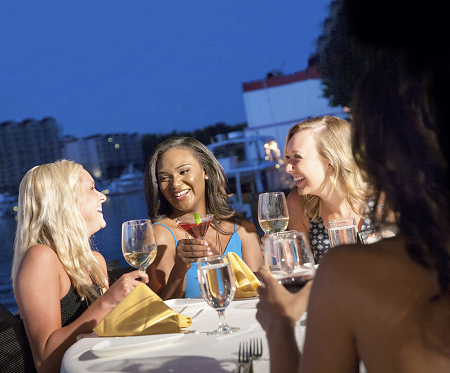 When you crave a, "white table cloth and fine wine" kind of night, you will be well served by choosing 21 Main. It has all the elegance of a Southern mansion: pillars, arched windows, an upper balcony with outdoor seating, high ceilings, intricate ironwork and many more details that will add grandeur to your evening.

When you crave a, "white table cloth and fine wine" kind of night, you will be well served by choosing 21 Main. It has all the elegance of a Southern mansion: pillars, arched windows, an upper balcony with outdoor seating, high ceilings, intricate ironwork and many more details that will add grandeur to your evening.

The architecture isn't the only thing that will delight you— 21 Main has elevated the steakhouse to a whole new level. Fresh seafood, 28-day dry-aged steaks, sushi, and Southern standouts like shrimp etouffee and chicken sous vide with collard greens are among the many delicious options. They also have an in-house sommelier, so you'll get the perfect wine paring with your meal.
Mood:  Old-school waterfront hangout
Food: Captain Archie's
Captain Archie's has been a popular local hangout since 1964— before North Myrtle Beach was even called North Myrtle Beach. The place started as a marina before becoming a lounge, boat club, and then a charming restaurant.

Though it's changed names and functions many times, it retains that low-key water life vibe. In fact, you can sit out on the deck and watch boaters tie up to the pier. Inside, it's just as laid back, with open rafter ceilings, a huge bar, and if you're lucky, live local music. The fare lives up to the relaxed atmosphere, with burgers, seafood platters, sandwiches, and other casual favorites.
Mood:  Low Country and laid back
Food:  Duffy Street Seafood Shack
The Duffy Street Seafood Shack is so loved by locals the owners had to open a second one! Whichever location you choose, you're in for a good time— it's a sandy-feet, peanut-shells-on-the-floor kind of hangout. Both restaurants are only blocks from the beach, so go on in, grab a seat, have a few cocktails and enjoy yourself!

The come-as-you-are beach vibe isn't the only reason locals flock to Duffy's— they have award-winning crab cakes and Low Country crab dip. In fact, Duffy Street Shrimp & Grits won first place at the Little River Shrimp & Jazz Festival and the dish was mentioned in the New York Times. Why would you want to miss that?
Little River
Mood: Costal comfort food with a view
Food: Capt. Juel's Hurricane Restaurant
When you're in the mood to chill out and immerse yourself in the beauty and bounty of South Carolina, head to Capt. Juel's Hurricane Restaurant. In addition to indoor seating you'll have two outdoor seating options: the upper-level deck that gets you a birds-eye view of passing boats, or a deck that extends directly over the water!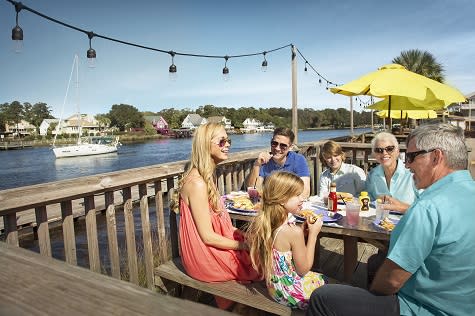 This family owned restaurant has been serving up Southern-style food in the area for nearly 75 years. They're especially known for hush puppies, their Big Fish Sandwich, and Shrimp 'N Grits with sausage and tasso gravy.
Mood: Dining in a quiet setting
Food: The Parson's Table
If you want to experience a true taste of local food and history, head to The Parson's Table. With its white clapboard siding and mint-colored, peaked roof you might think it looks less like a restaurant than a church— and you'd be right! The Parson's Table was once the Little River Methodist Church, built in 1885 and converted to a restaurant in 1978. Once inside, you'll be stunned by all the antique stained-glass windows that have been rescued from nearby buildings over the years.  

The menu pays homage to the area as well. Executive Chef and Owner Ed Murray, Jr. is committed to sourcing local ingredients and sustainable seafood whenever possible. The menu features mouth-watering options like Charleston she-crab soup, seafood pesto, pan-seared duck breast, savory wild mushrooms, and so much more.

The Parson's Table offers a truly one-of-a-kind dining experience ideal for anyone who appreciates fine food and excellent wine in a quiet, relaxed atmosphere.
Mood: Eat & greet with the locals
Food: Crab Catchers on the Waterfront
This is the kind of place you remember long after you've returned home. It's that local hangout that's warm and welcoming, where you end up joking with guests at other tables. It's set up for socializing, with an outdoor tiki bar and a patio where you can sit at small tables or side-by-side at the bar-style counter and watch the fishing boats go by.

Here, seafood is king—and it's fresh. Crab Catchers is not only a restaurant; it's a local seafood market. It will be hard to choose a favorite with items like their special smoked tuna dip, fried oysters, crab legs, clams, and (of course) the fresh catch of the day. Frozen drinks like Stet's Flip Flop, Redneck Rita, and Maylay's Mermaid are also guaranteed to put a smile on your face.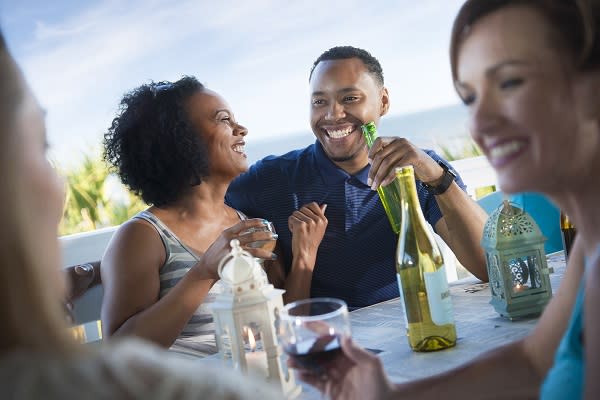 14 Miles, 17 Pancake Houses
Whatever breakfast delights you crave—from French toast and fresh coffee to salmon benedict and Spanish omelets— North Myrtle Beach has the whole family covered. Here are just a few local favorites.
Dino's House of Pancakes
2120 Hwy 17 S
With over a dozen types of pancakes, you're sure to find something you love at Dino's. Flavors like peach, Georgia pecan, cherry, Hawaiian, buckwheat, chocolate chip… you'll want to try them all!
Atlantis Pancake House
2305 N Ocean Blvd.
If you're planning a day of sun and sand, get your start at Atlantis Pancake House, which is just across the street from the beach. Enjoy classic American breakfast choices— you can even get a whipped cream smiley face on your waffles to start your morning off right. 
Southern Sunrise Pancake House
3407 Hwy 17S
Family divided on breakfast preferences? Southern Sunrise has something for everyone. It's a fantastic pancake house, but they also know their way around an egg. They have 71 signature omelets, including hard-to-find flavors like seafood, Cajun chicken, chipped beef and so much more.
Spiro's Pancake House
1100 Hwy 17 St.
Are you eating gluten free but miss pancakes like crazy? Make a breakfast beeline to Spiro's Pancake house. Not only are they famous for their gluten-free pancakes, they have homemade biscuits that get rave reviews.
Hoskins
405 Main St.
Though not technically a pancake house, Hoskins is such a fixture in North Myrtle Beach (family owned since 1948) that it has to make the must-visit list. You can get giant flapjacks, eggs, and all your breakfast favorites of course, but the real draw here is Ollie Pearl Gore's famous handmade Southern pies and biscuits.
Discover more dining options in North Myrtle Beach.
By Kellilynn Hann