Everyone has their own "vacation style." Some like to lounge on the beach all day, while others prefer an action-packed trip full of new experiences. In South Carolina's North Myrtle Beach, you can explore four distinct neighborhoods, each with their own unique personalities—proving that here, you can do it all or do nothing at all.
VACATION PERSONALITY: CLASSIC BEACH ENTERTAINMENT
DESTINATION: OCEAN DRIVE
If you're all about excitement, Ocean Drive is the place to be. Located right in the heart of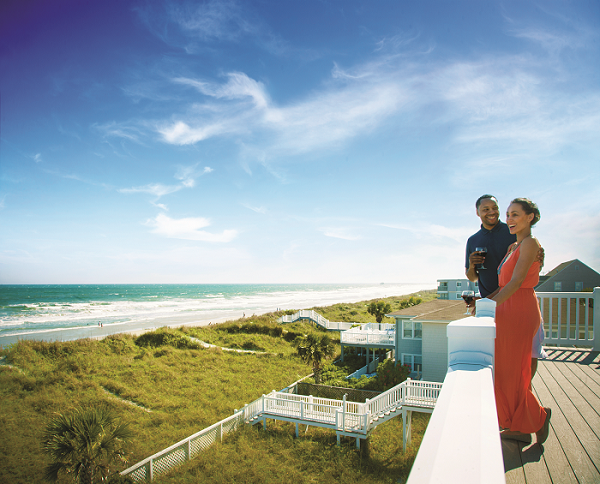 North Myrtle Beach, Ocean Drive has been a gathering spot for the young—and young at heart—for decades. Its wide, flat beach was once popular with teenagers for drag racing, and in the 1940s, beachgoers adapted swing dancing to avoid kicking up the sand, giving birth to a new dance called the Carolina Shag. That playful spirit is still alive and well in Ocean Drive, and it will infuse you with energy.

Two favorite hotspots here are Fat Harold's Beach Club and the O.D. Pavilion and Amusement Park. Fat Harold's is one of those laid-back local places where you're welcomed like family. Though it's a bar and restaurant, the real draw is the shag dancing—they give free lessons every Tuesday, or you can simply join in and learn from other dancers. You'll find all kinds of people: locals, tourists, energetic little kids, smooth old-timers, twenty-somethings—all of them perfecting moves that will make their friends back home jealous.
Then there's the O.D. Amusement Park—if it doesn't get you feeling like a kid again, nothing will. It has carnival-style favorites like bumper cars, a roller coaster and the tilt-a-whirl. You can spend hours playing carnival games and goofing off in the arcade. The park is right on the beach, too, so be sure to enjoy the view while indulging in some cotton candy and hotdogs.
The intersection of Main Street and Ocean Drive is affectionally referred to "festival central" by both the visitors and locals. And one thing we've heard over and over that you can't miss is Music on Main, a weekly family-friendly concert where dancing in the streets is not only common, but encouraged!
VACATION PERSONALITY: OUTDOOR ADVENTURE
DESTINATION: CHERRY GROVE
Are you the type who wants to spend every minute outside? Head to Cherry Grove, where you can experience everything from an exciting day of surfing to a relaxing kayak tour.
Cherry Grove first became a popular travel destination in the 1950s, when a pier was built to attract visitors and saltwater fishermen. Thanks to several notable catches (including a record 1,780-pound Tiger Shark), the pier is still a top fishing location.
Here's the best news: there's a bait and tackle shop directly on the pier where you can rent poles or crab traps, buy lures and live bait,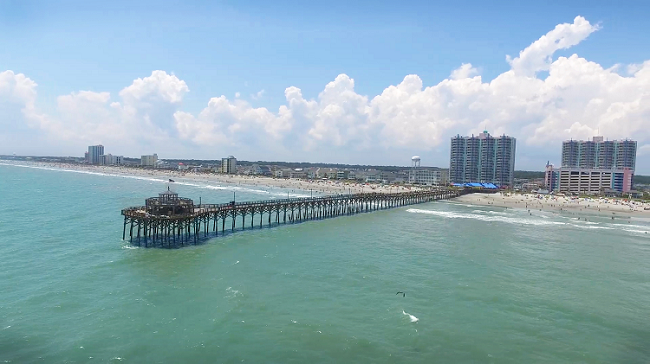 and get insider information on what's biting that day! It's a great way to try saltwater fishing without having to buy (or carry) a ton of gear.
Right next to the pier is the Kokopelli Surf Camp, which is an outdoor family vacation dream come true. You can take a tour of the salt marshes and islands, or you can rent equipment for your own custom adventure (there's free delivery and pickup).
The most exciting thing about the Kokopelli Surf Camp, however, is the surfing, of course! Professional surfers teach the classes, with a low student-to-teacher ratio so everyone gets personal attention. They're so good at what they do, they guarantee you'll be riding the waves by the end of the lesson.
One more local treasure worth mentioning is the Cherry Grove Oceanfront Park. While many stumble upon this little oasis, make it your go-to hangout for beach days. It has restrooms, outdoor showers, benches in the shade, and a patch of grass that makes a nice place to take a break from the hot sand and have a picnic.
VACATION PERSONALITY: A BIT OF EVERYTHING
DESTINATION: WINDY HILL
Does everyone in your group have a different vacation personality? That won't be a problem if you go to Windy Hill. One way to make everyone happy is to visit Barefoot Landing.
Surrounded by the waters of Louis Lake and a scenic inland waterway, Barefoot Landing has an incredible mix of unique shops, restaurants, live shows, music and interesting attractions. It's a great way to mix a leisurely stroll with some excitement (and a blessing when everyone wants something different to eat). If you're looking for nighttime entertainment, you're sure to find it at the Alabama Theatre. ONE The Show can suit everyone's taste; it includes country, gospel, Broadway, pop and rock music to hilarious comedy.
Another popular attraction at Barefoot Landing is Alligator Adventure, the "Reptile Capital of the World."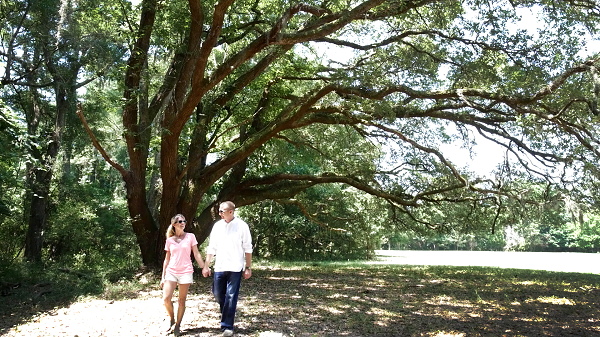 It's home to more than just alligators, too: you can find tons of interesting animals like snakes, tropical birds and tortoises. It's hard to miss the "King of the Crocs," Utan, an 18-foot long, 2,000 pound crocodile.
VACATION PERSONALITY: RELAX AND REFRESH
DESTINATION: LITTLE RIVER
While it's not technically a beach, Little River is definitely worth a visit if you're craving a low-key, small-town retreat.
Named after the river that borders North and South Carolina and empties into the Atlantic, Little River is best known for its annual Little River Shrimp Fest and The World Famous Blue Crab Festival. If you can't make it to the festivals though, don't worry: this quiet fishing village has more than its fair share of exceptional seafood restaurants, many right on the waterfront.
If you want to catch your own dinner, there are a lot of family-friendly fishing charters run by locals who will show you how to land the big ones everywhere from inshore to the deep sea.
Fishing isn't the only thing to do in this charming town, though. You can spend a peaceful day exploring the inlets and waterways by paddleboard or kayak, play a game of golf on one of Little River's several award-winning courses, or just soak up some South Carolina charm and natural beauty with a cruise along the Intracoastal Waterway.
Each one of these unique beaches and neighborhoods makes it easy to flow from one vacation mode to the next and discover new favorite destinations along the way. If you're looking for even more vacation inspiration, download our Visitor Guide, full of information about the area's beaches, places to stay, restaurants and things to do.