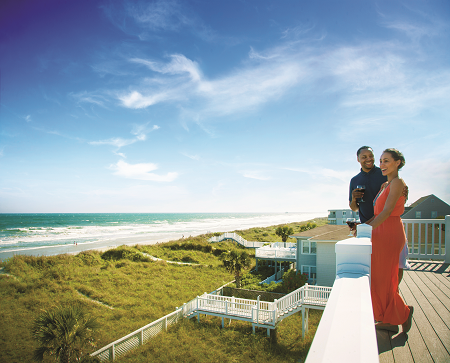 Need a gift for your upcoming anniversary? Want to surprise your special someone with a vacation for two? Hoping to retreat and reconnect with the love of your life? Plan a romantic getaway to North Myrtle Beach. We've put together a helpful list of vacation ideas for couples to make your beach trip extra special.
No matter what kind of vacation you're looking for, you're sure to discover something unexpected in North Myrtle Beach to enjoy together.
IF YOU BOTH LOVE TO BE ACTIVE:
What's more romantic than riding horses on the beach? One of the few places you can ride horses on the beach year-round is Inlet Point Plantation. Their helpful staff will guide you on a beautiful ride on undeveloped Waites Island. Create an unforgettable memory together by booking their exclusive Special Occasion Ride, where the two of you will have a private ride along the shore of the island.
Ziplining isn't just an activity you can do in the mountains! Venture over to North Myrtle Beach Park and Sports Complex for Go Ape Zip Line & Treetop Adventure and explore new heights together on an obstacle course of zigzag bridges, ropes and ladders high in the trees. Head next door to Shark Wake Park for another high-flying, adrenaline-pumping activity. This cable wakeboarding experience is open to all skill levels. Beginners can learn on the easy-to-use system, while more experienced riders jump, flip and spin on ramps throughout the park. Cheer each other on as you perfect your ride!
If you're a couple that enjoys playing golf together, there is no shortage of award-winning golf courses along the Grand Strand. For a one-of-a-kind experience, get an early tee time at Tidewater Golf Club. You'll want to savor all 18 holes, especially the signature 13th hole, which offers a beautiful panoramic view of the Atlantic Ocean and Cherry Grove Beach Inlet.
IF YOU BOTH LOVE TRYING NEW BITES (OR SIPS):
North Myrtle Beach is a foodie's paradise. In the heart of North Myrtle Beach is Barefoot Landing, a unique shopping, dining and entertainment destination. With more than 20 restaurants and eateries, there is cuisine for every palate at Barefoot Landing. For an exotic dining experience, try Greg Norman Australian Grille. Owned by the famous golfer, this establishment features a large dining patio with beautiful views of the waterway. Just around the corner from Barefoot Landing is Duplin Winery. Duplin's experienced staff will explain their winemaking process on one of two different wine tastings they offer. Once you've found your new favorite label, purchase a bottle from the store and uncork it together on their spacious patio, where they often have live music during the summer.
A short 10-minute drive from the iconic Cherry Grove Pier, you'll find the charming fishing village of Little River. Home to fine dining as well as legendary seafood establishments disguised as dive bars, visit Little River if you're looking for fresh seafood pulled from the dock and prepared for your table. While you're there, visit La Belle Amie Vineyard. Built on a charming historic plantation, after you've sampled their delicious wine, stroll the picturesque vineyard with a glass.
IF YOU BOTH WANT TO KICK BACK: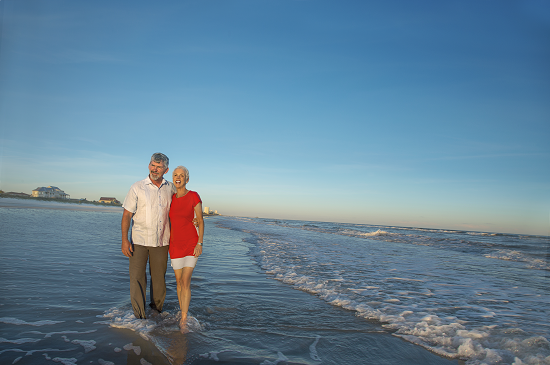 Home to nine miles of wide, beautiful beaches, there's no better way to reconnect in North Myrtle Beach than taking walks together. Take a stroll in the morning to watch the sun peak over the scenic inlet or walk home from happy hour at a waterfront bar and see the sun fade over the Atlantic Ocean.
Many places to stay in North Myrtle Beach offer a full kitchen, so stay in one night and make dinner at your own pace. Pick up fresh, local seafood or hand-cut steaks and all the fixins from Boulineau's Fresh Foods (while you're there, pick up a souvenir for the kids you left at home, because the entire second floor is a sprawling gift shop). Enjoy spending time in the kitchen, slowly cooking a meal together, without the usual rush of quick weeknight dinners.
North Myrtle Beach is home to several scenic parks. Explore the beauty of Mother Nature together at Heritage Shores Nature Preserve. Spend a morning walking the seven acres of paths throughout the park, reading the informational signage that describes the plants, animals, fishes and birds that you might spot.
An afternoon at the spa is the perfect place to sit back, unwind and just enjoy being together. At Touch MedSpa, share your relaxing experience with each other by indulging in a couples' treatment, where your mind and body will be soothed with hot towels, aromatherapy and massages.
Start planning your trip to North Myrtle Beach today by booking the perfect beach house, condo or resort. While you're enjoying your romantic beach getaway, we'd love for you to share your photos with us by using #JustCoast on social media.