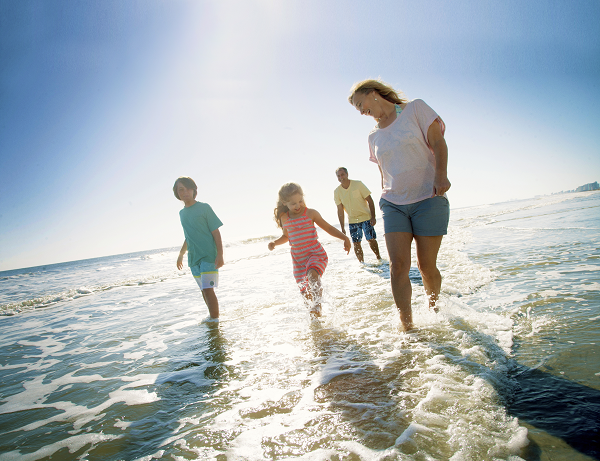 You've planned your trip. You've picked the perfect place to stay, loaded up the family into the car and you're ready to start a whole glorious week of vacation. 
You have at least five schedule-free days spread out in front of you—so how are you going to spend them? You're at the beach, so of course you're going to take some time to put your toes in the sand. But when you're ready to change your pace, we have a few ideas for fun family activities in North Myrtle Beach that will keep everyone asking, "What's next?!"
DISCOVER OUR NATURAL WONDERS
Here in South Carolina, we're lucky to be surrounded by natural beauty, both on and away from the beach. Take some time to explore your stunning vacation destination by starting your day at Heritage Shores Nature Preserve. Here, elevated boardwalks guide you through seven acres of the Cherry Grove Marsh. Along the way, you'll find native fish, birds, plants and other wildlife throughout the wetlands. Informational signs throughout the space offer a learning opportunity for both kids and adults.
Kayaking and paddleboarding can give you a more up-close-and-personal view of the area, though. Guided tours take you to the best-kept secrets, from remote Waites Island to peaceful paths through grassy salt marshes. You'll learn about local wildlife, get a chance to go hunting for shells, and experience the colors of the sunrise or sunset. Some tours are timed with the tides, so you know you'll get the best experience every time.
Water sports might be something you expect for the area—but what about horseback riding? There's nothing quite like a relaxing ride along the beach, and that's exactly what you'll find at Inlet Point Plantation. Experienced guides make sure you're comfortable on your horse before taking you past gently-rolling tides, through an historic plantation or along the waterways. Sunset tours make this experience especially unforgettable.
MAKE WAVES AT THE SPORTS PARK
Did you know that North Myrtle Beach is home to a 162-acre sports complex filled with activities like ziplining, wakeboarding, playgrounds and walking trails? If you really want the kids to sleep good at night, this is where you want to go.
The ziplines and ropes course at Go Ape will definitely help you work up a sweat as you climb through zigzag bridges, unstable ladders and more. Encourage each other through challenges and remember: after this adventure, jumping into the ocean will never feel better!
Of course, you could stay on-site and test your wakeboarding skills at Shark Wake Park. Even beginners can enjoy the course—there's a network of pulley systems that can adapt to your skill level. Fair warning: you might get addicted to seeing how far your skills can take you!
There's also more than sports and thrills here. The Sports Park becomes a community gathering spot during the Sounds of Summer Concert Series, which happens one Friday night a month from mid-May through September. Bring beach chairs or blankets and make an evening out of listening to live family-friendly music.
CATCH SOME NEW MEMORIES
Fishing is one of those things that keeps visitors coming back year after year—and if you haven't tried it yet, now is the time. There's plenty of ways to cast a line, too, depending on the kind of experience you're up for.
For something a bit more fast-paced and exciting, try a deep sea fishing charter. Little River Fishing Fleet and North Myrtle Beach Fishing Charters accommodate aspiring fishermen of all ages and experience levels, and you can give it a shot in the daylight or the dark.
For an afternoon that helps you get back to nature, take a kayak expedition. Quietly glide through shallow waters and sneak up on the fish—but don't be surprised if you see birds and other wildlife as you paddle.
What's probably the most iconic of all North Myrtle Beach fishing adventures can be found at Cherry Grove Pier. Rent a rod and bait at the Tackle and Gift Shop, then choose a place among the fishermen at the railing to cast your line for Bluefish, Mackerel, Red Drums, and more.
Sometimes, though, you just want to eat the fish, not catch it. We get it! Thankfully, being so close to the shore comes with your choice of seafood restaurants. Right down the street from Cherry Grove, you can take a seat at Duffy Street Seafood Shack, where families come together to enjoy seafood platters. The kids will love it because here they're actually allowed to throw their peanut shells on the ground!
SHOP, SIP AND SEE
North Myrtle Beach isn't all about relaxing seaside on a beach towel or taking leisurely journeys through waterways—all it takes is a visit to Main Street or Barefoot Landing to get into the scene here.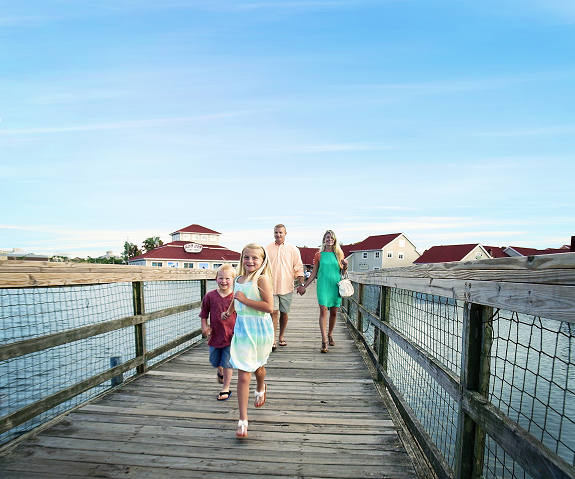 On Main Street, you can walk blocks and blocks of locally-owned shops and boutiques as you search for a perfect treasure, souvenir or beach toy. You also have your choice of restaurants here, from pizzerias to beach bars to ice cream shops and beyond. Every Thursday from May through September, all of Main Street turns into a concert hall with a different band every week. Dance to the tunes at Music on Main and immerse yourself in the spirit of a summer in North Myrtle Beach!
Barefoot Landing is another upbeat destination full of activity. Little ones will love riding the old-fashioned carousel, while teens will enjoy getting lost in dozens of shops. Barefoot Landing is famous for its diverse selection of restaurants—fresh seafood, Mexican and Italian are just a few of the choices—many of which are kid-friendly.
Nightlife and entertainment shines at Barefoot Landing, too. Catch ONE The Show at Alabama Theatre, featuring every genre of music you can think of (Broadway, Pop, Country, Gospel, Rock . . . you name it, it's here!) and a comedy-filled show that will leave the whole family crying from laughter. Check the concert and event schedule at the famous House of Blues to enjoy jazz, country and (of course!) blues that you'll want to dance to. If that isn't enough, there's always an exciting show at The Carolina Opry, just down Highway 17, where the show may change, but the dancing and singing is always some of the best around.
MAKE THE MOST OF YOUR LAST DAY
With only a few hours left, you'll want to leave with the best memory possible—so why not fuel up with a hearty breakfast at Dino's House of Pancakes? They open bright and early at 6am every day, and they're known for pancakes and waffles served with indulgent fruit toppings. You could also order an omelet stuffed with just about anything, or get your eggs served any way you like.
While you're filling up your gas tank or on the runway waiting to take off, finish your trip by sharing your photos of your North Myrtle Beach family summer vacation on social media by using #ExploreNMB and #JustCoast. Oh, and be sure to sign up for our email and get information on deals, events and news in North Myrtle Beach sent right to your inbox. It's never too early to start planning your next visit!