Surprising things to do in North Myrtle Beach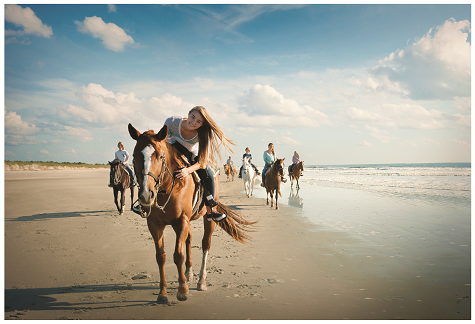 If you'd like to know how a simple break in a routine can make a lasting impression, just ask someone where they went on their last vacation. In an instant, they'll tell you where they stayed, where they dined, who they met—and then show you pictures as proof. That's because when done right, vacations are a never-ending sequence of new experiences that become embedded in our memories. One vacation I'll never forget is a trip to North Myrtle Beach and here's why: Because it was really a dozen vacations in one. While I had anticipated swimming and shows and shopping (as well as affordable accommodations that didn't require a bank loan), what I hadn't expected was a range of experiences that took me out of my routine and put me right in the middle of the action.
I'd imagine other destinations offer a variety of activities, but to find so many in a single location was something I never expected. I suspect imaginative locals looked at the unique combination of land and sea in North Myrtle Beach and got busy inventing myriad ways to delight their guests. What they perfected is a surprising assortment of activities that range from low-key to high energy…
Beachfront Horseback Riding
Like nearly everyone, I'd seen images of people riding horses along a dramatic shoreline, but never knew exactly where that shoreline was. When I arrived, the coast was clear: It was North Myrtle Beach! A horseback ride on the beach  is just one among many reasons why people come here; it's a lovely, low-key activity that's so romantic you'll find it jotted down on thousands of wish lists across America. One of the few places in the nation where you can ride horseback on the beach year-round is Inlet Point Plantation, which has access to undisturbed and undeveloped Waites Island. Whichever bridle path you choose, during the day and even on specialty tours designed for the romantic hours between sunset and moonrise, it's always a pleasure to find a trail of hoofprints behind you, endless skies above, and feel the gentle splash of the sea.
Here's the Hook!
I live in a town with one lake, so fishing has its limits. It's so incredibly different in North Myrtle Beach. Sure there are a lot of fish in the sea, but you can also find them in rivers, lakes, estuaries, reservoirs and back bays as well. Several miles of Little River stretch along a picturesque waterway and nearby Hog Inlet and Williams Creek are popular inland fishing spots. Just a short distance east, wind and waves and a fantastic stretch of beach make surf casting one of the most popular and exciting approaches to fishing you can find.
You'll need to check the tides, select the right rig and use the right bait (squid and shrimp work well) as you cast from the sand or while in waist-deep water. While this can be a bit of a challenge, the return on investment may be a pompano, bluefish, or striped bass.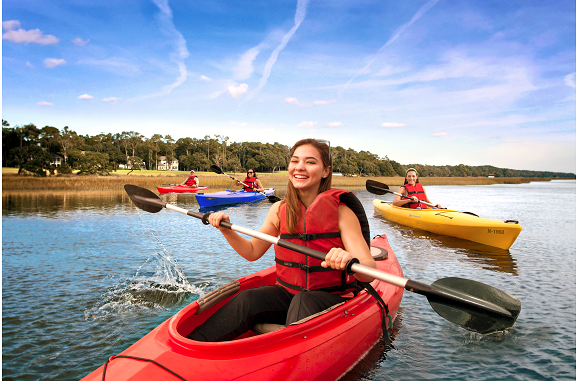 Another type of fishing experience rises above it all at the iconic 985-foot long Cherry Grove Fishing Pier, which has been a legend since opening in the early 1950s. Beyond its two-story observation deck and full-service bait and tackle shop, anglers still speak in reverent tones when discussing the record-setting catches—a 98-pound tarpon and a 1,780-pound tiger shark.
Stretching out even farther than the pier are deep-sea charters that travel miles beyond the breakwaters to take you to a new world of fishing. You may find yourself dropping a line for fish that gather around wrecks and reefs. Take it a little farther and cast into the Gulf Stream some 30 miles out. Serious anglers often double that distance, heading out some 60 miles to reach the blue water in search of sailfish, blackfin tuna, or marlin before returning to display their catch in North Myrtle Beach.
Kayak Through a World of Wonder
Until you've been to North Myrtle Beach, it's difficult to understand that it's more than a beach. Much more. Tangled along the coastline is a mixture of varying landscapes and ecosystems; a wild kaleidoscope that switches focus between inlets and bays, rivers and salt marshes, estuaries and islands. This kaleidoscope is best viewed by kayak.
While the explorer in you suggests you could go it alone, the advantage of a guided kayak tour is that kayak guides really love nature. Love it!  Not only that, because they know where to go and why, you'll make the most of your time. You may land on a lonely stretch of shore and be welcomed by an honor guard of ghost crabs, blue crab and horseshoe crabs; you could paddle into backwaters and glide past osprey, egrets, herons and other shorebirds in their habitat; or find an untouched stretch of beach where the local currency is colorful shells, solitude and sand dollars. The winding wonder of the ancient Waccamaw River also offers an adventure in and out of cypress canopies and secluded spots not accessible by larger watercraft.
Quite a payoff. Quite an experience.
Surfs You Right!
Surfing not only looks cool, it actually is cool. When you watch surfers lock their board onto an approaching wave and follow the break all the way to the shore, it's certain to inspire a desire to give it a try. When that happens, follow your desire because North Myrtle Beach is the Goldilocks of beaches—the destination where new surfers find waves that are not too big, not too small, but just right.
In addition to renting boards and surfing equipment, several watersports vendors along the Grand Strand offer something even more valuable: knowledge. At a solo or group lesson, you can straighten out your learning curve as experienced instructors (some of them surfing champions) teach you the fundamentals of the sport. No need to be intimidated. They want you to fall in love with surfing and, with their direction and your determination, it may not be too long before you're on a tri-skeg stick shredding the lip on a wave.
Wake Up!
One of the most cool and colorful water activities I've seen is Shark Wake Park; a dazzling combination of adrenaline-charged water activities. Kids, especially, love its aqua park where a floating playground multiplies the thrill of rope swings and waterslides by a factor of a thousand as they navigate more than an acre of slides, paths, pyramids, and ladders. Guests of all ages love facing the challenge—and the excitement—of the wake park where beginners and experienced wakeboarders can skim atop the water as a cable-guided system tows them from tower to tower. Next to the Wake Park, you'll find their sister attraction Aqua Park, an inflated, floating obstacle course for any age and skill level. They've even thought of a way to wrap up your experience: Head to the Shark Shack for pizza, ice cream, and a cool drink.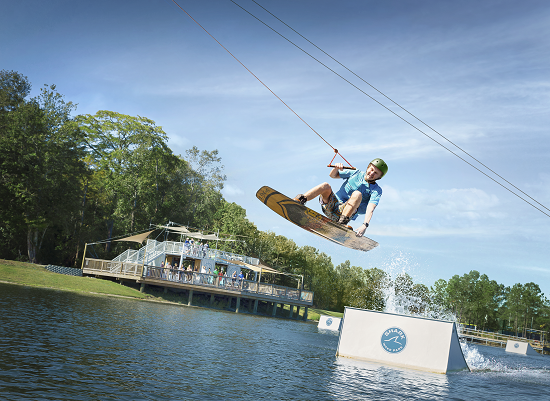 Make a Connection with a Dolphin
Dolphins are one of those unique animals that have the uncanny ability to make an instant connection with humans. It could be their happy faces (they're always smiling), their high degree of intelligence, or the fact they appear to sense the same connection and like us in return.
Now here's the cool part: dolphins, like people, love to visit North Myrtle Beach. Even better, they'd love to have you over for a visit! Several charter services offer dolphin watching tours that last a few hours or longer, and each offers a guarantee that you'll see them at sea. It may be just a few following in your wake or, with luck, a large pod of bottlenose dolphins swimming and jumping in the waters around you.
So make a reservation, and then make a connection.
Ziplining: Get above it all!
It seems there are ziplines in every zip code, but one of America's most amazing zipline courses can be found in the woods of North Myrtle Beach. At Go Ape Zipline, the incredible course darts through a pine forest where a series of creative and complex challenges will test your courage and agility. You may find yourself several stories above the ground navigating a walkway on widely-spaced alternating steps, treading gingerly on a suspension bridge wrapped in a web of ropes, or suspended to a line and shouting with delight as you sail high above the water, zipping rapidly down on your descent back to earth.
Closer to the coast, other zipline adventures will find you atop a towering platform. Take one small step and with the wide-open Atlantic stretching out before you and gravity behind you… you're on your way!
Before beginning your zipline adventure, be aware that with instructors there to assure you (and secure you), you can wring as much out of this experience secure in the knowledge it's a high-thrill surge matched by a high safety record.
Experience Underwater Adventure
Each year, millions of visitors relaxing on the shores of North Myrtle Beach marvel at the views of this vast expanse of ocean. But they're really only seeing part of the picture. What they're missing is the mysterious undersea world hidden just below the surface.
Snorkeling and scuba diving are two sports that can launch a journey of discovery in the waters off North Myrtle Beach. Divided by the degree of training required and the amount of time you can explore underwater, the end result of either sport allows you to travel through a portal and into a land of colorful sealife, reefs both real and artificial, and wrecks to be explored by experienced divers only.
In this world of hidden wonders, undersea sites like the Jim Cuadle Reef are ready to reveal themselves. All you have to do is dive into North Myrtle Beach.
The Sky's the Limit
Let's start with a distinction: parasailing is not skydiving. Unlike skydiving which finds you falling to earth at 120 miles per hour, parasailing is easy and nearly effortless as you ascend smoothly, carried aloft by the power of a muscular speedboat and aerodynamics of a parachute canopy.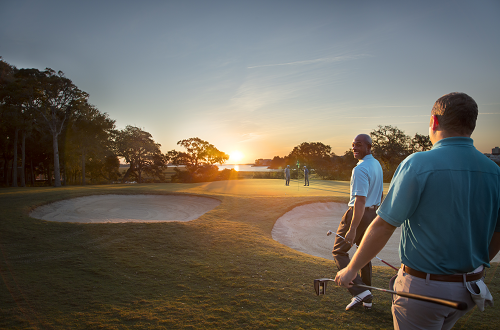 With the waves and the world hundreds of feet below, parasailing above the waters of North Myrtle Beach gives you a unique perspective of the curves of the Grand Strand and a color wheel that changes from the dark waters of Little River to the blur of gray at the inlet to the green-blue waters near the shore.
As you survey the world during your aerial mission, look below to search for pods of dolphins breaking the surface, fishing boats bobbing in the waves and a colorful rainbow of towels and umbrellas dotted against the white sands.
It's a magic carpet ride that lifts you into a whole new world.
Golf Galore on the Grand Strand
Conquering the myriad challenges of a North Myrtle Beach golf course is a thrill in itself.  With courses designed by golf legends including Arnold Palmer and Greg Norman, each is a carnival of differing elevations, intricate pitfalls, and spectacular scenery.
What sets North Myrtle Beach apart is its wide range of options, from high-level championship courses to public fairways to miniature courses perfect for family fun. Looking for a way to round up an unforgettable vacation? Try a round of golf!
Find your path to fun at North Myrtle Beach.
By Gary McKechnie