If you're looking for endless opportunities for on-the-water activities to experience with your friends or as a couple, you can find them in bulk at North Myrtle Beach! If you picture yourself feeling the rush of cool waves lapping at your toes while dozing off in a beach chair all day in the warm rays of the sun, we have that here, too.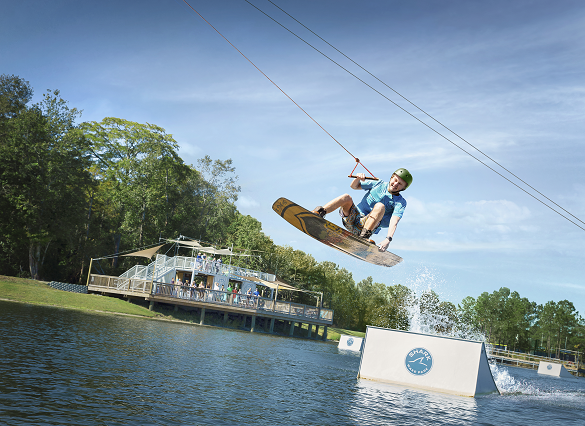 But if an action-packed vacation is what you're craving, we've rounded up a few ideas for you.
RIDING THROUGH AND ON TOP OF THE WAVES 
Want to start your vacation with an exciting activity? Reserve an early ride at Inlet Point Plantation before checking into your condo, beach house or hotel room. At this equestrian hideaway, you'll find some of the area's best shoreline horseback riding. Saddle up for oceanfront rides on the plantation's exclusive Waites Island, where you can enjoy a peaceful ride and the beautiful atmosphere of this undeveloped piece of the Grand Strand. It's hard not to be in awe as you trot along white sandy shores next to the sea.
After riding horses, check into your accommodations to get settled and unpacked. With so many beachfront or waterfront places to stay, it probably won't take you long to do a quick change and head straight for the beach. Don't forget to grab a boogie board or two before hitting the waves! 
Kayaking is a popular way to see the area's inlets and waterways, but if you've never tried stand-up paddleboarding before, we highly recommend it. There are a number of places that rent paddle boards and offer lessons, so newbies don't need to be intimidated. Couples and groups of friends will love to see who's best at keeping their balance.
As you make your way back to your condo or beach house, decide how you'd like to refuel after a day filled with adventure. Want to stay in and cook at your own pace? Head to local favorite Boulineau's Grocery in Cherry Grove to pick up some fresh seafood or steaks before you fire up the grill. If you'd prefer for someone else do the cooking, browse through the extensive list of the area's restaurants. North Myrtle Beach has something to satisfy just about every craving—from pizza to burgers, from sushi to South Carolina BBQ.
FISHING AND CRUISING
Next on your list of on-the-water adventures should be a charted fishing trip. You'll likely need to meet your captain early the morning of your excursion, many of which depart from the area's quaint fishing village, Little River.
On a deep sea trip, you'll go further out on the water, where you can expect to pull in larger bottom-feeders like snapper, sea bass and grouper. These are the types of fish that live in deeper waters—not the type you'll typically pull in from off the pier (a good thing, too, because that means you won't run into them on your daily swim). You'll get a chance to learn from the experts on a charter, and we promise you'll have an adventure you'll talk about for years.
Once the crew gets back on land, head out to one of Little River's many waterfront dives. You'll find some of the area's freshest seafood tucked along the Intracoastal Waterway—often taken straight from the restaurant's dock to the kitchen to your dining table.
Still have some energy after dinner? Make your way to Barefoot Landing, North Myrtle Beach's 100+ acre waterfront entertainment complex, to shop and explore or catch a show at one of the local concert venues, like House of Blues or Alabama Theatre.
ZIPPING, FLYING AND CONQUERING
Before you depart, get up early and head to the North Myrtle Beach Park & Sports Complex, where Go Ape and Shark Wake Park are conveniently located side by side. Looking for an athletic rope-climbing adventure? Choose Go Ape, a zip line canopy tour and obstacle course through a maritime forest. Couples and small groups can zip and soar through the sky for almost three hours, zooming through tall, fluffy green trees and shuffling from obstacle to obstacle. Talk about having a blast! 
If you're in the mood for a wet and wild time, head to Shark Wake Park to try your hand at wakeboarding. You'll still feel like you're flying, but you won't be in the trees here. Instead, you're attached to a cable that's pulling you across the lake on a wakeboard. There's different levels of difficulty depending on your skill, so this is another fun activity for beginners and seasoned pros.
If you come to North Myrtle Beach to find adventure, you're sure to find it in one of these spots! But of course, there's always more to see and do. Contact our Visitor Information Center to help plan your exciting, exhilarating vacation to North Myrtle Beach.