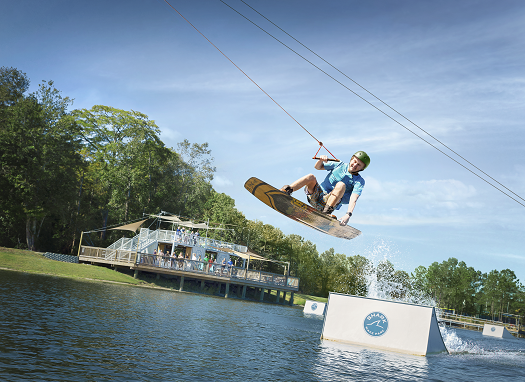 After a long day of work, my fiancé, Dylan, and I sat down at our dinner table to talk about our days, when he had an idea. "We need an adventure! Something fun, to shake up our routine," he suggested. I couldn't have agreed more. We hurriedly shifted gears from our workday recap and began researching adventure destinations.
After searching for beach locations with plenty of activities, we discovered North Myrtle Beach. The more we read, the more excited we became. We are both incredibly active and love outdoor adventures and since neither of us had ever visited the South Carolina coast before, we booked a condo for the very next weekend.
The adventure begins
We arrived in North Myrtle Beach early Friday evening, a few hours before sunset. Stoked to begin our weekend at the beach, Dylan and I were ready to get out of the car and get moving. I was eager to see the waves and didn't have a hard time convincing Dylan to head to the beach first. We dug our toes in the sand, feeling the breeze from the ocean and crashing waves. It was music to my ears.
We headed to the nearest mini-golf course next to stretch our legs and engage in healthy competition before dinner. I won, of course! After my victory, I chose the perfect spot for dinner from the many fun, unique tiki bars within minutes of our condo. The cool cocktails, fresh seafood and salty ocean breeze both relaxed and exhilarated us for an adventurous weekend ahead.
We woke up on Saturday morning raring to go, so we hit the beach for a sunrise jog, followed by breakfast at a little local spot where we sipped coffee and came up with a game plan for our day. First stop: Go Ape Zip Line & Treetop Adventure. I have ALWAYS wanted to try zip lining and I thought this was an activity you could only do at the mountains. Who knew you could do this at the beach?! I felt like a kid again, zipping through the trees and traversing an obstacle course underneath a beautiful canopy in the woods.
Good times
We still had most of the day to fill with more excitement, and we wanted to get out onto the water. Having grown up near beaches, we both love watersports. So when we saw that Shark Wake Park was located right beside Go Ape, the two of us simultaneously shouted, "Let's do it!"
From beginner to professional, this wake park has a 5-tower full-size cable and a 2-tower cable system that brings the newest trend of cable wakeboarding to life. As soon as I heard about this new technology last year, I have been so excited to try it. I was ecstatic to learn that we could experience it during our trip to North Myrtle Beach. Dylan and I shredded so much water and had the time of our lives at the wake park...it was such a rush!
We went back to our oceanfront condo, took relaxing showers and got ready for an evening out on the town. We were so excited when we found out there was a free concert that night. We ventured to the intersection of Main Street and Ocean Drive, where locals and visitors of all generations gathered to enjoy Music on Main. We learned it was a free family-friendly concert that happens weekly each summer, so we were glad to have discovered it.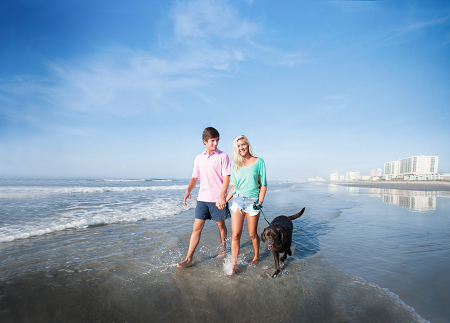 After hours of dancing along, we decided to grab a bite to eat (and a cold beer) at nearby Duffy Street Seafood Shack. The two of us walked along Ocean Drive back to our condo, and by the time we went to sleep that night it felt like we had packed tons of good times into one day. It seemed like we had been there for a week already!
A lasting tradition
On the last day of our weekend vacation, we decided to relax and cook breakfast at our condo. After, we headed to the beach just after sunrise to catch some early-morning sun. As we were taking a dip in the ocean, Dylan suggested, "Let's rent jet skis after lunch!!" His spontaneous idea was the perfect way to keep our weekend going.
After we enjoyed our last lounging lunch along the shore, we talked about how close we were to so many nearby towns and communities. Dylan wanted to check out Little River, a little historical fishing village that was a mere 10-minute drive from our condo. It was a charming area that had a local spot specializing in all kinds of watersport adventures, including jet skis! We rented a pair and set out on an afternoon adventure. Jumping and diving through the surf, the two of us found excitement, freedom and happiness out there beneath the sun, without a care in the world. It was the perfect way to wind down the amazing adventure that we had experienced over the past couple of days.
We realized that even in that small area of town there was so much to explore, so Dylan and I decided to make it an annual tradition and head to our new favorite spot. It has everything for a couple's retreat and we were delighted to realize that in North Myrtle Beach, we had just taken the first steps to building lasting family traditions together.
Discover adventure in North Myrtle Beach
By Abby Stewart