North Myrtle Beach has a vibe that goes beyond the rhythm of the crashing waves and cool ocean breeze. Listen closely and you will hear the grooves of old-school beach music booming from the beach bars and dance clubs of Ocean Drive.
It's that unique sound that gave birth to one of America's hottest dance crazes, the Carolina Shag. During the 1940's, college-aged kids flocked to this stretch of beach for fun in the sun by day and dancing to the shag all night.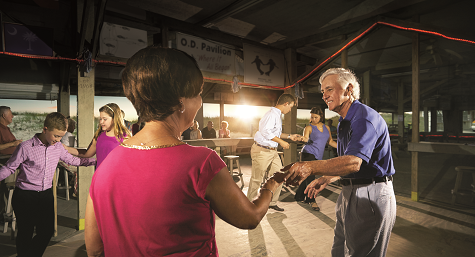 The unique thing about this dance fad is that it never went away. Those same kids, at least at heart, and their children's children still come to Ocean Drive to take a stroll down memory lane and to keep the tradition of the dance alive.
Now honored as the South Carolina state dance, the shag is alive and well at the dance clubs near the Horseshoe in downtown North Myrtle Beach, some of them the same places where the dance was born. Fat Harold's Beach Club, OD Lounge and Arcade, and the Spanish Galleon still serve as popular hot spots for those who love to shag.
Got two left feet or no clue how to shag? No problem. All three clubs hold free shag lessons on special nights, and there's always a pro in the crowd who doesn't mind teaching rookies a step or two. So if you want to get a true feeling for the dance that made North Myrtle Beach famous, simply shuffle down to Ocean Drive.