North Myrtle Beach, South Carolina, offers thrills plus relaxation.
By Alex Scotten
My wife and I hadn't been on vacation for a long time. As a self-proclaimed beach bum, Anna wanted sun and sand, and I, ever the thrill-seeker, wanted adventure. We chose North Myrtle Beach because we knew it offered both. We could fly or drive since both were convenient, with nonstop flights to Myrtle Beach International Airport from our home city.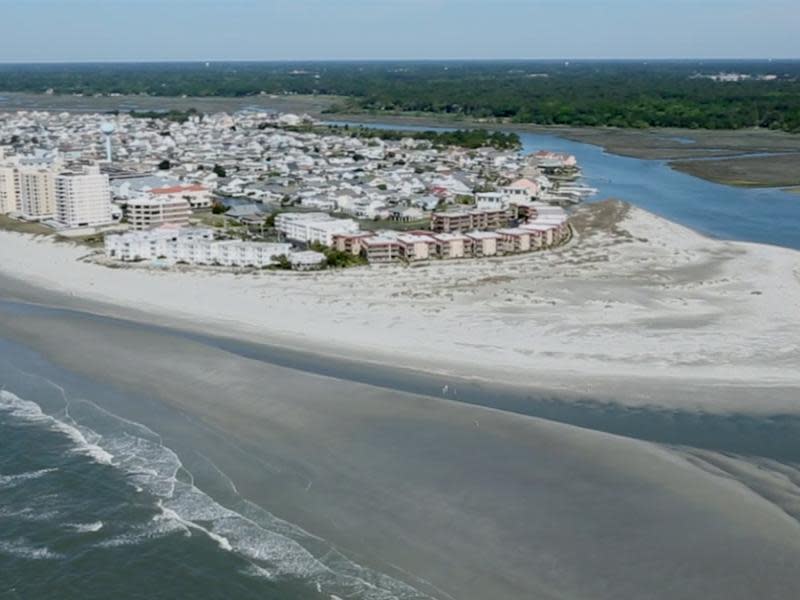 Welcoming waves
There's nothing more relaxing than listening to ocean waves, so at Anna's request, we started our vacation with a walk on South Carolina's #1 beach. A pristine stretch of sand, Cherry Grove Beach was exactly what the vacation doctor ordered.
"This is heaven!" Anna walked along the shore, tide lapping at her feet as she searched for shells. I started my day by diving into the ocean and body surfing in the waves.
Then we headed inland for our first adventure—paddleboarding! It was so serene paddling along the Intracoastal Waterway and salt marsh. We were loving everything about this trip and our vacation had barely begun!
That afternoon, we boarded The Big "M" Casino, a three-decker yacht with L-U-C-K spelled on the side. We took in the view of the islands and the impressive waterfront homes from the top deck. Then, after passing through Little River and out into international waters where gambling is legal, we headed inside.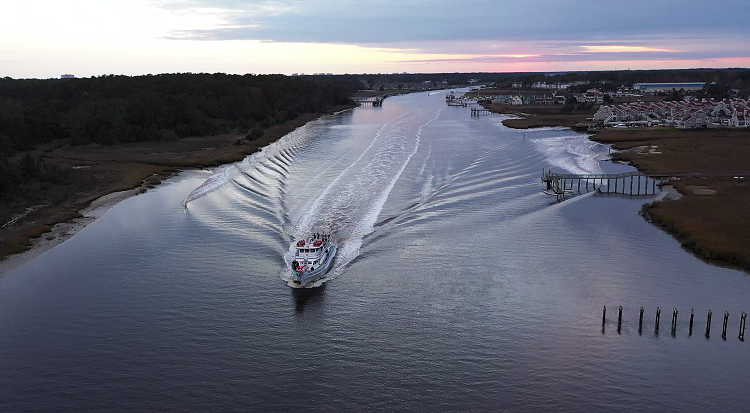 "Let the games begin!" Anna made a beeline for a row of slot machines, while I took a seat at the blackjack table. There's something about betting with a live dealer that makes it even more exciting.
"Cheers!" We toasted at Twelve 33 Distillery, where we celebrated our $200 win. We arrived just in time to join the last VIP tour of the day. As a former home brewer, I geeked out over the high-tech equipment like their stills named Bonnie and Clyde. Rumor has it there is a hidden Speakeasy. We were treated to a tasting flight and signature craft cocktails made with their small-batch spirits. The place had such a cool vibe—all shiny industrial metal, leather, and wood with old-timey photos and quotes on the walls. "Too much of anything is bad, but too much good whiskey is barely enough," I read, quoting Mark Twain and raising my cocktail made with their smooth-tasting Big 6 Bourbon. We picked up bottles to take home—Anna chose Sweet Tea Vodka—and Twelve 33 logo shirts and some etched cocktail glasses from the retail shop.
It seemed fitting to follow that experience with a fancy seafood dinner, so we ended the night at Filet's, beginning with small plates from the raw bar. The fresh seafood was fantastic and the turf—a Delmonico rib eye—was out of this world, as was my grilled lobster tail. Watching the sunset over the Waterway while dining on the deck was the perfect ending to an awesome day.  
Catching some air
"The early bird gets the wave!" I gently shook Anna awake for our morning surf lesson. Our patient instructor had us riding waves for the first time. What a rush!
After, we headed to Buoys On The Boulevard for lunch. Buoys has tons of character, with its bright beachy colors and local watering hole vibe. The hostess seated us outside at a refurbished table that had been an aging barrel in its previous life. It was quickly covered with baskets of golden hushpuppies, coconut shrimp, grouper bites, and a bucket of steamed oysters. We needed the fuel. Next on our agenda? Wakeboarding.
Shark Wake Park was the perfect place to try wakeboarding for the first time. We just had to show up and trust in the cable pulling us across the water while using our core to keep us upright. It wasn't long before we were both braving the ramps. We were having the time of our lives, trying one new adventure after another.
That evening, we had dinner at Martini, where the linguini marinara rivaled my Italian Nona's, followed by a stroll down Main Street, the beating heart of North Myrtle Beach. We stopped at OD Arcade & Lounge, where we shot some pool and people-watched from the porch.
We decided to explore North Myrtle Beach's nightlife and continued along Main Street to Duck's Night Club, where we listened to an amazing band and learned to dance the Carolina Shag. After all, North Myrtle Beach is the "Shag Capital of the World," where the state dance was born in the 1940s. Then we ventured into Deckerz, where my love belted out some Whitney Houston songs during karaoke to the cheers of the other patrons.  
Soaring and shopping
The next morning, we found ourselves on a banana boat being towed by a jet ski. Our destination was the boat in the distance from where we'd launch and land. After paddleboarding, surfing, and wakeboarding, parasailing was next on our list.
"I can't believe this SD card can hold so much adrenaline," I told Anna when we were back on shore. What an adventure! The bird's eye view of the coastline while soaring above the Atlantic was amazing. We bought the professional photos taken of us to frame and hang in our study at home.  
We relaxed on the beach for a bit before heading to Brisket for lunch. The smell of the smoked meat had my mouth watering as soon as we arrived. We heeded the advice of a local regular and split a rack of the tenderest, meat-falling-off-the-bone ribs we'd ever tasted.
That afternoon, we headed to Barefoot Landing to do some shopping. This place was a destination unto itself, with restaurants, specialty shops, a nightclub, theater shows, an arcade, nature, wildlife, a playground, and a Barnum & Bailey-inspired carousel—all overlooking the water.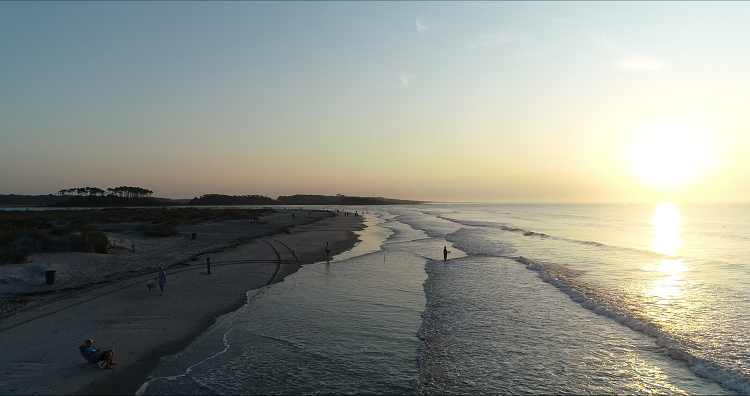 A bull's eye vacation
Before leaving North Myrtle Beach, I had one more adventure I had to try—axe throwing. The axe masters at Jack Axe taught us this ancient art of throwing sharp objects. It took a few throws before we were able to get our first axe to stick, but by the time our hour was up, we'd both hit bull's eyes and became fans of this new sport that felt like darts on steroids.
We slid into captain's chair bar stools at Rockefellers Raw Bar and ordered their signature dish: Oysters Rockefeller. Once the last oyster was polished off, we headed down the street to Nick's Cigar World. I had planned on a quick stop to pick up some cigars, but the atmosphere was so welcoming, Anna took a seat at one of the high-top tables and ordered a glass of wine while I talked selection with the staff. 
Not looking forward to going home, we both agreed North Myrtle Beach had been a hit. We got everything we hoped for and more. We will definitely be returning again and again.