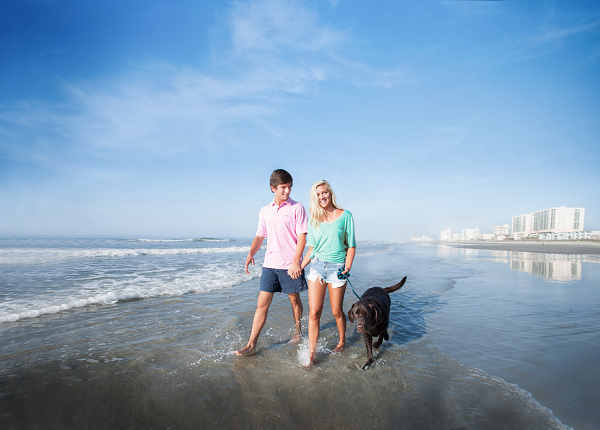 Heading to North Myrtle Beach this fall, but don't have time to plan your activities? We're here to help! From solving a murder mystery to cruising on a dolphin tour, we've mapped out four days of excitement that will keep you on your toes. Get ready for a fall beach vacation you won't forget!
DAY 1:
GOOD VIBES ONLY
The best thing to do is to get yourself acquainted with the local culture. Life can move a little bit slower in North Myrtle Beach, and that's intentional. So, take it easy your first morning and grab some coffee and light breakfast at Native Joe's Scoop & Grind, just minutes from Barefoot Landing. The shop doubles as an ice cream bar, so no one will judge you if you make your way back for a scoop after the beach in the afternoon.
Another popular coffee spot is Beach Dreams Cafe & Market. Their menu features a selection of baked goods and every type of caffeinated beverage you could ever imagine. Interestingly enough, you can even shop around for soaps, lotions and essential oils in the store.
Whatever your choice, a leisurely breakfast is sure to take your mind off the hustle and bustle of everyday life and get you focused on some good old-fashioned R & R.
Slowly explore a few of the area's different beaches. Why limit yourself to one when you have so many to choose from? First head to Cherry Grove, located smack-dab between the inlet and the Intracoastal Waterway. Take a walk on the iconic Cherry Grove Pier and watch the fishermen. You'll quickly discover one of the best perks of a fall vacation: the beaches are much less crowded this time of year.
The southernmost beach in the area is Windy Hill. Its close proximity to Barefoot Landing makes this a great place to set as your home base for the week. Or try Ocean Drive, North Myrtle Beach's main hub and social hotspot. Here, you'll find plenty of events, festivals and fun for all!
DINNER ON THE WATER
Transition into nighttime the right way, with dinner on the water. Greg Norman Australian Grille is a decadent restaurant located in Barefoot Landing with a menu filled to the brim with delicious dishes, including premium cuts of meat and fresh seafood pulled straight from the waters surrounding the restaurant. Extensive beer and wine lists complement the offerings of the menu, so be sure to ask your server what pairs well with your meal!
After dinner, head next door to Lucy Buffet's Lulu's for a nightcap and a round of cornhole! Enjoy the music and stay as long as you please.
DAY 2:
SEE THE BEACH FROM A DIFFERENT PERSPECTIVE
Keep the good times rolling on your beach vacation with a couple's horseback ride at Inlet Point Plantation. Here, you can find a variety of different packages and experiences to help you explore remote Waites Island—and no matter what tour you book, it's bound to be unforgettable. Horseback tours are held throughout the day and cover lots of ground. You can start your excursion exploring the autumn colors surrounding Inlet Point in the morning, or push the tour to the end of the day and canter down the beach at sunset to see one of nature's most beautiful spectacles. For an additional fee, these tours can be made private, giving you and your significant other the space to focus on each other and the stunning landscape.
FIND THE PERFECT SURCEE
Once you're done exploring, spend a leisurely afternoon at Barefoot Landing, our central hub for shopping, entertainment and food. Enjoy the crisp fall air as you pick up some new clothes or grab a souvenir so you'll always remember your trip. Also, don't forget to stop by the Pepper Palace to taste a variety of hot sauces and salsas at the free sample bar. Afterward, tame the fiery flavors with a signature margarita at Taco Mundo Kitchen y Cantina, a casual spot overlooking the Intracoastal Waterway. Fiesta Hour and Football Specials begin at 4 p.m. and end at 7 p.m., so hurry on over!
MINI GOLF DATE NIGHT
There's nothing like a competitive date night at any one of North Myrtle Beach's many miniature golf courses. Not many people know this, but the Masters of Mini Golf is played in North Myrtle Beach! That means you have a chance to play on the same courses as the pros. A favorite is Professor Hacker's Lost Treasure Golf, where players have their pick of two different courses in one spot—so if 18 holes isn't enough, you can easily keep the fun going!
After mini golf, enjoy a relaxing, yet lively dinner at Molly Darcy's. Molly's has an outdoor oceanfront patio and food full of authentic Celtic flavors. Pair your meal with top-notch Irish whiskeys or craft beer. After dessert, head to the pool table for some more competition!
DAY 3:
JUMP IN
To kick off your last full day, head out to sea with any one of the local chartered fishing boats. A favorite is the Little River Fishing Fleet—they're professionals in the fishing world and guarantee that you'll be reeling in fish all day. Packages vary according to what type of fish you want to catch, but with their extensive offerings, they're sure to have something to satisfy every angler.
If fishing isn't your thing, there are still plenty of ways to experience the South Carolina coast. Kayaking and paddleboarding are favorites of coastal visitors, and North Myrtle Beach is teeming with professional tour guides ready to show you around our waterways. Visit Kokopelli Surf Camp for paddleboard rentals, guided tours and surfing lessons. Or, if you prefer to sit rather than stand, check out Great Escapes Kayak Expeditions for everything you need to get out on the water.
VISIT THE DOLPHINS
There are lots of rental companies in North Myrtle Beach where you can rent a jet ski. Opt for a tour with Myrtle Beach Watersports—one of our favorites is a two-hour dolphin watch excursion that departs from Harbourgate Marina in North Myrtle Beach. This private 40-mile tour can be customized to suit your group's needs, and–best of all–Myrtle Beach Watersports guarantees that you'll catch a glimpse of everyone's favorite sea creature.
HOUSE OF BLUES MURDER MYSTERY
This fall, a Murder Mystery Dinner Theatre show will run throughout the season at House of Blues. Make sure to arrive for dinner no later than 6:45 p.m., because a murder is going to occur right when you're starting the salad course. Bring your brain, because you're going to get a chance to help solve the case! During the three-course meal/investigation, everyone is a suspect, and the goal is to find out "who dunnit." Book your tickets ahead of time and start practicing your alibi!
Day 4:
BUT FIRST, BRUNCH
On your last morning in North Myrtle Beach, remind yourself to take it easy, especially after the murder mystery last night. After all, you're still on beach time. Start with brunch at a favorite local spot. Golden Griddle Pancake House serves up all-American classics quickly (and for a good price), while Johnny D's Waffles and Benedicts is sure to please any foodie with its modern spin on Southern favorites. The biggest question is: will you go for eggs benedict with seasoned pork belly on top or good old-fashioned pancakes?
Requested a late checkout? Swing by Boulineau's and pick up fresh eggs, vegetables and bacon for a tasty omelet you can cook in your beach house rental, as well as some champagne and OJ for a mimosa. No matter what you're craving, Boulineau's will have it 9.9 times out of 10.
Of course, we won't blame you if you want to stay for more than four days. For even more inspiration on your trip, follow along with us on social media and make sure to share your adventures with us using #JustCoast!