Lasting memories with loved ones in North Myrtle Beach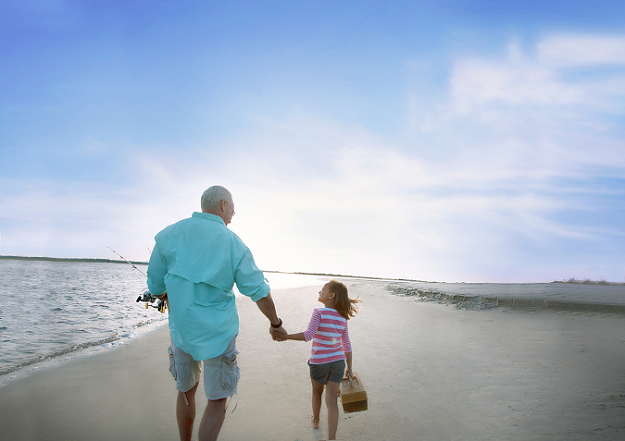 A couple of weeks ago, my daughter came to visit from the big city with our 10-year-old granddaughter, Claire. That little girl is as smart as a whip. She lights up a room—and lights up this grandpa's old heart. She's a city girl in every sense of the word, but when she comes to visit, she loves exploring North Myrtle Beach. And this time around, I had a couple of special things planned. I wanted to show her the natural beauty of the place where I grew up and raised her mom.
Reeling in the fun
When my daughter was Claire's age, fishing in the waters around North Myrtle Beach was one of her favorite things to do. We spent many an hour casting lines and waiting on the fish to bite. So, our first stop was Cherry Grove Pier. The pier has weathered storms and been rebuilt after hurricanes, but through it all it was a family tradition—and one I wanted to continue with Claire.
After we laid out our tackle, I popped open a bucket of shrimp and showed Claire how to bait a hook. When it was her turn, she was hesitant at first. But when I teased her and said that her mom never had any problem with it, a determined look came over her face. She took a deep breath and baited her hook, laughing as she showed me her work.
Over the course of the morning, we reeled in two bluefish and a whiting, and Claire told me all about her friends and school. Then she asked me about my childhood and what it was like growing up around here. As we were leaving the pier, she looked up at me with her big brown eyes and said, "Grandpa, Mom told me her favorite part of going fishing with you wasn't actually the fishing. It was the talking you did between catches. And I think I agree with her."
I gave her a big hug.
Saddle and surf
Claire is obsessed with horses. She reads books about them, watches videos online, and our fridge is covered with her drawings of horses. But she'd never actually ridden one. So, I made reservations for horseback riding on Waites Island, one of the few remaining undeveloped islands on the Atlantic Coast. I wasn't aiming for Grandpa of the Year, but based on the squeals of excitement coming from Claire when I told her where we were headed, I think I may have won the title.
When it came to actually mounting her horse, Claire got a little nervous. The staff at Inlet Point Plantation showed her exactly what to do, and it didn't take her long to get comfortable with the reins. After that, her confidence grew like wildfire.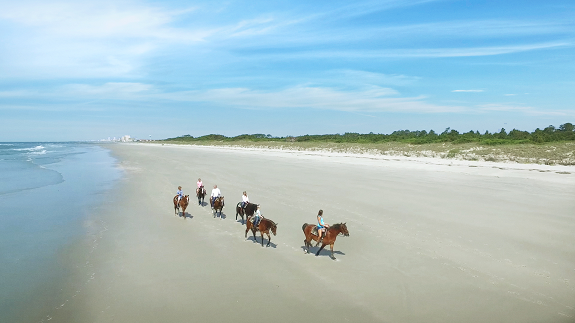 We took the beach tour—an hour-long trail ride along the sandy beaches. I've lived in North Myrtle Beach my whole life, and visiting the beach will never get old. The grass growing on the dunes, the salty smell of the ocean, and the sound of the waves surrounded us as we trotted along the water's edge created the perfect ambiance for our ride.
"It's like something out of one your books, huh?" I asked Claire.
"No." She brushed her wind-blown hair out of her face and grinned. "It's better."
Tee time
The next morning, I went into the kitchen to get my morning coffee. Claire was sitting with my daughter at the kitchen table, and she had a sneaky smile on her face.
"What's going on?" I asked.
"Grandpa, since we got to do my favorite thing yesterday, we're gonna do your favorite thing today."
I looked at my daughter, who just smiled.
"We're going golfing!" Claire announced, beaming.
At Claire's request, my daughter had booked us a tee time at Beachwood Golf Club. It's one of my favorites—a championship course that's just as enjoyable to look at as it is to play. Its 180 acres are covered with tall Carolina pines, live oaks, crepe myrtles and salt marshes. And it's right in the heart of North Myrtle Beach.
The first few holes, Claire was more interested in the natural surroundings. She'd brought her camera and was snapping pictures left and right. But she let me teach her the proper golf stance and how to swing.
On our drive back to the house, Claire hung her hand out of the open car window, waving it into the fresh ocean wind blowing against her. She looked over at me and smiled.
"Did you enjoy yourself this weekend?" I asked.
She nodded excitedly then shouted into the wind, "Best. Vacation. Ever!"
I'd have to agree.
Make your own memories in North Myrtle Beach
By J.R. Tucker