Great weather, wineries, shopping and nightlife make for a festive getaway in North Myrtle Beach, South Carolina.
By Gail Westerfield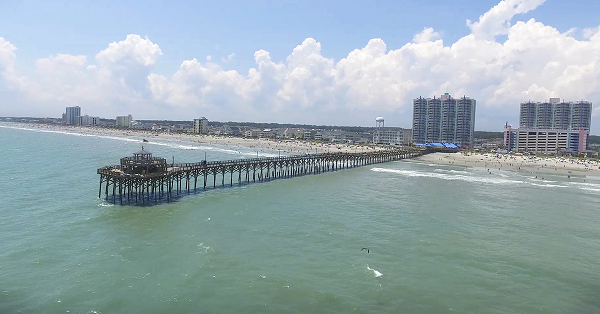 For our first holiday season as Mr. and Mrs., my husband Jack and I decided to celebrate in North Myrtle Beach, which Jack remembered fondly from childhood. We invited my parents to meet us there. A holiday respite from sub-zero temps sounded perfect to them, too. With temperatures averaging 60 degrees, North Myrtle Beach was a tropical paradise to us frozen Midwesterners, so we planned a ton of light-jacket outdoor activities and some unique new experiences.
Holiday magic
After settling into our home away from home for the week, we decided to dive into the holiday spirit with a drive through The Great Christmas Light Show at the North Myrtle Beach Park and Sports Complex. We expected we would enjoy the 1.5-mile drive through the lighted holiday displays, but none of us were prepared for the sheer awesomeness of two million lights arranged in more than 500 festive lighted sculptures, including one that was like driving through a giant purple castle, with white icicle lights dangling from the turrets and entrance.
With our car radio tuned to the designated station, four adults were transformed into squealing children as we watched the light sculptures dance along with the holiday music. At the end of this enchanting drive, we parked our car and walked along the lighted boardwalk through the woods to Santa's Village.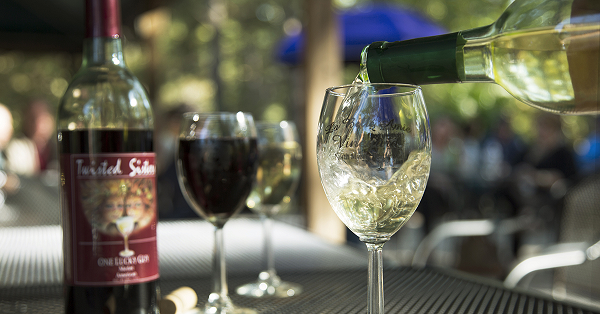 Feeling newly young at heart, we donned skates for a cruise around the synthetic ice rink, then careened down a 40-foot slide. Mom and Dad opted for a relaxing ride on Santa's Express Train. After s'mores and hot cocoa, we posed for a family photo with a very amused Kris Kringle.
Serene scene and Southern spirits
Early the next morning, we headed to Cherry Grove Beach. With only seagulls for company, we set out on a long walk on the wide sandy beach, watching the sun rise over the ocean, painting the sky in a gorgeous pink and orange glow. It was easy to see why Cherry Grove was voted the best beach in South Carolina by readers of USA Today's 10 best poll. The pristine beach was also perfect for seashell hunting and we collected pocketfuls as we walked. We made our way down to the Cherry Grove Fishing Pier, a North Myrtle Beach gem. We walked the length of the pier and checked out the views from the Observation Deck above. There is nothing more relaxing than being surrounded by ocean views. We knew we'd be back to watch the sunset before our trip was over.
My parents decided they wanted to check out some local wineries, as there were two near the beach—an unexpected treat—so we started with La Belle Amie Vineyard, just a 10-minute drive from Cherry Grove Pier. Set on a beautiful, historic property, with a perfect covered wooden porch with rocking chairs for sitting and sipping, it was such a lovely setting. It was hard to pull the folks away!
The staff was knowledgeable and brimming with Southern hospitality. A musical duo playing in the background added to the ambiance. We could have spent all afternoon there, but there was another winery to visit, so after our tastings, some snacks from the Vineyard Grille, and plenty of wine and souvenir shopping in the gift shop,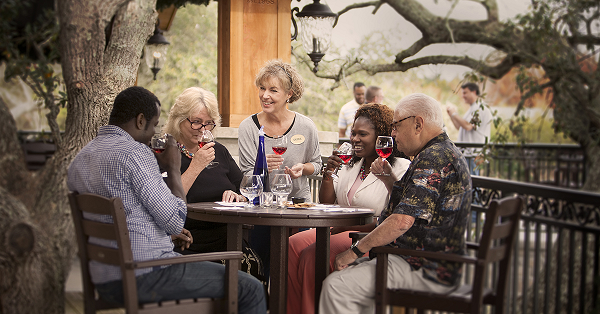 we were off to Duplin Winery.
There, outside the winery's modern facility, we discovered one half of the oldest wine barrel in America. Duplin's "deluxe" tasting got us a souvenir wine glass, gourmet cheese and cracker plate, and a glass of wine or wine slushy. With no shortage of treats to peruse in the winery's gift shop—from fudge to wine-infused jellies, sauces and more—we had to usher my parents out before they bought up the entire store!
Gifts of the heart
We headed downtown to North Myrtle Beach's Main Street to do some last-minute holiday shopping at the unique boutiques and shops before heading over to Barefoot Landing for more shopping and festivities. Barefoot Landing is home to Alabama Theatre, where we took in the evening's performance of The South's Grandest Christmas Show, a jubilant extravaganza that filled us with Christmas spirit long after the curtain fell.
The next morning, we headed to House of Blues at Barefoot Landing for a different sort of spirit-filling at the Sunday Gospel Brunch. We experienced sheer joy and a sense of inspiration, as brilliant musicians shared their gifts with us.
Swinging and shagging
Summer afternoons at the local mini golf place were a beloved part of my youth. When I discovered that among the mini golf courses in North Myrtle Beach were three top-tier courses that host the US ProMiniGolf Master's tournament each October, I knew I had to play at least one. Hawaiian Rumble featured an "erupting" volcano, a waterfall, verdant gardens and cool pump-up music. I'll spare you the details, but I was totally robbed.
As a boy in Charleston, Jack learned the Carolina Shag at school dances, while I obsessed over Shag, the 1989 movie about high school girlfriends on a road trip to Myrtle Beach. My sister and I dreamt of doing the laid-back "swing dance of the South" with a handsome Southern guy at a beach club in North Myrtle Beach,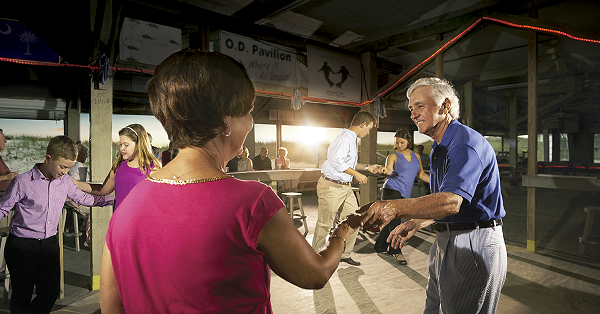 where the dance was born in the 1940s—and here I was!
When I announced to my parents that we were taking them to the legendary Fat Harold's Beach Club to do The Shag, they said, "What's that now?" But once we got there, I couldn't tell who had more fun . . . me and Jack, or my parents.   
Dancing the night away
New Year's Eve was the final evening of our vacation and we wanted to make it spectacular. We took in the fireworks at Barefoot Landing, enjoying the weather and celebrating New Year's outdoors. Then we party-hopped from an incredible dinner at Greg Norman Australian Grille back to Main Street Ocean Drive, where we danced the night away at Duck's Beach Club, OD Lounge and Pirate's Cove. 
Mom and Dad were still dancing when the mirror ball dropped at midnight. Jack and I kissed and shared a knowing look. It was clear our idea of holiday getaway to North Myrtle Beach was a big hit with my parents, so we knew we wouldn't have any trouble convincing them to join us next year, in what we were sure was to become our holiday tradition.
Ready to book your holiday getaway to North Myrtle Beach? Get started by browsing places to stay.