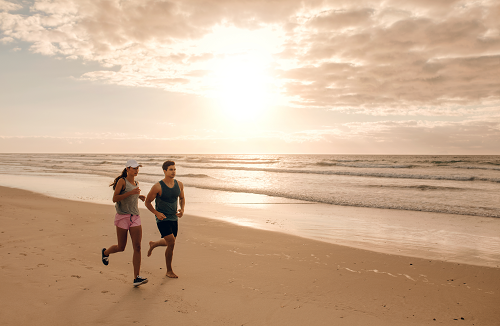 While some people seek a break from their workout routine on a trip to the beach, many of our visitors love to stay active. With several popular activities like kayaking, wakeboarding and golf, it's easy to keep moving on a vacation in North Myrtle Beach! And if you're an avid runner, you're in luck, as we have plenty of places to run that are much more exciting and picturesque than a typical treadmill.
Here are a few of the best running routes and trails near North Myrtle Beach:
North Myrtle Beach Park and Sports Complex
For a one-of-a-kind running experience, visit the North Myrtle Beach Park and Sports Complex. The park is home to several running routes ranging from .56 miles to 1.1 miles. With ample parking and clean restroom facilities throughout the park, sticking to an exercise routine on vacation has never been easier. If you're a runner (or walker) looking for a convenient workout with a flat, natural path, you'll love the North Myrtle Beach Park and Sports Complex.
Horry County Bike and Run Park
Want a longer trail run? Drive down Highway 17 to Horry County Bike and Run Park. This 7-mile running trail is also known as "The Hulk." Like the Universal Studios roller coaster it gets this nickname from, this challenging running trail is full of twists, turns and constantly changing elevations. Cyclists, runners and walkers enjoy looking at the beautiful waterway, grassy meadows and the lush Carolina Forest while getting a great workout.
The Beach
With nine miles of uninterrupted coastline, the beach is the perfect place for a scenic run—however long you'd like! Not only will you love running on the packed sand with incredible views of the ocean, you'll also see charming oceanfront homes that line the sands of North Myrtle Beach. Plan an early morning run and have the wide, beautiful beach all to yourself. You might be able to catch the sunrise over the iconic Cherry Grove Pier, making it a great place to cool down and stretch (and snap an Instagram-worthy photo that is sure to be the envy of your running buddies).
Races on the Grand Strand
Searching for a destination race? Look no further. The North Myrtle Beach area is home to several races throughout the year, including the Divas Half Marathon and 5K. Check our events page regularly to see what races are coming up in North Myrtle Beach. Make North Myrtle Beach your home base for the big weekend by staying in an accommodating rental house, spacious condo or beautiful resort.
No matter if you're looking for a quick jog during your next beach vacation or planning a trip for an upcoming race, don't forget to pack your running shoes on your next visit to North Myrtle Beach!