Beach fun, beautiful weather, and new family traditions make for a memorable holiday in North Myrtle Beach, South Carolina
By Melinda Copp
Last year, we wanted to make the holiday season even more special for our family. So, my husband and I packed the kids up for a vacation to North Myrtle Beach, South Carolina. Escaping winter's chill sounded too good to pass up.
Although beach getaways are usually associated with spring break and summer vacation, we found the holidays are actually one of the best times to experience the North Myrtle Beach area. And it made this amazing time of year even better.
Welcome to paradise
After a few hours on the interstate, we aimed our minivan toward the coast and followed the signs to the beach. When we crossed the Intracoastal Waterway and arrived in North Myrtle Beach, the dashboard thermometer reading was 20 degrees warmer than when our journey started. The tree illuminated in McLean Park was a warm holiday welcome. We checked into our Ocean Boulevard hotel room and shed a few layers of clothing. And let me tell you, there's no greater antidote to the stress-filled holiday hustle and bustle than sitting on a balcony, watching the day end over the ocean.
With amazing restaurants, tons of great shopping, plenty of family-friendly attractions, and gorgeous, wide beaches, North Myrtle Beach has everything you want in a vacation destination. This time of year, with twinkling lights strung from every palm tree and shop windows decked out in holiday finery, the scene was both surprising and nostalgic. And when my youngest asked what happened to all the snow, my husband smiled and said, "There isn't any!"
All-ages fun
My kids range in age from seven to 15, and finding something to please all three can be a challenge. But in North Myrtle Beach, we never had to go far to find something fun for everyone. 
The beach kept our kids busy for hours. With blankets and coffee in tow, we watched the sun rise on Crescent Beach our first morning in town, and then spent time together searching for shells and building sandcastles.
Later we walked to the Cherry Grove Pier, which stretches out 985 feet into the ocean. We walked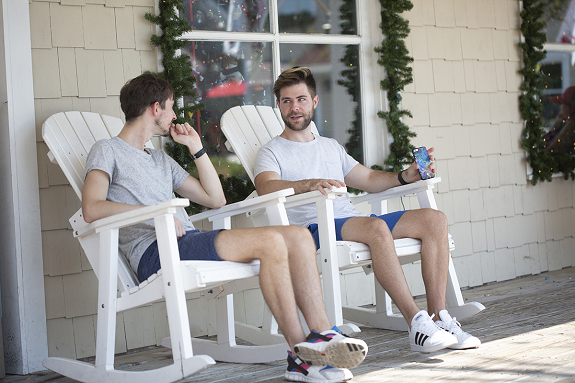 all the way to the end. It was an experience everyone enjoyed. Checking out the two-story observation deck was the kids' favorite part.
That night we had dinner at Flying Fish Public Market & Grill at Barefoot Landing. As a seafood lover, I was excited to find out that local oysters were in season and at the peak of flavor. We tried them steamed and raw, garnished and straight up, and loved every bite. My youngest child, who is a little less adventurous when it comes to food, loved the burger and fries. Not only was the food delicious, but the atmosphere and working fish market thrilled the kids.
Another thing everyone always agrees on is mini golf. Every fall, the US ProMiniGolf Association Master's is held at Hawaiian Rumble Golf, so this island-themed course was my golf-fanatic husband's first pick. The course was clean and well-maintained, with fun tropical-inspired waterfalls and even an active volcano. We played two rounds. Then the kids practiced their swings at the batting cages, and no one ever said they were bored. 
Holiday magic, beach style
The holiday highlight of our trip was definitely  The Great Christmas Light Show at the North Myrtle Beach Park and Sports Complex. On our way, we stopped at Native Joe's Scoop & Grind for to-go cups of hot cocoa before driving through the 1.5-mile light display. The holiday music was playing, and everyone oohed and ahhed over the hundreds of structures with over two million twinkling lights.
The drive-through light show is open nightly November 25 through December 30 (closed Christmas Day). We refilled our hot chocolates, ate s'mores and let the kids burn off the rest of their energy at Santa's Village. My teenager loved the train ride and the younger ones bounced down the inflatable slide until they were almost too tired to walk. Before leaving, we got the kids together for a picture with Santa.
I had to do some shopping on North Myrtle Beach's Main Street, recognized by Country Living magazine as One of the Top 25 Small Town Main Streets in America You Need to Visit ASAP. The kids loved picking out a treat from the display cases full of candy-coated, chocolate-dipped creations at Wee-R-Sweetz. My husband and I loved browsing Judy's House of Oldies for beach music and Carolina Shag lesson CDs, as North Myrtle Beach is where the dance was born in the early 1940s.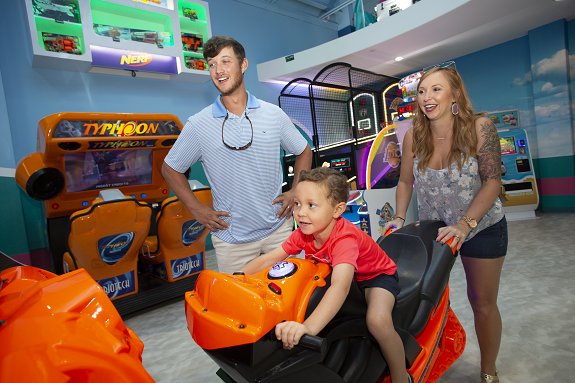 We also all loved shopping at Barefoot Landing, which was decked in holiday décor and bustling with other last-minute holiday shoppers and others simply enjoying the festive scene. The unique shops made it easy to find something special for everyone. My husband gave our teen money to play games at Lulu's Beach Arcade, where he could have spent hours, while he took the little ones on the carousel. They were so distracted, they didn't even notice that I was buying gifts!
Heaping helping of holiday spirit
On our final day of vacation, we had breakfast at Blueberry's Grill. My husband had the Southeast Dixie, which was a perfectly cooked pork chop with eggs, home fries and grits. I ordered the Crabcake Benedict, while the kids enjoyed giant waffles topped with fruit, whipped cream, and yes, even chocolate sauce! Of course, we had to get the French Beignets, deep-fried and filled with berry compote and dusted with powdered sugar. Everyone shared, and I don't think I've ever had a more decadent holiday breakfast.
We spent the rest of the day exploring Ripley's Aquarium in Myrtle Beach. Our teen loved the shark tunnel, where the sharks swim all around you and are so close you can see their teeth! The little ones loved the touch tanks where they got to pet a jellyfish and feel the shrimp nibble their hands.
When the kids told us "This has been the best Christmas ever!" we knew we outdid Santa this year with our holiday vacation to North Myrtle Beach.
Make your holiday extra special. Plan a trip to North Myrtle Beach.