Whether you are a lookup, look down, or just look around type of visitor there are amazing views to soak up while visiting North Myrtle Beach.  To ensure you don't miss a view, we're going to share the best vantage points for you to explore while here.  Are you ready?  LET'S GO . . .
The view from the beach is expansive but how about the view from the sky? We think the birds are on to something.  Soaring above, feeling the gentle sea breezes, and inhaling the stunning unobstructed perspective from high over the shoreline.  Haven't you always wanted to soar like the birds?  Well, there's something to the mantra, 'Changes in Latitude, Changes in Attitude'.  You can experience a bird's eye view while parasailing right offshore.  Just imagine the sensation of coasting high above friends and family, breathing in fresh salt air while feeling weightless as the boat and wind give you the sense of flying while snapping selfies, or one-of-a-kind photo-ops of everything and everyone below you.
How about the vantage point from a riverboat?  If your ideal vista is from the waterline, t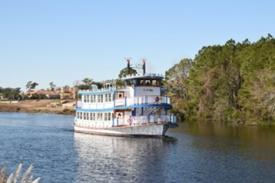 hen you need to hop aboard The Barefoot Queen Riverboat.  Enjoy floating just above the water of the Intracoastal Waterway while setting sail on your choice of a sightseeing, sunset, or dinner cruise aboard their authentic 70-foot wooden riverboat.  Become familiar with the sights and sounds of the waterway while listening to live music.  The Barefoot Queen Riverboat allows the entire family to treasure the moments.
Have a need fo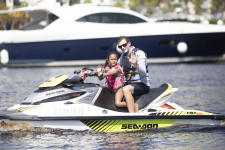 r a little more speed?  Why not go for the thrills of jumping some waves on a jet ski!  Cooldown by the spray of water while heating it up with a squeeze of the throttle.  Tour the coastline, soak up the sun, listen to the surf, and control the speed - that's what a water view is all about.  
Have you ever wondered about life under the sea?  If you're ready to suit up, mask on, and descend down, a scuba diving excursion off the coast of North Myrtle Beachy is just the ticket.  All tours by Coast
al Scuba are provided by a crew of PADI-certified professionals.  Glide through the water while exploring multiple shipwrecks and experience history firsthand with historic wreck sites.  For those looking to float eye to eye with marine life, head out to Barracuda Alley!  Submerse yourself, relax to the sound of your bubbles, and appreciate all the ocean has to offer.  If you're not ready to dive but want to learn how Coastal Scuba offers instruction as well.
While North Myrtle Beach has beautiful beach views, we think you will agree we offer breathtaking vistas from every angle. 
Let us know which view you love the best!