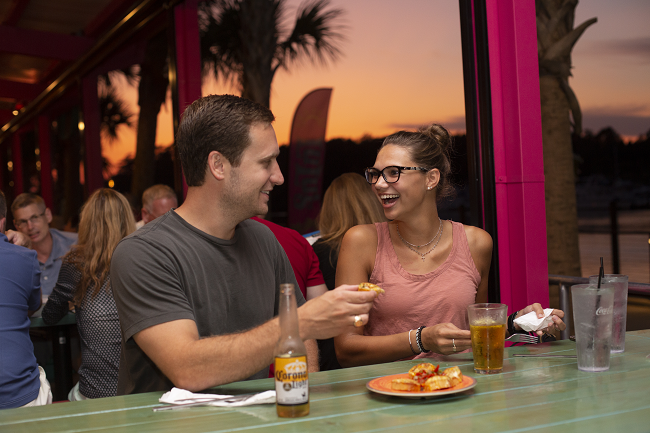 You haven't experienced date night until you've taken on the town in North Myrtle Beach. Whether you're craving a romantic dinner, exhilarating adventures, or pure relaxation, you'll find it all right here.
NOT YOUR AVERAGE DINNER AND A SHOW
Treat yourselves to something extra special and see a live show at one of the Grand Strand's renowned theaters, like Alabama Theatre or The Carolina Opry. Their signature shows will have you dancing in your seat to all your favorite tunes. Plus, shows update seasonally, so you'll always get to see their nationally-acclaimed talent in a fresh, new light.
For live music from some of the most recognizable names in "the biz," be sure to check the schedule at the House of Blues. This Barefoot Landing favorite brings popular artists to North Myrtle Beach all year long, plus tribute bands and up-and-coming performers, too.
If you like your live music outdoors, served with a sampling of local wine, settle in at La Belle Amie Vineyard or Duplin Winery. Both frequently have live music on their beautiful patios.
The best way to set the stage for any music or show is to first enjoy a waterfront dinner for two at one of the area's unique restaurants.
TRY AN UNFORGETTABLE ADVENTURE
Make the night extraordinary with a romantic horseback ride on beautiful Waites Island. Schedule a sunset tour at Inlet Point Plantation, where you'll saddle up at the stables before embarking on the beach trail. On the ride, you'll enjoy the waves rolling in, gentle sea breezes and, of course, a breathtaking sunset. To make this trip extra special, you can request an exclusive tour for just the two of you.
Continue the night with a relaxing dinner. If you're in the mood for Italian, check out Midtown Bistro, a welcoming local spot with an impressive wine and cocktail list. Craving Mexican? Try Nacho Hippo, a laid-back joint where we suggest splitting one of their signature nachos, piled high with your favorite toppings that pairs well with a frozen margarita. Need your seafood fix? Head to Bouys on the Boulevard, a favorite of locals and visitors that has seafood platters any way you could like them—boiled, fried or blackened—and boasts an extensive menu at their sushi bar.
IF YOU'RE INTO FRIENDLY COMPETITION
DYK: North Myrtle Beach is called the mini-golf capital of the world? With dozens of places to play in the area, you're sure to feel like kids again as you putt your way through courses decorated with sunken pirate ships, prehistoric dinosaurs or erupting volcanos.
Prefer arcade games to hole-in-ones? Head to Lulu's Beach Arcade. Rated as a top attraction in North Myrtle Beach, you can go head-to-head on competitive games like air hockey, Pac-Man, skee-ball, and Super Shots basketball.
For a new take on date night, see who is better at slinging an axe at a bullseye at Jack Axe Throwing. If you've never thrown an axe, don't worry: there are helpful trainers who will show you how to perfect your axe-throwing skills. Pro-tip: leave the flip flops at home for this activity. You must wear closed toed shoes.
No matter how you get your game face on, make a sweet wager on who will win. The loser has to buy ice cream after!
DANCE THE NIGHT AWAY
When the sun goes down, head to the famous intersection of Main Street Ocean Drive, where you'll find some of the Grand's Strand most popular beach bars, clubs and entertainment hotspots. The Spanish Galleon and Pirate's Cove are known for massive dancefloors, cocktail specials, and high-energy music.
For an experience that's a little old-school (and an excuse to get a little closer), head to Fat Harold's Beach Club or Duck's, where you can learn how to dance the Carolina Shag. If you haven't heard of the Shag before, it's time you did: it's the official dance of the Carolina coast, and it got its start in North Myrtle Beach. First time dancers can usually find someone in the crowd who can teach you a rock-step or two.
Looking for other suggestions or want to learn more? We're happy to help! Reach out to us on Facebook, tell us what type of experience you're hoping to have, and we'll get back to you with personalized options.