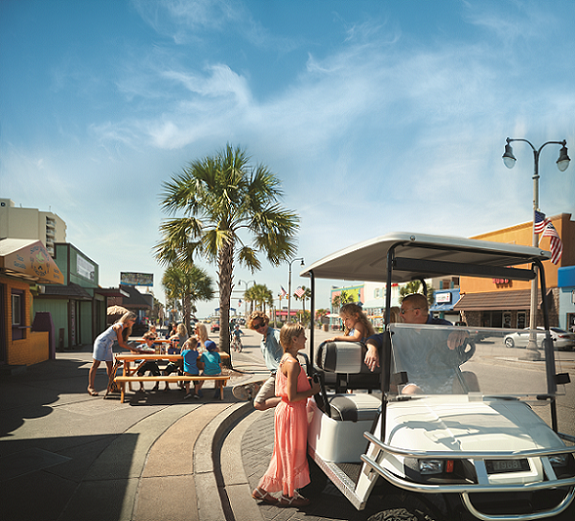 In small towns and local communities across the United States, golf carts are used for more than just golf, and North Myrtle Beach helped popularize this trend.
After dinner, take the family out for a sweet treat at Melt or Sweet Molly's Creamery. Cruise on over to the Cherry Grove Fishing Pier, where a world record tiger shark was caught in 1954. Strap your boogie board on the back seat and head to the beach to catch some waves.
Whatever you choose to do, using a golf cart is a quick and fun way of getting around here in North Myrtle Beach. In fact, there are many conveniently located shops where you can rent or purchase your own golf cart.
After you see how many golf carts are roaming the streets of North Myrtle Beach, you may be surprised to learn that the first golf cart was handmade in 1932, but it wasn't until the 1950s that golf carts were used on golf courses. In the 1970s, golf carts became a huge hit with the public but were still primarily confined to golf courses. Since then, golf carts and golf cart production hit the market by storm, eventually becoming what we know of them now . . . a fun way to cruise around North Myrtle Beach.  
Just like a car, golf carts come with a lot of responsibility and some specific road rules. Before you rent or purchase a golf cart, be sure to read the full golf cart laws for North Myrtle Beach. 
According to the City of North Myrtle Beach's Golf Cart Rules brochure, all golf carts must display a valid South Carolina permit sticker that you can purchase from your local DMV or online. The driver must obey all South Carolina traffic laws, and the seating capacity cannot be exceeded. In addition, golf carts can only be driven by a licensed driver on secondary roadways with a speed limit of 35 miles per hour or less.
The good news is, if you do have to cross primary roads to reach your destination, you may do so. It is important to always use caution as Ocean Boulevard, 27th Avenue South, Highway 17 and Sea Mountain Highway can experience heavy traffic. Be sure to look both ways in your golf cart, especially if you have precious cargo in the back!
Before you take your golf cart for a spin, it is important to remember you cannot travel further than four miles from the address on the golf cart registration, and the golf cart can only operate during daylight hours. If the sun goes down before you return home, you better kick the cart into high speed—under 35 mph of course—because you only have a half hour after sunset to dodge a fine.
Golf carts are a quick, easy and popular way to cruise around North Myrtle Beach. Discover your beach house rental or condo's proximity to all the attractions right in your neighborhood.