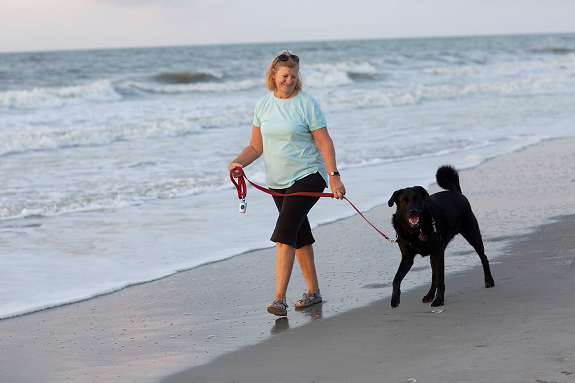 We love your pets just as much as you do and welcome them to North Myrtle Beach all year long. With plenty of parks, pet-friendly vacation rentals and dog-friendly dining options, North Myrtle Beach makes it easy to enjoy a beach vacation with your four-legged friends.
Looking to spend long days with your dog on the beach? There is no better time for a visit than the fall. From September 15th until May 15th of the following year, Coco, Luna and Nugget can frolic with you in the sand, catch some sun and dip their paws in the ocean any time of day.
During the summer, dogs are not permitted on the beach between 9 a.m. and 5 p.m. However, that restriction is lifted in the fall, allowing you to enjoy more surf and sand together with fewer crowds and warm weather.
There are a few basic rules you will always need to follow when vacationing with your pet in North Myrtle Beach:
Dogs must be kept on a leach at all times, with a maximum length of 7 feet.
You must pick up after your dog and dispose of their waste. Not doing this could result in a fine of up to $1,000.
If you or your pet digs a hole on the beach, you must fill it in before leaving.
Dogs are not allowed on the Cherry Grove Fishing Pier.
If you're looking for a place where Fido can run off leash, the North Myrtle Beach Park and Sports Complex offers a fenced-in playground for dogs, with separate areas for smaller and larger dogs.