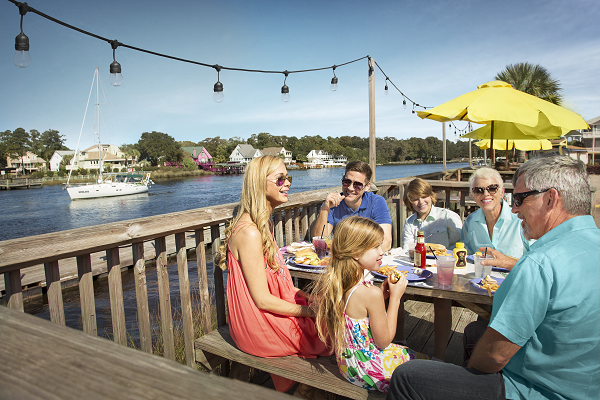 When I was a kid, the thing I looked forward to most every year was when my parents would pack up our family and take us on vacation to North Myrtle Beach. I remember the excitement like it was yesterday, exploring the old pavilion and running along the beaches chasing seagulls. My siblings and I would fall asleep under a blanket of stars on the comfy porch hammocks, with nothing but the sound of the waves crashing and our parents laughing in the background. Now, I have three children of my own, and my wife and I keep my favorite beach vacation tradition alive by making our beloved pilgrimage to North Myrtle Beach every year. My parents, the best grandparents in the world, haven't missed a year, and still join us for a week of nostalgia mixed with new memory-making in one of our favorite places.
The start of vacation
Every year we rent an oceanfront home. It's perfect for our family, because it grants us access to the beach at all times, and for a group who loves watersports and all things BEACH, it's our ideal home away from home. For a week we get our own private piece of heaven, while keeping us close to the things we love to do the most while on vacation. It's a tradition to eat out at beloved old restaurants and exciting new ones, golf at some of the top-rated courses in the country for my dad and me, relaxing at the spa for my mom and wife, and plenty of fun to thrill the kids.
Our first stop as we get into town is always Boulineau's, the beach's largest grocery store. My dad's older brother even remembers when it first opened in 1948—a vacation to North Myrtle Beach has been woven into the fabric of our family for generations! Although Boulineau's has changed over the years, you can always count on them to have everything that you need, and it's situated one block away from the oceanfront. It's our one-stop shop for groceries and everything that we need for the beach for the week, so we don't need to pack things like fishing supplies and boogie boards. Three kids and our family dog is a haul in itself! We've made friends visiting North Myrtle Beach over the years and we often bump into them at Boulineau's on our way into town.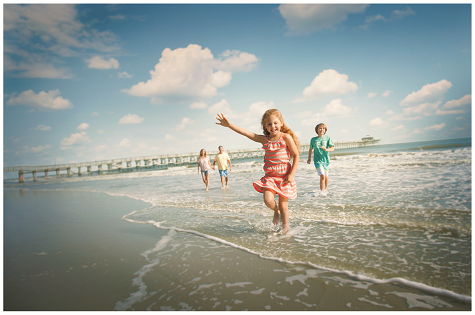 Three generations
This year, we celebrated my father's 70th birthday in our vacation home, and so this trip was even more special than usual. Dad and I love fishing, but my son has always been too young to go. But this year, my son turned 5 and joined us on our first three-generational fishing trip at Cherry Grove Pier. My wife, mom and daughters enjoyed the gorgeous view of the ocean from the observation deck and snapped a few photos while my dad showed my son how to bait a hook in the very spot he first showed me, almost 30 years ago. Normally, my girls would be out fishing with me and their grandpa, but they decided to give their little brother some special time to learn. Those are moments in life you just never forget.
Although a large part of why we come to the beach is to dig our toes into the sand, and play all day in the sun, it's never tough to wrangle any member of our family to head to Barefoot Landing. The shopping, restaurants and rides for the kids are enough to turn any ordinary beach day into an exciting adventure.
Right on the waterway, we love to walk around the boardwalks and enjoy a leisurely stroll through the shops and restaurants. My kids especially love riding the Barnum and Bailey-inspired carousel under the lights as the sun starts to go down. And every now and then, when my parents offer to watch the kids, my wife and I will slip away for a date night and enjoy some of the live entertainment and music that's always hopping at Barefoot Landing.
Natural haven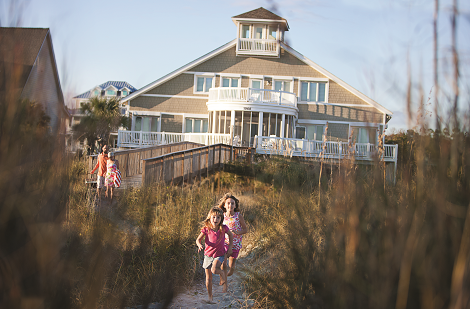 One of my wife's favorite things to do when we visit North Myrtle Beach, other than photographing our family, is to take a long stroll in Heritage Shores Nature Preserve. She loves taking her time around the seven acres of walking paths and showing the children all of the different birds, plants and animals living there. It's like a little natural haven in the middle of our beach paradise and she loves spending an afternoon there every year.
With so much to do and see, our vacations on this wonderful stretch of sand never get old, and even the beginnings and ends of each day are special. Most mornings we begin the day before the sun comes up, taking sunrise strolls along the beach before breakfast, and although we like to dine out at some pretty amazing seafood spots, we most often end our long beach days by coming back together and grilling out on the porch, sharing laughs and stories from the many memories in the making.
As many vacations as we've spent in North Myrtle Beach, I'd have to say this past one might have been the most relaxing, memorable beach vacation yet. Now we're all counting down the days until we can return.
Plan your beach vacation to North Myrtle Beach.
By Nathan Jackson