Grandkids, parents, teenagers, grandparents…if you've ever vacationed with your extended family, you know it can sometimes be a challenge. After all, how do you plan a getaway that everyone can enjoy? North Myrtle Beach uniquely blends the laid-back feel of a classic Southern beach town with the convenience of modern resorts and attractions—and it's filled with plenty of opportunities for every family member to make the most of their vacation, no matter their age.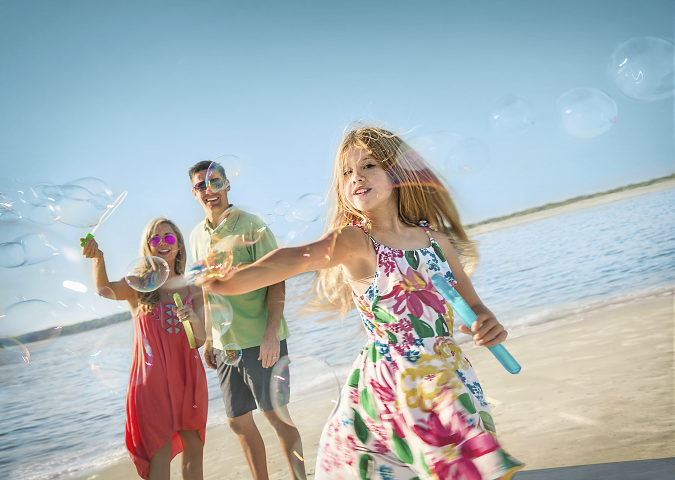 So, if you're planning a trip with toddlers to pre-teens to older and young adults, we've rounded up some of the area's activities that can get everyone excited about a trip to North Myrtle Beach. 
FIRST THINGS FIRST: MAKE THE MOST OF HOME BASE
If you're bringing the whole family, most likely you've booked a vacation rental with enough space for everyone to spread out, plenty of nearby activities and a full kitchen. Stock the cupboards and fridge with plenty of snacks and ice cream—it's a beach vacation, after all! More often than not, a rental house will come with a large dining table, too: perfect for sharing meals as a family, of course, but better for swapping stories and playing games.
The beach house is where grandparents and grandchildren will spend special time together—perhaps poolside for an afternoon—freeing mom and dad to take a long, uninterrupted walk along the shore or spend time at a waterfront restaurant for some chilled shrimp and a cold beer.
THEN, HIT THE BEACH
This may be an obvious choice, but the truth is, North Myrtle Beach's warm waters and gentle waves are an especially perfect introduction to the ocean for little ones, who can be overwhelmed by the crashing surf at other beaches. As the tide rolls out, the shallow pools left behind work as nature's kiddie pools, where kids can splash in the shallow water, make drip castles in the wet sand or try to spot a stranded starfish or a minnow. For the older kids, the expansive low-tide beach means there's plenty of room for flying kites and playing beach games.
Any stroll down the beach must include a stop at the Cherry Grove Pier, which juts 1,000 feet across sand and ocean. Little ones love strolling out into what feels like the middle of the sea, or stopping to peek into a fisherman's bucket to see what's biting that day. Older kids will love testing their skills as they cast a line from the pier.
The beach isn't just the main attraction during the day, though. Walk along the beach at night and arm your children with flashlights and buckets before you go—you can try to spot and catch ghost crabs as they skitter across the sand. Even though it's tough to capture these speedy creatures, it never stops them from trying!
DISCONNECT WITH A NATURE LESSON
You don't have to limit your outdoor experiences to the beach. Explore the beauty of a pristine saltwater marsh at Heritage Shores Nature Preserve, located on a nearby island accessible by a series of boardwalks.
Another way to experience North Myrtle Beach's wildlife up-close-and-personal is on a tour of the local waterways. Kayak or paddle board through preserved areas such as Hog Island, the Waccamaw River and the Cherry Grove Marsh. These tours offer unique opportunities to enjoy the peace and serenity that comes from paddling through the open water.
PLAN FOR PANCAKES AND PUTT-PUTT
A trip to North Myrtle Beach isn't complete without at least one round of miniature golf and a stack of pancakes. With more pancake houses on the Grand Strand than you can count, there's nothing better than fueling up on pancakes and omelets to get you ready for a day exploring all the area has to offer.
A favorite miniature golf course is Professor Hacker's Lost Treasure Golf, where the first hole sits atop a mountain that's accessible by train.
HAVE NEW FUN AT AN OLD FAVORITE 
Barefoot Landing—an exciting 100+ acre shopping, dining and entertainment complex located on the waterway—is always a fun stop for a meal or a night of live, family-friendly entertainment. In the children's area, you'll likely be asked for an extra ride on the carousel, which is circled with more than 40 animals cast from original Barnum & Bailey molds.
But many families' best memories of Barefoot Landing involve, surprisingly enough, alligators. Kids and teens can learn all about these amazing prehistoric-looking creatures at Alligator Adventure. If you're lucky, you'll get the chance to see a giant gator leap out of the water at feeding time. Talk about a wide-eyed adventure!
VISIT A KID-FRIENDLY MUSEUM
Just a short drive down the road in Myrtle Beach, you can find a number of museums perfect for kids and kids at heart. Try Ripley's Aquarium, where you can spend a few hours admiring jellyfish, petting a stingray, or getting a dose of history at the Pearl Harbor exhibit.
Wonderworks—a 50,000-square-foot amusement park for the mind—has hundreds of entertaining and educational exhibits that will enthrall everyone. Younger kids can make digital artwork and play simple math games, or meet their shadow. Teens will love indoor ropes courses, laser tag and motion rides.
In a place like North Myrtle Beach, you'll never have to stress out about pleasing the crowd. In fact, you may be surprised by the amount of activities everyone will want to return to again and again!
During your trip, share your family-friendly experiences with us using the hashtag #JustCoast. We'd love to see how you make the most of your time together!