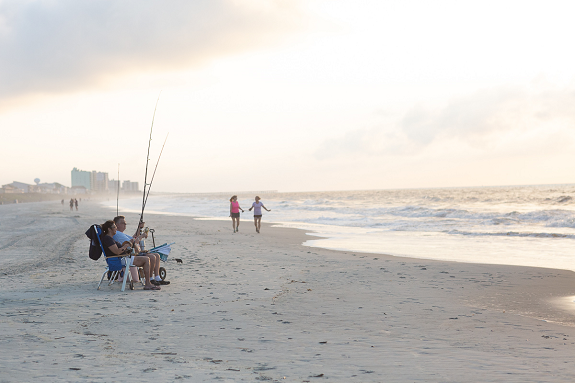 We're about to let you in on a little secret: a winter beach getaway can be just as wonderful as a trip during the summer. During the winter, you can soak up sunny skies, stroll along nine miles of picturesque beach and enjoy many of your favorite North Myrtle Beach activities and attractions.
There are so many reasons to make a trip to our shores this winter, but here are five favorites that visitors tell us they love.
1. IT'S A GREAT TIME TO SEE SHOWS AND SPECIAL EVENTS.
North Myrtle Beach is home to some of the greatest theaters on the coast, and the extraordinary shows don't stop during the winter. In fact, these nationally-acclaimed attractions all have schedules full of live performances and dinner theaters.
Visiting during the holiday season? Don't miss spectacular festive shows and events at Alabama Theatre, House of Blues and The Carolina Opry.
While we'll always recommend a trip to The Carolina Opry for their famous namesake show, this spectacular venue also features different special one-night-only shows throughout the winter. In early February 2020, Hotel California: A Salute to the Eagles takes the stage. Later that month, ZOSO: The Ultimate Led Zeppelin Experience performs. On February 23, dance enthusiasts can treat themselves to a performance of Swan Lake by the Russian National Ballet.
Are you looking for a comedy show or a magical night full of music and dance? Head to the Alabama Theatre! Throughout January 2020, shows at this venue change every weekend. From comedians to country singers, there's a little bit of something for everyone.
If a delicious three-course meal and an evening full of entertaining suspense sounds too good to be true, think again! Every Saturday, the House of Blues hosts an interactive murder mystery dinner, where you'll get the chance to guess the suspect as you enjoy your meal. Of course, if you prefer a concert, there are plenty of those here, too. This winter's performances include tribute bands, rock, hip-hop and more.
2. GET STEEP DISCOUNTS ON LODGING.
Winter in North Myrtle Beach may be considered off-season, but it should really be called the "in the know" season. For savvy shoppers, it's easier to find an affordable rental house, condo, resort, hotel or motel, most of which offer significantly lower rates this time of year. You might be able to get a great deal on a more luxurious room or bigger home than you would in the summer. With all those savings, you can splurge on a fancy dinner at one of the more upscale establishments in North Myrtle Beach, like Seablue Restaurant and Wine Bar or 21 Main Prime Steakhouse.
3. ENJOY CROWD-FREE RESTAURANTS, SHOPS AND MORE.
Thanks to smaller crowds, the off-season is the perfect time to explore North Myrtle Beach like a local instead of a tourist.
Leisurely shop your way through the unique stores around Main Street or in Barefoot Landing. Enjoy happy hour at a waterfront bar. Relive your youth and plan a minigolf marathon and take your time as you putt your way through the courses. Or visit the 162-acre North Myrtle Beach Park and Sports Complex for a relaxing walk or a lunch at one of its picnic shelters.
4. ESCAPE TO PLAY GOLF IN WARMER WEATHER.
North Myrtle Beach (and the entire Grand Strand area) is known for its amazing golf courses. And on a sunny winter day, you'll find pleasant conditions out on the greens! Take your pick from a number of award-winning courses, like Tidewater Golf Club, which has been called "the Pebble Beach of the East," or Beachwood Golf Club, which has hosted a number of local and PGA-sponsored golf tournaments.
Many North Myrtle Beach golf courses offer inclusive "stay and play" packages with special pricing, too. Explore all our local golf courses to find the right fit for you.
5. RELAX ON AN EMPTY BEACH.
Maybe this goes without saying, but the beach in winter is a lot different than the beach in summer: there's plenty of room to spread out. For a relaxing afternoon, fill a thermos with your favorite hot beverage, unroll a blanket or towel, and get ready to watch the waves roll in.
Itching to plan your winter escape to North Myrtle Beach? Start by looking for accommodations. During your stay, make sure you take plenty of pictures to share with us on social media using #JustCoast—we'd love to hear why you love going to the beach in the winter!