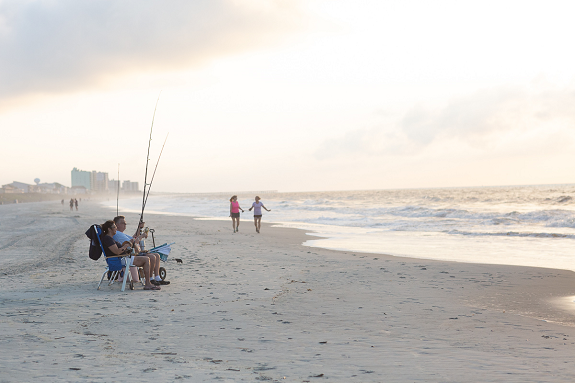 What could be better than starting your new year with a winter beach getaway and enjoy some "you" or "us" time while the beaches are less crowded. Re-energize by soaking up the sunny skies, strolling along our nine miles of picturesque beach and enjoy many of your favorite North Myrtle Beach activities and attractions safely and socially distanced. 
There are so many reasons to make a trip to our shores this winter, but here are five favorites that visitors tell us they love.
1. RELAX ON A WIDE OPEN BEACH.
Maybe this goes without saying, but the beach in winter is a lot different than the beach in summer: there's plenty of room to spread out. So why not take advantage of this and enjoy a peaceful walk or invigorating jog while watching the ocean waves roll in.
Relaxation also extends beyond the beach with a rejuvenating spa treatment at Cinzia Spa or Touch Med Spa.  Indulge yourself with a massage or facial treatment. 
2. ESCAPE TO PLAY GOLF IN WARMER WEATHER.
North Myrtle Beach (and the entire Grand Strand area) is known for its amazing golf courses. And on a sunny winter day, you'll find pleasant conditions out on the greens! Take your pick from a number of award-winning courses, like Tidewater Golf Club, which has been called "the Pebble Beach of the East," or Beachwood Golf Club, which has hosted a number of local and PGA-sponsored golf tournaments.
Many North Myrtle Beach golf courses offer inclusive "stay and play" packages with special pricing, too. Explore all our local golf courses to find the right fit for you.
3. ENJOY CROWD-FREE RESTAURANTS, SHOPS AND MORE.
Thanks to smaller crowds, the off-season is the perfect time to explore North Myrtle Beach like a local.
Leisurely shop your way through the unique stores around Main Street or in Barefoot Landing. Enjoy happy hour at a waterfront bar. Relive your youth and plan a minigolf marathon and take your time as you putt your way through the courses. Or visit the 162-acre North Myrtle Beach Park and Sports Complex for a relaxing walk or a lunch at one of its picnic shelters
4. IT'S A GREAT TIME TO SEE SHOWS AND SPECIAL EVENTS.
North Myrtle Beach is home to some of the greatest theaters on the coast, and the extraordinary shows don't stop during the winter. In fact, these nationally-acclaimed attractions all have schedules full of live performances and dinner theaters.
Visiting during the holiday season? Don't miss spectacular festive shows and events at Alabama Theatre, Pirate's Voyage and The Carolina Opry.
While we'll always recommend a trip to The Carolina Opry for their famous namesake show, this spectacular venue also features different special one-night-only shows throughout the winter. In late January 2021, Satisfaction: The International Rolling Stones Tribute Band takes the stage, and on February 14, Resurrection: A Journey Tribute Band will rock the house.  
New this year at Alabama Theatre is comedian and juggler Slim Chance, performing nightly and cracking up crowds in this season's Greatest Christmas Show in the South. In January 2021, spend an Evening with Greg Rowels, a local favorite and newest member of the South Carolina Music and Entertainment Hall of Fame. Mark your calendar for February 13 when Bee Gees Gold brings your favorite tunes to life. 
All theaters are limiting seating to allow for social distancing, so be sure to reserve your seats in advance. 
5. GET STEEP DISCOUNTS ON LODGING.
Winter in North Myrtle Beach may be considered off-season, but it should really be called the "in the know" season. For savvy shoppers, it's easier to find an affordable rental house, condo, resort, hotel or motel, most of which offer significantly lower rates this time of year. Chances are you'll find a great deal on a more luxurious room or bigger home than you would in the summer. With all those savings, you can splurge on a fancy dinner at one of the more upscale establishments in North Myrtle Beach, like Seablue Restaurant and Wine Bar or 21 Main Prime Steakhouse. Plus, if you're working from home or remote learning, you'll have a great Zoom background to show all your friends!
Itching to plan your winter escape to North Myrtle Beach? Start by looking for accommodations. During your stay, make sure you take plenty of pictures to share with us on social media using #JustCoast—we'd love to hear why you love going to the beach in the winter!