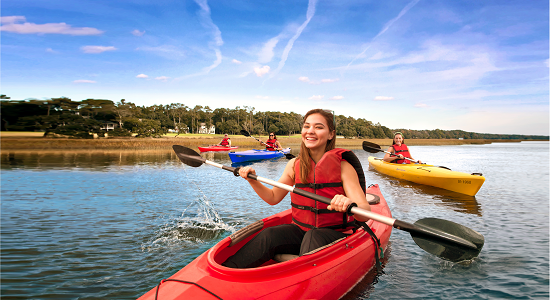 With its pristine beaches and countless water activities, North Myrtle Beach is obviously popular in the summer months—but the fun isn't over when summer ends. In fact, some might say that all of your family's favorite outdoor activities might be even better in the fall.  
Here are seven of our favorite things to do outdoors on a fall vacation to North Myrtle Beach: 
1. CRUISE WITH DOLPHINS 
Spend some time hanging out with one of our favorite local sea creatures as you sail down the Atlantic Ocean on a two-hour cruise with Myrtle Beach Dolphin Cruises. Book a ride on one of their two vessels, Sea Screamer and Sea Thunder, to catch glimpses of wild bottlenose dolphins. Myrtle Beach Dolphin Tours guarantee dolphin sightings; you'll even get a free pass to ride again if the dolphins decide they don't want to play.  
2. GRAB A JET SKI (& HOLD ON TIGHT!) 
Rev up your experience on the Atlantic Ocean by renting jet skis for the family at Action Water Sportz. Jet skis are easy to use and always exciting, and here, all kids under the age of 16 can ride as long as they're accompanied by an adult. Rent by the half-hour and explore on your own, or pick a tour led by expert local guides. The waters of North Myrtle Beach remain relatively warm during the fall, so a few splashes during a jet-ski ride won't put a damper on your day.  
3. PADDLE THE COAST 
Rent paddleboards or kayaks to explore the coast by water. With Great Escapes Kayak Expeditions, families can go on several tours. A favorite option is a three-hour kayak tour to Waites Island, one of the few remaining barrier islands of South Carolina's coast. They also offer a two-hour kayak tour through the Cherry Grove Marsh. Along the way, keep your eyes open for indigenous water birds like blue herons, egrets, ospreys. If you're lucky, you may even spot some bald eagles!   
4. GO FISHIN' 
For a fishing experience that generations of families can enjoy together, head to the Cherry Grove Fishing Pier. This 985-foot-long fishing pier stretches out into the Atlantic Ocean and is a favorite spot for anglers of all skill levels to relax. If you're interested in joining, you can rent fishing supplies from the pier's bait and tackle shop. Better yet, you don't need a license to fish from the pier!  
If you have teens or young adults in your group who seek a more thrilling adventure, take them deep-sea fishing. Voyager Fishing Fleet offers everything from large group charters for up to 140 people, half day fishing trips, night fishing, and even a 13-hour gulf stream trolling trip. Charter boats come with friendly and knowledgeable guides who know the top fishing spots in the area. 
5. GET UP CLOSE AND PERSONAL WITH GATORS 
Deemed the "Reptile Capital of the World," Alligator Adventure has plenty of alligators (including an albino alligator) and crocodiles to observe, but is also home to snakes, sloths, lemurs, big cats, squirrel monkeys and eagles. While you're here, set aside time to attend a live show, where trainers handle alligators and snakes, and feed the largest crocodile on exhibit in the United States, Utan…who happens to be 18-feet long! 
6. L

EAVE HOOFPRINTS IN THE SAND

 
Horseback riding on the beach is one of the most popular activities in North Myrtle Beach. At Inlet Point Plantation Stables, you can ride horses in and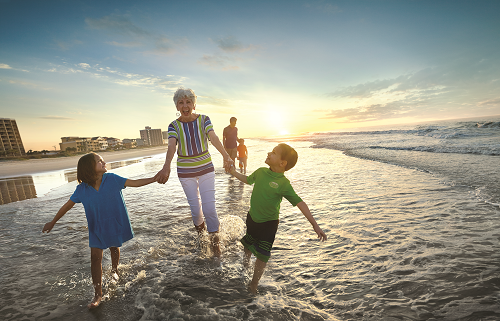 out of the surf on an undeveloped beach, through a historic plantation or both. All of the horses are friendly and well-trained for novice riders, and younger children can opt for pony rides led by guides.  
7. EXPLORE THE AREA'S PARKS

 
In additional to nine miles of beautiful beach, North Myrtle Beach is home to several public parks worth exploring. At the North Myrtle Beach Park and Sports Complex, your family can stroll on the park's walking trails or enjoy a scenic lunch at one of the seven picnic shelters across the properties. If you have little ones, the park has three expansive and interactive playgrounds with plenty of room for them to run around.  
Take in the sea breeze at Cherry Grove Oceanfront Park. This quaint green space in the Cherry Grove neighborhood has a gazebo complete with swings, benches and small tables.   
A trip to Heritage Shores Nature Preserve is inspirational and  educational. Explore seven acres of walking paths that lead you through this quiet, untouched piece of the Grand Strand. As you make your way through the park, which extends into the Cherry Grove Marsh, informative signage will tell you about the wildlife you see around you. 
Convinced it's time to get outside? Planning a vacation to North Myrtle Beach this fall is easier with our fall trip itinerary for families.