There are few things more meaningful and picturesque than saying "I Do" in front of the beautiful blue ocean. Follow that moment with a celebration of friends and family with gourmet food, drinks and entertainment, and you have a lifetime of memories all in one day. If you're dreaming of a destination wedding, North Myrtle Beach is the perfect place for your special day.
Did you know North Myrtle Beach is one of the few places on the Grand Strand that allows commercially produced ceremonies on the beach? As a result, the area has an abundance of wedding-related businesses, such as host resorts, catering services and wedding planners who can help make sure your day goes off without a hitch.
Keep these 10 things in mind to make your North Myrtle Beach wedding an unforgettable celebration:
1. SET (AND STAY WITHIN) A BUDGET
Starting with a budget for the wedding will help with your "happily ever after." After your initial budget is decided, start thinking about a guest list, as adding or removing guests is typically the surest way to increase or decrease your costs. Keep in mind, the size of your guest list impacts other details, such as décor, invitations and rentals.
When you're looking at possible dates for your destination wedding, keep high travel seasons in mind. Getting married during off-peak travel seasons will mean better deals on travel for your guests. Additionally, accommodations in North Myrtle Beach are even more affordable during the fall and winter months.
2. PICK THE PERFECT LOCATION 
North Myrtle Beach is home to several resorts and event venues. Looking for a local specialist to help you find the perfect venue? Fill out our Request for Proposal and we'll help find you the perfect match. One thing that makes North Myrtle Beach so unique is the neighborhoods that each offer a different experience; all you need to do is decide what type of coastal destination you want. From the natural beauty of the inlets and ocean to the active nightlife near popular festivals and events, you can find something for everyone.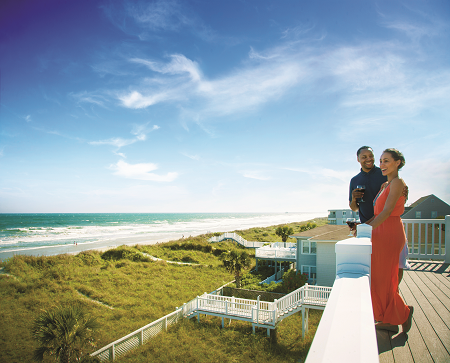 3. SELECT THE RIGHT ACCOMMODATIONS
From resorts and hotels to beach houses, North Myrtle Beach is bound to have a place to stay that your wedding party and guests will love. Our variety of accommodations can fit any budget.
If your ceremony or reception is at one of North Myrtle Beach's beautiful oceanfront resorts, consider recommending guests book a room or condo on-site. They'll be able to navigate their way to events easily, meaning you don't need to worry about day-of transportation for them.
You can also give families or large groups of friends the option to share a nearby beach home, allowing them to use your wedding weekend as an excuse for several days of the sun and fun they've been dreaming of.
4. KNOW THE LAWS
It's easy to get carried away creating the destination wedding you've dreamed up on your Pinterest board, but be sure to review the local rules and beach laws. The laws specific to North Myrtle Beach can be found on the City of North Myrtle Beach website.
5. PREPARE FOR THE WEATHER
One of the best things about traveling to the beach is escaping to warmer weather. But sometimes the weather at the beach is unpredictable.
If the forecast calls for abundant sunshine, help guests stay comfortable at your wedding by providing plenty of water. Make staying cool more fun by customizing bottled water or paper fans with your wedding hashtag or joint monogram.
Don't forget to plan for possible wind or rain. Renting a tent is always a good idea. On a sunny day, a tent will allow guests to retreat to the shade. And, if you find yourself caught in a brief rain shower, your guests can stay dry until the sun shines again. You can also work with your wedding planner or on-site coordinator in advance to make arrangements with a nearby hotel or hall as a backup.
6. DRESS FOR THE OCCASION
If your ceremony is on the beach, choose your wedding dress fabric carefully. Seaside weddings tend to be more casual, with attire that incorporates airy fabrics like cotton, crepe or linen. Be thoughtful when selecting options for the groom and his groomsmen. A good option might be linen suits, but if it's really warm, have the guys sport a loose shirt and lightweight pants.
If you plan on being barefoot, be sure to have some backup sandals or wedges to slip on to protect your feet from other shoes on the dance floor.
Be sure let your guests know how to dress, either on the formal invitation or on your wedding website. And, if any last-minute needs arise, North Myrtle Beach is home to plenty of shopping!
7. MAKE ARRIVING EASY
Gathering your family and loved ones in one place is one of the most exciting aspects of a wedding. By selecting a conveniently located destination like North Myrtle Beach, traveling to and from the big day is a breeze. North Myrtle Beach is centrally located on the East Coast, making it an easy drive from almost anywhere. Additionally, the nearby Myrtle Beach International Airport services many national airlines.
Be sure to arrive a few days ahead of guests. You don't want friends and family get the party started without the guests of honor! Arriving early allows you plenty of time to meet your wedding planner or on-site coordinator and do a final review of everything you've planned (and time to make any necessary last-minute changes).
8. OFFER GUESTS PLENTY OF ACTIVITIES
Guests outside of the families and the wedding party often look for something to do between events. In North Myrtle Beach, there's no shortage of activities to keep guests of all ages entertained! In Barefoot Landing, guests can enjoy natural wildlife at Alligator Adventure or take in a show at Alabama Theatre or House of Blues.
More adventurous visitors will enjoy fishing at Cherry Grove Pier or horseback riding on the beach at Waites Island. Or, they can catch a thrill by ziplining at Go Ape Zip Line & Treetop Adventure or wakeboard without a boat at Shark Wake Park.
Avid golfers (maybe even the groom himself!) will enjoy easy access to golf courses designed by some of the best in the game, like Robert Trent Jones, Arnold Palmer and Greg Norman.
Even though there are many things to do, don't forget to enjoy the nine miles of beautiful, wide beach.
9. EAT, DRINK AND BE MARRIED
With on-site banquet services, local catering companies and hundreds of restaurants in the North Myrtle Beach area, there's something for rehearsal dinners, bridal luncheons and wedding ceremonies.
If you're really trying to make your events one-of-a-kind, purchase wine from North Myrtle Beach's two wineries, Duplin Winery and La Belle Amie Vineyard, to serve at your wedding festivities.
10. CAPTURE THE MOMENTS
Pick a unique wedding hashtag and encourage guests to share photos on social media using the hashtag. After your wedding, be sure to scroll through the photos using the hashtag so you can see all the fun and exciting photos your guests posted!
Tell guests to use #JustCoast or #ExploreNMB and they just might just end up on our social media channels.
Being mindful of this can help make sure your beach wedding is all you dreamed of and more. For more information on weddings in North Myrtle Beach, visit the Group Travel section of our website, which is full of information specific to weddings. Cheers to a lifetime of happiness!