Legacy Business Award
The North Myrtle Beach Chamber of Commerce proudly recognized businesses that have been established for more than 25 years. With such a diverse business community, the chamber would like to recognize those who have withstood season after season of serving locals and visitors alike.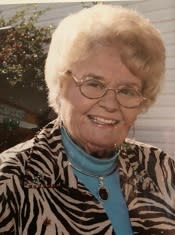 The Legacy award is given in memory of Cecelia Campbell, owner of Surf Beauty Spot in Cherry Grove Beach. Mrs. Campbell was the sole proprietor of this salon, which was the first in Cherry Grove. The business was open from 1966 until she retired in 2010. She also earned her Certificate of Instruction in Cosmetology from The University of South Carolina in 1987. Cecelia's talents were many, she enjoyed decorating and making floral arrangements that won numerous ribbons at the Driftwood Garden Club, where she was a Charter Member. Cecelia served as President of The MLC Shrine Auxiliary in 1970 and was BPW Career Woman of the year in 1972. In 2004 she became a Benefactor of North Myrtle Beach Rescue Squad. Cecelia was a Charter Member of Chapel by the Sea, where she regularly attended church. Nothing could compare to the love she shared with her family, friends, and husband, Horace Campbell.
The 2020 Legacy Award program is sponsored by Scott Ellis and Ty Bellamy of RE/MAX Southern Shores in North Myrtle Beach.

The public is welcome to attend the award presentations that will be held each month. Look for more info on this program as well as each month's recipient in the North Myrtle Beach Chamber of Commerce's website.
November 2019-Barefoot Landing
October 2019-Dew's
September 2019-Grand Strand Resorts
August 2019-Coastal Engravers
July 2019-NMB Times
June 2019-Beachwood Golf
May 2019-Waterway Furniture
April 2019-Elliott Realty
March 2019 - R.W. Wood 
February 2019 - Cherry Grove Pier 
January 2019 - no award
December 2018 - no award
November 2018 - Helen's Style Center 
October 2018 Legacy Award Recipient -  Hoskins Restaurant 
September 2018 Legacy Award Recipient - Painter's Homemade Ice Cream 
August 2018 Legacy Award Recipient - Boulineau's 
July 2018 - Ocean Drive Barber Shop