Regardless of what brings you to North Myrtle Beach –family time, a couples' getaway, or a weekend trip with friends – take a little time to relax. One of our favorite ways to unwind in North Myrtle Beach is by uncorking a bottle of wine from the local wineries. Duplin Winery and La Belle Amie Vineyard offer reasonably priced wine tastings and charming atmospheres.
Duplin Winery
4650 Hwy 17 S., North Myrtle Beach, SC 29582
1-800-774-9634
Duplin Winery has something for everyone. Located right beside Barefoot Landing, the tasting room and wine store offers two different wine tastings, including basic and deluxe options. If you are lucky enough to have winery owner Jonathan Fussell lead your tour, go ahead and clear your schedule, because you'll be riveted by the history of the winery's roots in Rose Hill, North Carolina and belly-laugh at Johnathan's shenanigans from growing up on a winery. Plan on hanging out after your tasting so you can spend time at Duplin playing bocce ball, listening to live music on the patio, and browsing their wine shop and retail store.
La Belle Amie
1120 Saint Joseph Road Little River, SC 29566
843-399-9463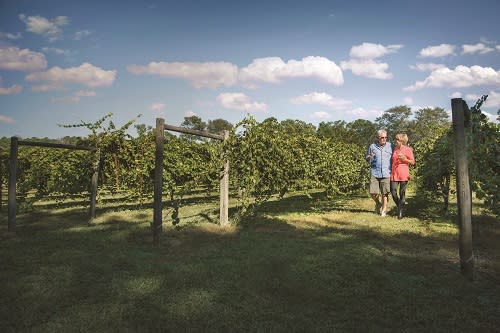 La Belle Amie Vineyard, located in Little River, is just a ten minute drive from Cherry Grove Pier. Built on a charming historic plantation, upon arrival, you'll be greeted by the vineyard's friendly dog, Starr. Wine tastings begin at $5.50, which include six different wines and allow guests to try samples of private label wines and delicious food. If you get a heavier "mom pour" during your tasting, don't be surprised, it is a sign the sommelier likes you!  After you've sampled their wine, take a tour of the vineyard. There are self-guided tours and guided tours. We recommend the guided tour to get the full experience, where guests have the opportunity to learn more about the property's rich history, how they make their seasonal wines and can expect to be entertained by the staff with lively stories about the vineyard.
Both Duplin Winery and La Belle Amie have events throughout the year, so be sure to check the Duplin Winery and the La Belle Amie website for their event schedules. Wine and the beach, does it get any better?