The Grand Strand is open for business! You can count on our shores to be wide and welcoming. North Myrtle Beach is happy to welcome you to our slice of paradise. As always, there is no shortage of places to shop, eat, and explore. You can define social distancing here; we have space and places to spread out and relax. With good weather and good vibes on our radar, get outside and enjoy all of the fresh things North Myrtle Beach has to offer. Here's our bucket list of things on deck this weekend at the beach! 
EAT YOUR WAY TO THE BEACH 
North Myrtle Beach's vibrant Main Street is a hub of world-class dishes and experiences. Along the corridor of Main Street and Ocean Drive, you can find everything from local seafood and Southern favorites to hand-rolled sushi and international cuisine.  
While the list of local restaurants is as long as the beach itself, we want to highlight some of the places featuring open-air dining and bars. After all, our Main Street runs directly into the beach itself! Be sure to enjoy a few of these watering holes on your way to (or from) the beach this weekend.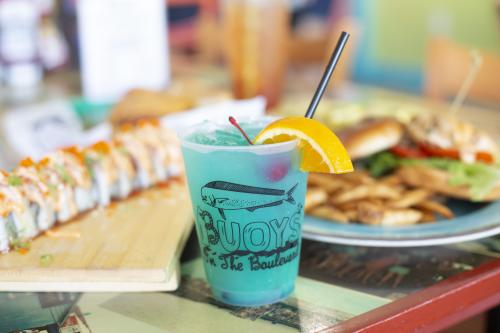 Situated oceanfront on the corner of S. Ocean Boulevard and Main Street, Buoys on the Boulevard is in the heart of historic Ocean Drive Beach. Buoys features a bright, welcoming deck complete with beach music and eclectic décor. The menu is huge—diners can enjoy everything from tacos to sushi to fresh burgers! Don't miss their large drink menu. Come by for live music and the ocean breeze on the patio! 
Just around the corner and up Main Street a few blocks, you'll find Deckerz—a local staple with true coastal style. Aptly named, the open-air dining area at Deckerz is big enough for everyone! For our visitors over 21, Deckerz is the place to be! Deckerz "shooters" menu has plenty of house shooter options to get the weekend started. Don't miss their Saturday lunch special: a double dog with fries for just $6.95! 
To dine Irish-style this weekend, make a stop at Flynn's Irish Tavern! Also, on Main Street, you can't miss Flynn's Irish flags waving in the breeze blowing up from the beach. This cozy, family-friendly pub would love to have your crew come by to grub this weekend. Flynn's has delicious Irish fare every day of the week, but Prime Rib is the special on Saturdays! Come by for live music and stay for the comfort food at Flynn's.
INDULGE IN SOME RETAIL THERAPY 
The beach and the eats aren't the only reasons to take a stroll down Main Street this weekend – you'll also find some pretty fabulous local places to shop. Whether you're looking for some new summer outfits, something to wear to a special occasion, or gifts to take back to loved ones, North Myrtle Beach's Main Street has something for everyone! 
For a true Grand Strand experience, stop by Judy's House of Oldies. At Judy's, you can find classic beach music and the perfect shoes to dance the Carolina Shag, our state dance. Complete with instructional videos and other Carolina memorabilia, Judy's is your one-stop-shop for Palmetto State favorites. 
Looking for a new outfit to complete your spring or summer closet or a gift for your favorite person? Hope Taylor & Company has you covered! Walk into this local boutique and find everything from clothes and shoes to home décor and kitchen items. 
WE'RE OPEN FOR BUSINESS 
You can't have a trip without sticking your toes in the sand! Our beautiful and wide beach is the perfect spot to spread out and spend some quality time with your family. Enjoy the fresh air—throw a Frisbee with the kids or play classic beach games like spike ball, volleyball, bocce and soccer. Enjoy the relaxing sound of the ocean waves as you take a stroll along the sandy shoreline and maybe even collect a few seashells or sand dollars along the way. The best part is, you're still just steps away from everything Main Street has to offer! 
North Myrtle Beach is open for business! We are so excited you have chosen to spend some time relaxing and recharging with us. The restaurants, shops, and beach are ready to make your trip one for the books! Get outside and enjoy everything North Myrtle Beach has to offer.